The Carolina Panthers were struggling while the Atlanta Falcons were surging the last time the NFC South rivals met, yet Carolina came away with a convincing victory.
Sunday, the cleat will be on the other foot.
"We're not worried about records. We're worried about who our opponent is, and they're a very good football team," Panthers head coach Ron Rivera said of the Falcons. "This is still a good football team. We know who they are and we know what they're capable of."
The Panthers enter the game with a 4-3 record highlighted by their current three-game winning streak. The Falcons, who lost just three games all of last season, have lost four of their last five to drop to 2-5.
But, especially in division games, records can be irrelevant. In 10 NFC South matchups last season, the team with the worse record won five times.
"We can't be jaded by what their record is, especially coming off the tremendous season they had last year," quarterback Cam Newton said.
Here are some of the keys if the Panthers are to keep rolling and keep the Falcons reeling.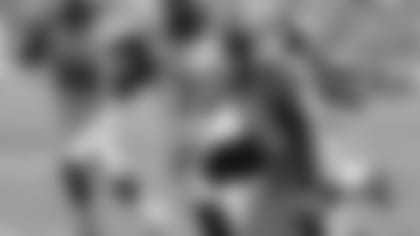 STRONG START: In the Panthers' last home game, cornerback Captain Munnerlyn returned an interception on the first offensive snap for a touchdown, and the Panthers never looked back.
That play represented more first-quarter points than the Falcons have allowed all season.
"We pride ourselves on starting fast, but with these guys giving up only three points in the first quarter all season, we have to match fire with fire," Newton said.
The Panthers have yielded just five first-quarter points themselves, so the offenses could be hard-pressed to start fast. Newton believes the fact that the Panthers are playing at home could make the difference.
"We have to set the tempo for the game," Newton said. "Our fans can help us with that in the first quarter."
STRONG FINISH: The teams' records may be heading in different directions, but both have one thing in common – they've struggled to pull out close games.
Both Carolina and Atlanta fell off the pace late in games at Arizona, but otherwise all of their losses have been of the nail-biting variety. The Panthers were right there but couldn't close the deal in their first two games, while the Falcons have suffered four narrow losses.
The Panthers aren't actively seeking a close game; they'd be fine adding a fifth victory by 15 or more points to their record. But if Sunday's game does come down to the wire, it would present an opportunity for Carolina to gain confidence in such situations.
MELTING ICE: With injuries all around him, Falcons quarterback Matt Ryan's feet have been held to the fire this season.
The Panthers need to keep the heat on Ryan.
"He's definitely an elite quarterback," Munnerlyn said. "He threw the ball 61 times (with 34 completions but four interceptions against the Cardinals), and it's tough on a quarterback to throw the ball 61 times and not make some mistakes. Hopefully we can get him in the same situation and make plays on the ball."
The Panthers put pressure on Ryan in each of their two meetings last year, yet he still managed to rack up 656 passing yards with five touchdowns and just one interception. Ryan hasn't had as much help this season with a reshuffled offensive line, elite wide receiver Julio Jones on injured reserve and Roddy White slowed by injury, and with running back Steven Jackson out most of the season. Nonetheless, the Panthers can't afford to let Ryan get in a rhythm.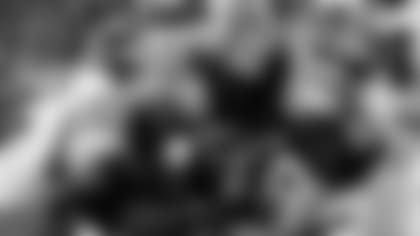 CLEAR AND PRESENT DANGER: The one constant among Ryan's targets has been future Hall of Fame tight end Tony Gonzalez. Even with some opponents jamming him with double teams at the line of scrimmage, he ranks fifth among the league's tight ends with 38 receptions.
"He's a veteran, an old, wise veteran," Munnerlyn said. "He's a very precise guy who knows how to get open."
It's not easy to shut down Gonzalez, but the Panthers must know where he is at all times and do a good job of limiting the damage he does on third downs and in the ...
... RED ZONE: The Falcons offense has been efficient on third down, converting at the ninth-best rate in the league. They haven't been as successful on third down in the red zone, however, ranking as one of 11 NFL teams to reach the end zone on less than 50 percent of their drives inside opponents' 20-yard line.
The Panthers, by contrast, are one of 11 teams to reach the end zone on more than 60 percent of their red-zone opportunities. Carolina's defense has been stingy in the red zone, yielding just six touchdowns on 16 drives to rank fourth in the league. If those trends continue, so should the Panthers' winning ways.
GAME DAY HAPPENINGS

EVENT
DESCRIPTION
Panthers in the Park
Located at Romare Bearden Park in Third Ward between Church Street and Mint Street and open from 10:30 a.m. to 12:30 p.m. Free, interactive area offers fun for the entire family with appearances by the TopCats, Sir Purr and PurrCussion and the Fuel Up to Play 60 Kids Combine, which includes activities like the 40-yard dash, vertical jump, wide receiver/quarterback challenge, TopCats dance studio and inflatable obstacle course. Try fun football challenges and free milk samples from the Southeast Dairy Association. Learn about protecting your home from CPI Security. Get information from community partners like the Humane Society, United Way and Veterans Support Organization.
Panthers Lair
Located on the corner of Mint Street and Morehead Street and open from 10:45 a.m. to 12:45 p.m., with TopCats signing autographs and posing for photos at the 107.9 The Link booth from 11 a.m. to 12 p.m., Sir Purr appearing throughout the morning and PurrCussion performing at 11:15 a.m. Discover a wide range of services, charge your phone and register to win prizes at the AT&T Connection Zone. See what you will look like in 25 years at the Blue Cross and Blue Shield of North Carolina interactive mobile unit. Enter for a chance to win a 1979 Pontiac Firebird Trans Am from RK Motors Collector Car Auctions. Visit State Farm Insurance for games, contests and giveaways. Check out the Ford vehicle display for giveaways. Stop by one of Charlotte's best food trucks at Queen City Q. Area also features a DJ and offers food and drink sales.
Pregame
Performance: Madison Rising
Invocation
Pastor Jonathan Coppedge-Henley - First United Methodist Church, Charlotte, N.C.
Presentation
Of Colors
Marine Corps Reserve Combat Logistics Battalion 451 - Charlotte, NC
National Anthem
Joshua King
Halftime
Junior TopCats
BAG POLICY:
The National Football League bag policy designed to enhance safety will be strictly enforced on Sunday at Bank of America Stadium. Under the policy, approved bags must meet the following criteria:
• Small clutch purse no larger than 4.5" x 6.5"
• Any transparent plastic or vinyl bag no larger than 12" x 6" x 12"
• Seat pad that does not contain zippers, clasps, etc., and is not encased in vinyl.
The Panthers will provide a clear, plastic gallon size bag to fans who bring non-compliant bags to the stadium. Fans may obtain a bag at one of five tent locations: near the practice field, Graham Street and Martin Luther King Jr. Boulevard, corner of Mint Street and Stonewall Street, corner of Morehead Street and Mint Street, or near the Morehead Street entrance to the stadium.
The North and East gates of Bank of America Stadium have been renovated to provide improved access with additional screening points of entry. For the most efficient, effective and quickest entry into the stadium, officials recommend the following:
• Arrive at the stadium gates 30 minutes earlier than you have in the past.
• Refrain from bringing items that require a bag check.