Having grown up in the Atlanta area, Panthers quarterback Cam Newton has always felt like his matchups with the Falcons carry just a little extra weight.
But with the added weight of a four-game losing streak on his mind entering his latest game against the Falcons, Newton isn't focused on how it would feel to beat Atlanta.
He's focused on how good it would feel to beat any opponent.
"I just want to win – simple and plain," Newton said at his midweek press conference. "I just want to get back to everybody having a smile at press conferences. With this gloomy feeling, the walls even look bland in here. They've always been the same color, but I want to have that colorful vibe back in the room.
"How are we going to get there? The Panthers win."
The series between the NFC South rivals has a colorful history that predates Newton's arrival. This year's first meeting is unique because despite the Panthers' four-game slide and a recent five-game skid for the Falcons that has the teams a combined 6-12-1, the winner Sunday at Bank of America Stadium could find itself in first place at the end of the day.
Here are some keys to the teams' matchup from the Panthers' perspective.
TURNOVER TALE: The Panthers gave themselves little chance in the early part of their last game, turning the ball over on two of their first three offensive snaps to set Philadelphia up for 10 points in less than four minutes.
Carolina ended up with five turnovers, including Newton's first three-interception game at Arizona in Week 5 of last season.
"When you put the ball in jeopardy, you can't expect to win," Newton said. "It's as simple as protecting the football. That's always one of the keys for us to win games."
Indeed. The Panthers have has a positive turnover margin in their three victories this season and have either lost the turnover battle or been even in their six losses. The Panthers and Falcons sport similar turnover margins heading into their matchup.
SCORE POINTS: It really doesn't get any simpler than that.
The Panthers moved the ball fairly well against the Eagles when they held onto it, converting half of their third downs but not often converting drives into points until the Eagles had the victory secured. In losses to New Orleans and Seattle the previous two weeks, Carolina struggled to finish off promising drives after turnovers and in the red zone.
The Falcons rank 13th in the league with 24.3 points per game. The Panthers can't afford to keep missing out on scoring chances.
RATTLING RYAN: Few quarterbacks are better than Matt Ryan when he has time to throw the ball, when his protection allows him the chance to connect with wide receivers Julio Jones and Roddy White.
But get to Ryan, and it's a different story.
The Panthers sacked Ryan nine times in the 2013 regular season finale to complete a season sweep. Ryan was sacked 44 times last season – third most in the league – and the Falcons finished 4-12.
Ryan has been vulnerable again this year thanks in part to a slew of injuries along the offensive line. The Panthers' pass rush hasn't been as vaunted as it was last season, but some of Georgia native Charles Johnson's best games have come against Atlanta. Another big game from him could pay off big-time.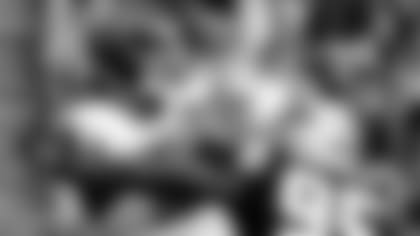 ON THE BALANCE: Despite the Falcons' upheaval up front, 11 quarterbacks have been sacked more than Ryan this season. That's in part a credit to the Falcons' diverse running game featuring a quartet of backs that the Panthers can't forget about in their pursuit of the quarterback.
Four Atlanta running backs have scored this season, led by speedster Antone Smith's five touchdowns on just 35 touches. Veteran Steven Jackson is the team's leading rusher, and Jacquizz Rodgers and rookie Devonta Freeman can do a little bit of everything.
"They're explosive, and they offer different challenges to a defense," linebacker Thomas Davis said. "You look at Steven Jackson and what he's able to do with running the ball downhill with his power and his size, and then you see Antone Smith time after time taking the ball around the edge and beating guys to the end zone. You look at Rodgers, who does a great job in the screen game. We have to understand what those guys do."
RETURN RISKS: Eagles running back Darren Sproles returned a punt for a touchdown against Carolina, and Adam Jones returned a kickoff 97 yards for Cincinnati in Week 6. Both are accomplished returners, but now the Panthers must contain arguably the most dangerous return man in NFL history.
Devin Hester's punt return for a touchdown in Week 3 gave him an NFL-record 20 touchdowns on returns. He ranks fourth behind Sproles, Jones and Julian Edelman in punt return average this season, averaging 12.6 yards per returns. Graham Gano, who leads the league with a 78.3-percent touchback percentage on kickoffs, has the leg to neutralize Hester as a kickoff returner. Brad Nortman, fourth in the league in gross punting, has the ability to flip field position even while angling or skying punts to pin in Hester.
As with so many things, it's just a matter of execution.
GAME DAY HAPPENINGS

EVENT
DESCRIPTION
Panthers in the Park
Located at Romare Bearden Park in Third Ward between Church Street and Mint Street and open from 10:45 a.m. to 12:30 p.m. Free, interactive area offers fun for the entire family with appearances by the TopCats, Sir Purr and PurrCussion and the Fuel Up to Play 60 Kids Combine. Get Fuel Up to Play 60 awareness bracelets, bookmarks and pedometers from the Southeast Dairy Association. Find out about the Red Cross Holiday Mail for Heroes program. Visit the USO mobile unit to see what the organization has to offer.
Panthers Lair
Located on the corner of Mint Street and Morehead Street and open from 10:45 a.m. to 12:45 p.m., with TopCats signing autographs and posing for photos at the 107.9 The Link booth, Sir Purr appearing throughout the morning and a performance by PurrCussion. Experience the Air Force supercar - a sports car built with Air Force technology. Charge your phone at the AT&T Connection Zone. Learn about protecting your home from CPI Security. Play CW Plinko and win prizes from WCCB-TV. Check out Ford's display of brand new 2015 vehicles. Make your next home in Charlotte at The Vue. Area also features a DJ.
Giveaway
Bank of America roll-a-banas
Pregame
Musical Performance - U.S. Navy Personnel Specialist Chief Petty Officer Natalie Howe and U.S. Navy Counselor First Class Steven Powell
Invocation
Chaplain Major Brad Borders - U.S. Army 3rd Special Forces Group, Fort Bragg, N.C.
Presentation
Of Colors
Joint multi-service honor guard - U.S. Air Force, U.S. Army, U.S. Coast Guard, U.S. Marine Corps and U.S. Navy
National Anthem
Parris Island (S.C.) Marine Band
Halftime
Performance - U.S. Marine Corps Silent Drill Platoon, Washington, D.C.