As difficult as it was, cornerback Captain Munnerlyn said he let go of the Panthers' early-season loss to the Atlanta Falcons.
Munnerlyn, however, doesn't intend to let it happen again.
"That was a tough pill to swallow. We had them beat," Munnerlyn said of Carolina's 30-28 loss in Week 4. "In this business, you've got to let it go and move onto the next one, but we've got a bad taste in our mouth."
The Panthers will get another chance when the Falcons visit Bank of America Stadium on Sunday (1p.m., FOX), but it will be a tall task. While Atlanta (11-1) has clinched the NFC South title, the Panthers (3-9) have been mathematically eliminated from playoff contention.
Still, they'll have plenty of motivation for this one after what happened last time – really, the last few times. Atlanta-area native Cam Newton is still looking for his first victory over the Falcons after three close calls.
The one earlier this season is well-documented, when the Falcons advanced from their 1-yard line with 59 seconds and no timeouts to kick the game-winning field goal at the gun.
In the first meeting last year, the Panthers led 17-14 heading into the fourth quarter, only to be outscored 17-0 from there. In the second meeting, the Panthers led 23-7 at halftime but lost 31-23.
"They are a team that knows how to finish. Obviously we've had some games we couldn't finish," Panthers fullback Mike Tolbert said. "It's something we're worried about, but we're going to go out and try to make it to where we're not put in that situation."
RUN THE GAME: The Panthers have struggled to stop the run the last couple of weeks, a fact that surely fires up Falcons running back Michael Turner.
Turner has averaged more than 100 rushing yards and has scored 12 times in his last eight games against the Panthers. In the first meeting this season, he had 103 rushing yards as well as the first receiving touchdown of his career – a 60-yarder.
If that's not enough, the Panthers also can't forget about change-of-pace back Jacquizz Rodgers, who added 58 yards of total offense in the first meeting.
"We have two guys coming in that are totally different styles. Michael Turner is more of a bruising type guy. Jacquizz Rodgers is more of a slasher," Panthers linebacker Thomas Davis said. "We have to know when those guys are in the game and have an understanding of what those guys like to do. We have to be ready for it."
On the other hand, the Panthers must be able to run themselves. They had 199 rushing yards at Atlanta and are coming off their best rushing day since, a 165-yard showing at Kansas City.
RUSH HOUR: The Panthers' struggles to stop the run the last two games has hampered their pass rush, adding up to just one sack in each game. That won't get it done against Atlanta.
The Panthers got to Falcons quarterback Matt Ryan seven times in the first meeting, including 3.5 sacks for Atlanta native Charles Johnson. Repeating that output could be a longshot, but they can't repeat the numbers of the last two weeks, either.
One of the keys to disrupting the quarterback is sticking with receivers long enough for the pass rush to get there. That's tough in the case of the Falcons, who feature Julio Jones and Roddy White at wide receiver.
"Julio is very explosive. Between him and Roddy, they are probably the best athletes I've gone up against this year," Panthers cornerback Josh Norman said. "If you give them any space, they'll take you."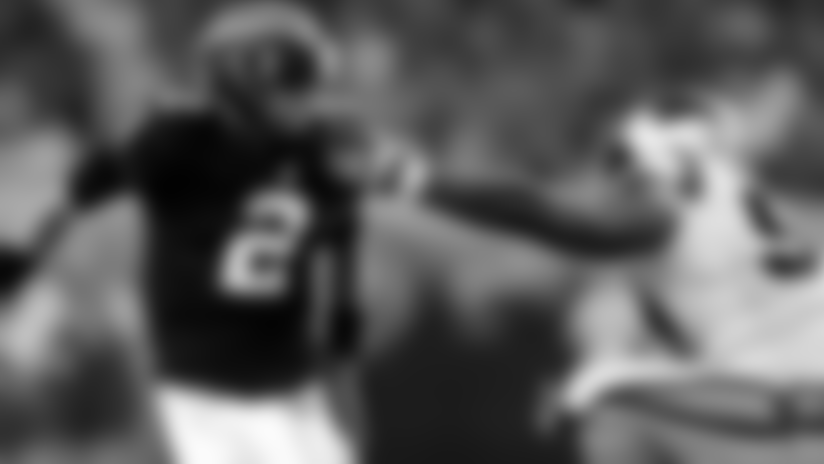 PLAY WITH CONTROLLED EMOTION: Based on the chatter around the locker room this week, the Panthers should be emotionally ready for this game.
Emotion can do wonderful things for underdogs, especially one playing at home. The Panthers must make sure it's a positive rather than a negative.
"In critical situations," Panthers head coach Ron Rivera said, "you can't let your emotions get the best of you."
TO THE POINT: Remarkably, the Panthers have scored more touchdowns than their opponents this season, finding the end zone 30 times while allowing 28 touchdowns.
Field goals have been a different story. While Carolina made just eight field goals all season (on 11 attempts), opponents have made more than that from 45 or more yards. Opposing kickers are 32-for-34 on field goals, including 9-for-9 from 45 and farther.
Of course the Panthers want touchdowns rather than field goals, but they can't give up touchdowns and field goals to the Falcons, who scored six times (three TDs, three FGs) in the first meeting.
---
TOYS FOR TOTS: Fans can contribute to Toys for Tots by bringing a new, unwrapped toy to the game. Representatives from the U.S. Marine Corps Reserve will be at each gate when the stadium opens at 11 a.m. to collect the toys.
In 2011, Panthers fans donated more than 20,000 toys and $11,000 to the Marine Toys for Tots Foundation. The collection at Bank of America Stadium ranked first in the NFL and was the largest in team history.
GAME DAY HAPPENINGS

EVENT
DESCRIPTION
Fuel Up To Play 60 Kids Combine
Located on the Panthers' practice field adjacent to Bank of America Stadium and open from 10:45 a.m. to 12:30 p.m. Free, interactive area promotes youth fitness through a variety of football skills and drills for children and their families. Activities include 40-yard dash, vertical jump, wide receiver/quarterback challenge, TopCats dance studio and inflatable obstacle course.
Panthers Lair
Located on the corner of Mint Street and Morehead Street and open from 10:45 a.m. to 12:45 p.m., with TopCats signing autographs and posing for photos at the 107.9 The Link booth from 11 a.m. to 12 p.m. and Sir Purr appearing throughout the morning. Find out how you can make your tailgating and game day experience even better at the AT&T Fantasy Football Lounge. Visit the Ford vehicle display for gift card giveaways, games and photo opportunities. Enter to win $500 off a set of new tires from Firestone and see the newest car models from Hyundai.
Catwalk
Located outside Bank of America Stadium's North Gate on Graham Street and open from 10:45 a.m. to 12:45 p.m., with TopCats signing autographs and posing for pictures from 11 a.m. to 12 p.m. at the WBT 1110-AM booth. Enjoy snacks from Bimbo Bakeries, throw a virtual football with Verizon and learn about protecting your home from CPI Security. Support Toys for Tots by bringing a new, unwrapped toy to the game.
Invocation
Rev. Dr. Robert Henderson - Covenant Presbyterian Church, Charlotte, N.C.
Presentation
Of Colors
Medic EMS - Charlotte, N.C.
National Anthem
Edwin McCain
Halftime
Flippenout extreme trampoline show