After earning a season-opening victory in Tampa Bay, the Panthers are eager to take the field at Bank of America Stadium on Sunday for the long-awaited home-opener against the Detroit Lions (1:00 p.m., FOX).
"As long as I've been doing it, it doesn't ever get old," safety Roman Harper said.
Carolina is hoping to be 2-0 for the first time since 2008. To do it, they'll need to improve on last week's performance, as they are hosting an explosive Lions team coming off a 35-14 win over the New York Giants.
"When you don't play at your best and you still win, you are a hell of a football team," head coach Ron Rivera told his players following the 20-14 win over the Buccaneers. "But understand we did not play at our best and we can be so much better."
Here's what to watch as the Panthers look to protect their home field.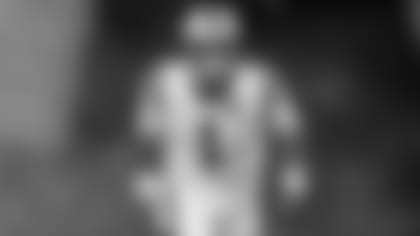 NEWTON RETURNS: After being inactive for the season-opener with a rib injury, quarterback Cam Newton is ready to get his 2014 season started against the Lions.
"When I do have the opportunity to finally play, you can bet your last dollar I will be excited," Newton said.
The Panthers are thrilled to have their franchise quarterback back under center. Recovery from offseason ankle surgery and a fractured rib suffered in the preseason were difficult obstacles to overcome, but Newton is confident he's ready to play without limitation.
"In this game you cannot hold anything back," Newton said.
As was the case last week with backup Derek Anderson directing the offense, the supporting cast, particularly the big men up front, will need to keep Newton clean to help get him re-acclimated to regular season game speed.
"I'm pretty sure he doesn't want (Ndamukong) Suh, (Nick) Fairley or any of those guys hitting him," left tackle Byron Bell said. "It's our job to keep guys off him."
STARING DOWN A GUNSLINGER: Only Peyton Manning and Drew Brees threw for more yards than Detroit's Matthew Stafford in 2013.
"He's one of those guys who trusts his arm no matter what – one of those gunslinger type quarterbacks," safety Thomas DeCoud said.
Stafford has reason to be confident in his arm and his dynamic group of receivers, and the Panthers know the sixth-year quarterback isn't shy about taking shots downfield or trying to fit the ball into tight windows.
And Carolina is well-aware of how dangerous he can be when he escapes the pocket and takes aim downfield (both touchdown passes last week were from outside the pocket).
"He can get out of the pocket and extend plays," DeCoud said. "We have to take that into account and if he does escape, make sure we find the receivers and lock onto them."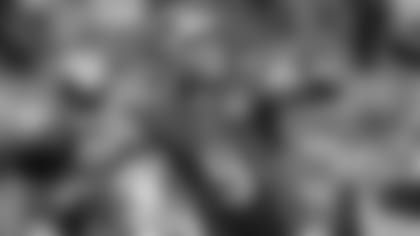 MONITORING MEGATRON: Speaking of receivers, by now we all know how good All-Pro wide receiver Calvin Johnson is.
"He's got the whole package. The guy is a supreme talent," Harper said. "You can talk about how great he is all day."
Simply put, the Panthers will do their best to keep him quiet on Sunday.
"It's definitely tough. We just have to stay together," Harper said. "We understand it's a great offense with a lot of weapons. We have to play our game and limit their big plays."
LIONS' RIGHT TACKLE SITUATION: Detroit was in a tough spot at right tackle when starter LaAdrian Waddle was injured early against the Giants in Week 1. Things got tougher when his backup Corey Hilliard suffered a season-ending injury.
That means the Lions will be starting undrafted rookie Cornelius Lucas or recently-signed Garrett Reynolds on Sunday against the Panthers, who feature one of the NFL's best defensive lines.
---
BAG POLICY: The National Football League bag policy designed to enhance safety will be strictly enforced. Under the policy, approved bags must meet the following criteria:
• Small clutch purse no larger than 4.5" x 6.5"
• Any transparent plastic or vinyl bag no larger than 12" x 6" x 12"
• Seat pad that does not contain zippers, clasps, etc., and is not encased in vinyl.
For the most efficient, effective and quickest entry into the stadium, officials recommend the following:
• Arrive at the stadium gates 30 minutes earlier than you have in the past.
• Refrain from bringing items that require a bag check.
Review the complete list of prohibited items and bag policy.
GAME DAY HAPPENINGS

EVENT
DESCRIPTION
Panthers in the Park
Located at Romare Bearden Park in Third Ward between Church Street and Mint Street and open from 10:45 a.m. to 12:30 p.m. Free, interactive area offers fun for the entire family with appearances by the TopCats, Sir Purr and PurrCussion and the Fuel Up to Play 60 Kids Combine, which includes activities like the 40-yard dash, vertical jump, wide receiver/quarterback challenge, TopCats dance studio and inflatable obstacle course. Sign up for the Carolina Panthers Kids Club. Try chocolate milk from the Southeast Dairy Association. Learn about protecting your home from CPI Security.
Panthers Lair
Located on the corner of Mint Street and Morehead Street and open from 10:45 a.m. to 12:45 p.m., with TopCats signing autographs and posing for photos at the 107.9 The Link booth, Sir Purr appearing throughout the morning and a performance by PurrCussion. Show off your arm at the Academy Sports + Outdoors inflatable football toss. Play CW Plinko and win prizes from WCCB-TV. Get a free koozie at the Frank's Hot Sauce tent. Find out about the Governor's Highway Safety Program "Booze It & Lose It" campaign. Stop by the Belly Backers food truck for a quick and delicious meal on the go. Area also features a DJ.
Pregame
Junior TopCats
Invocation
Rev. C.F. McDowell III - Chadbourn (N.C.) Presbyterian Church
Presentation
Of Colors
1st Sustainment Command Theater - Fort Bragg, N.C.
National Anthem
Trevin Hunte
Halftime
Appalachian State University Marching Band Performance