It's been a straining six weeks for the Carolina Panthers, who have won just once since starting the season 2-0.
Even so, it feels like the season will start over Thursday night.
"Everything we've done from the beginning of the year until now – the ups and downs and in-betweens with the tie – it really all comes down to division games at the end of the day," cornerback Josh Norman said. "This is very big."
The Panthers (3-4-1), who have been in first place in the NFC South since opening the year with a victory, must beat division foe New Orleans (3-4) on Thursday Night Football to stay on top.
Just once in the history of the NFC South – which debuted in 2002 – has the division champion not had the best record in division play. The Panthers are 1-0 in the division so far. The Saints are 1-1.
"It's a division game, a conference game, all of those things. It is important," head coach Ron Rivera said. "In this division, we're going to beat each other up. It's almost going to be a game of attrition and about who survives it through the end of the year."
To survive, it's important that the Panthers take care of business at home. The Saints visit Bank of America Stadium having lost seven consecutive regular season road games dating back to last season.
"It would be nice to just have to wait three days to get that taste out of our mouth after a tough loss at home and follow it up with a big win at home," tight end Greg Olsen said.
DEFENSIVE DEJA VU: In Week 8, the Panthers dropped a disappointing 13-9 decision to Seattle. It was a tough loss to take, but a Carolina defense that had allowed 37 or more points in four of the previous five games enjoyed some positive takeaways it hopes to carry over.
"I thought the week was a good week for us on defense," Rivera said. "We discovered some things about ourselves, then we put it to the test, and I liked the results. I would have loved the results obviously if we had won the football game, but I did like the things that we did."
The Panthers swarmed to the football like they did when they ranked second in the NFL in defense last season, like they did when they held the Saints to 13 points in last year's Week 16 showdown at Bank of America Stadium.
New Orleans flexed its offensive might in the second half of Sunday night's impressive home victory over Green Bay, scoring 28 points in the last two quarters to win 44-23. The Saints are 3-0 at home and 0-4 on the road, but their offensive output hasn't been limited to home games: They rank fifth in the NFL with 28.4 points per game, including 24.5 points on the road.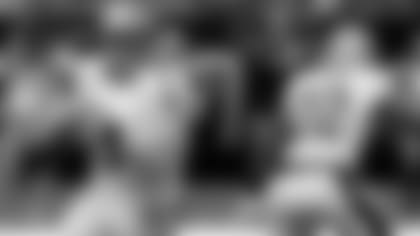 BREES AND BEYOND: It doesn't take intel from a former Saint to figure out how important quarterback Drew Brees is to New Orleans' success.
"He's as good as advertised," former Saints and current Panthers safety Roman Harper said. "If you can pressure Drew and get him uncomfortable early, he actually starts to seem a little human and make some bad throws. But when he's hot, he's hot."
Harper also understands the not-as-advertised threat that running back Mark Ingram presents. The former Heisman Trophy winner has endured an up-and-down career and has missed three games this season, but he certainly looked healthy racking up 172 yards against the Packers.
"Mark is actually healthy, and he's running like it," Harper said. "It will be fun to bang him a little bit."
RED ALERT: The Panthers aren't likely to shut out the Saints, so Carolina's offense needs to make sure it doesn't shut down when it earns scoring chances.
The Panthers are one of eight NFL teams scoring touchdowns on less than half of their drives that reach the red zone.
"We will be better. We have to be better. And I'm counting on the first sign of that this week," quarterback Cam Newton said after the offense was 0-for-3 in the red zone against the Seahawks. "The team that executes best and wants it more will get the advantage. It's about sheer will for guys to beat the man in front of them."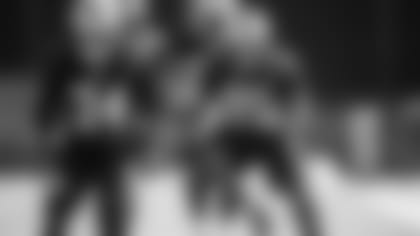 DOUBLING UP: To control the clock (and thus Brees) and get in position to score points, the Panthers will turn to their backfield.
The last time DeAngelo Williams and Jonathan Stewart were healthy enough to play in the same game, back in Week 1, the Panthers controlled the ball. They maintained possession for 35:12, which still stands as a season-best in regulation. And by the way, the Panthers won - on the road against division foe Tampa Bay.
Stewart really seemed to hit his stride against Seattle in his second game back from a knee injury, and now Williams is slated to return after a four-game absence with an ankle injury. Both have had their share of big games over the years against the Saints, and the Panthers need them to come up big again behind a patchwork offensive line that will be without left tackle Byron Bell and guards Amini Silatolu and Trai Turner.
GAME DAY HAPPENINGS

EVENT
DESCRIPTION
Panthers in the Park
Located at Romare Bearden Park in Third Ward between Church Street and Mint Street and open from 6:10 to 7:55 p.m. Free, interactive area offers fun for the entire family with appearances by the TopCats, Sir Purr and PurrCussion and the Fuel Up to Play 60 Kids Combine.
Fan Zone on Mint Street
Located between Morehead Street and Graham Street and open from 5 to 8 p.m., with TopCats signing autographs and posing for photos at the 107.9 The Link booth, Sir Purr appearing throughout the evening and a performance by PurrCussion. Watch a live broadcast of NFL Network pregame programming. Charge your phone at the AT&T Connection Zone. See what you will look like in 25 years at the Blue Cross and Blue Shield of North Carolina mobile unit. Learn about protecting your home from CPI Security. Check out more than 100 ways to organize your refrigerator from Frigidaire. Visit by the WBT 1110 AM set and register to win a football autographed by Panthers players. Play CW Plinko and win prizes from WCCB-TV. Get the Panthers latest gear at the team's merchandise trailer. Stop by the All-Star Cafe food truck for a quick and delicious meal on the go or grab a tasty snack from Smokey Brat Dogs. Area also features a DJ.
Giveaway
AT&T jersey rally towels
Pregame
Musical Performance - Surviving Allison
Invocation
Father Paul McNulty - St. Mark Catholic Church, Huntersville, N.C.
Presentation
Of Colors
Navy Operational Support Center - Charlotte, N.C.
National Anthem
Chloe and Halle Bailey
Halftime
Musical Performance - AKNU