Last year's 16-12 loss to the Seattle Seahawks in Week 5 typified how the first half of the season went for the Carolina Panthers.
They were right there but ended up on the wrong side of the final score.
"Coach (Ron) Rivera always says that if you just play good enough, then you play good enough to win but also good enough to lose," quarterback Cam Newton said.
Sunday, when the Seahawks return to Bank of America Stadium for the 2013 regular season opener, the Panthers want to instead play like they did at the end of last season, when they won five of their final six games.
It won't be easy against a Seahawks team that advanced to the NFL Divisional Playoffs in 2012.
"We finished strong last year, and we want to pick up right where we left off," Rivera said. "We want to start strong, start physical and play hard.
"But it's a very good team that we're playing across the board."
Both teams clearly improved after their meeting last year. Here are some things to watch as the Panthers try to turn the tables this time around.
RED ALERT: The Seahawks gave up an NFL-low 15.3 points per game last season, so they're obviously not a defense that typically allows many opportunities to opposing offenses.
The Panthers didn't take advantage of their limited opportunities in last year's meeting, failing to score touchdowns on either of their drives into the red zone. And over the final three preseason games, despite a pair of victories, Carolina settled for field goals on all four of its marches into the red zone.
"We have to value every possession, have to execute," Newton said. "And when we get in the red zone, we have to score touchdowns not field goals."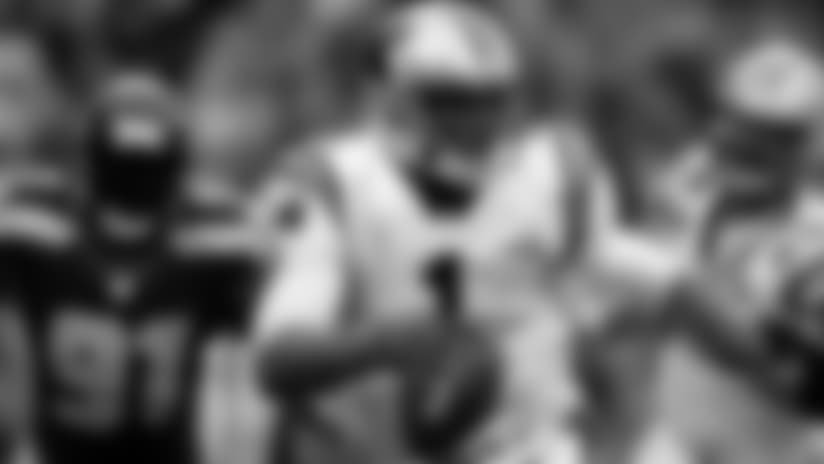 OPTION OFFENSE: One key for Newton in the red zone will be trusting that all of his fellow skill players can be counted on to make a play if called upon.
The usual suspects are a given - pass catchers Steve Smith, Greg Olsen and Brandon LaFell as well as running backs DeAngelo Williams and Mike Tolbert – but what about those behind them? If the situation calls for the Panthers to go three-wide, who can Newton turn to?
The answer is every wideout on the roster, according to Rivera. The Panthers' offseason-long search for its No. 3 wide receiver is over, and it has yielded three No. 3s.
"Each guy has a role as the third wide receiver," Rivera said. "They're all going to do the things they do well. Armanti (Edwards) has shown the ability to get open inside and underneath. Domenik (Hixon) is a big target in the corners and along the sideline. And of course with Ted (Ginn), it's the speed."
Newton targeted Smith 13 times against the Seahawks last year and connected just four times. He didn't target any other receiver more than three times. Newton needs to feel confident in targeting the open man, whoever that happens to be.
LBS WEIGH IN: The Seattle defense is loaded with playmakers, but at least a couple of them won't be in action. Defensive end-turned-linebacker Bruce Irvin is suspended for the first four games after violating the NFL policy on performance-enhancing substances, and defensive end Chris Clemons is expected to miss the game as he continues to recover from knee surgery.
There are no such concerns about second-year linebacker Bobby Wagner, who finished second to Panthers linebacker Luke Kuechly in voting for the 2012 NFL Defensive Rookie of the Year.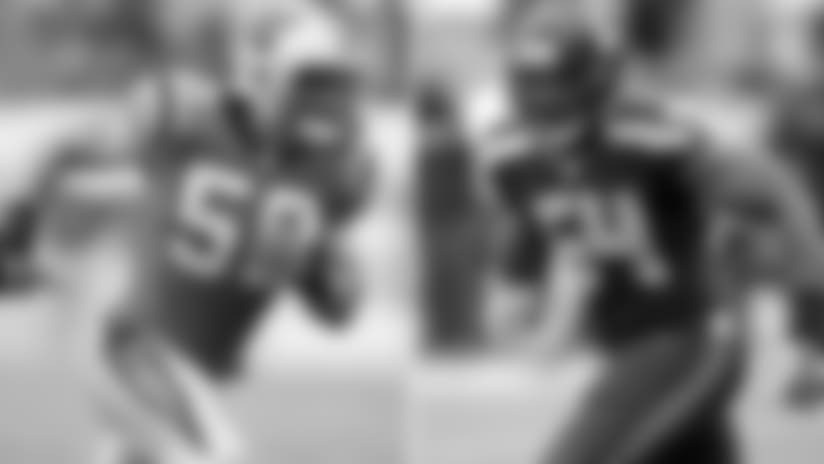 It was fun to watch the two show off their skills in last year's meeting, when Wagner recorded half of his season sack total with 1.5 and Kuechly got half of his interception total with one. Between them, they recorded 17 tackles on their way to a combined 304 tackles for the season.
Dan Morgan, a tackling machine as the Panthers middle linebacker a decade ago, recently discussed the duo with Seahawks.com. Morgan now serves as Seattle's assistant director of pro personnel.
"They're both excellent football players. They're both in the very top of their category," Morgan said. "But they're different players, even different body types. And the difference is that Bobby's a better athlete where Luke is just that instinctive guy. He's going to see it and go get it."
MR. WILSON: In a matchup of two defenses that ranked in the top 10 last season for fewest yards allowed, a dynamic quarterback can make all the difference.
The Panthers have to make sure that's Newton on Sunday rather than Russell Wilson, who made all the difference for the Seahawks last season.
"We've got to contain him," Panthers defensive end Greg Hardy said. "We've got to stop him from doing his thing, stop him from getting outside and getting to the point where his ability takes over."
That's what the Panthers did for the most part last year, when Wilson threw two interceptions and rushed for just 12 yards. Still, Wilson kept many plays alive with his feet and completed 19-of- 25 passes.
"Our defensive line has just got to get after him, and in the back end we've just got to keep covering them," cornerback Captain Munnerlyn said. "We might have to cover a little bit longer."
SPECIAL START: So many signs point to a game in which points will be at a premium. To that point, special teams could play a major role.
With Ginn injected into the Panthers' return game, the possibility of a game-changing play is greatly increased. But making the basic play will be just as important as making a big play. Kicker Graham Gano and punter Brad Nortman need to carry their preseason performances over to the regular season.
GAME DAY HAPPENINGS

EVENT
DESCRIPTION
Fuel Up To Play 60 Kids Combine
Located on the Panthers' practice field adjacent to Bank of America Stadium and open from 10:45 a.m. to 12:30 p.m. Free, interactive area promotes youth fitness through a variety of football skills and drills for children and their families. Activities include 40-yard dash, vertical jump, wide receiver/quarterback challenge, TopCats dance studio and inflatable obstacle course.
Panthers Lair
Located on the corner of Mint Street and Morehead Street and open from 10:45 a.m. to 12:45 p.m., with TopCats signing autographs and posing for photos at the 107.9 The Link booth and Sir Purr appearing throughout the morning. Discover a wide range of services, charge your phone and register to win prizes at the AT&T Connection Zone. Experience the Geico Football Tour, which includes multiple high-energy elements and consumer sweepstakes. Check out the Re/Max inflatable hot air balloon and take a picture in the basket. Visit the Ford vehicle display for giveaways. Learn about protecting your home from CPI Security. Stop by one of Charlotte's best food trucks at Queen City Q. Support the Levine Children's Hospital, the region's leader in specialized pediatric care.
Invocation
Rev. Rick Eason - Dilworth Baptist Church, Charlotte, N.C.
Presentation
Of Colors
81st Regional Support Command - Fort Jackson, Columbia, S.C.
National Anthem
Crystal Hoyt
Halftime
Drumline showcase featuring PurrCussion, Clemson University Drumline and North Carolina A&T Cold Steel Drumline
KEEP POUNDING PATIENT SUPPORT DRIVE:
Bring smiles to Levine Children's Hospital patients by bringing a donation to Sunday's game. Fans are encouraged to bring in-demand toys like bubbles, Play-Doh, crayons and DVD movies that will go directly to pediatric patients currently receiving care at Levine's. For the sake of patient safety, all toys should be new and unwrapped. The first 10,000 donors will receive a "Keep Pounding" awareness bracelet.
WHERE TO LISTEN:Panthers fans can listen to all the exciting action on the Carolina Panthers Radio Network. With more than 50 affiliates in four states, listeners across the Carolinas and in parts of Georgia and Virginia can hear play-by-play announcer Mick Mixon, former NFL great Eugene Robinson and WBT Sports Director Jim Szoke deliver the gameday experience over the air. Pregame coverage on the network starts at noon with the Bojangles Carolina Panthers Countdown to Kickoff, followed by the game broadcast at 1 p.m. and wrapping up with the CPI Security Systems Postgame Show.
Listeners in the Upstate of South Carolina and beyond will have a new option for hearing the Panthers in 2013. Effective immediately, WROQ FM 101.1 (Rock 101) is the new radio home of the Panthers in the Greenville-Spartanburg market. At 100,000 watts, Rock 101 represents one of the largest radio signals in South Carolina and will enable even more fans the opportunity to enjoy Panthers programming throughout the Upstate and into North Carolina and Georgia.