Panthers cornerback Antoine Cason readily admits that starting the season 3-0 would be a big deal, and he's excited about the chance to do it in front of a prime time audience.
Cason, however, isn't focused on what a prime time audience would think about the Panthers forging their first 3-0 start since the Super Bowl season of 2003.
"It's about proving it to ourselves once again and then continuing to raise that bar within each other," Cason said. "It's about playing hard for one another and continuing to stay together.
"Being on prime time is huge. To start 3-0 would be huge, but it's still so early in the season."
The Panthers will try to maintain their early-season momentum when the Pittsburgh Steelers (1-1) visit Bank of America Stadium for Sunday Night Football (8:30 p.m., NBC).
The Steelers played in prime time in Week 2 and suffered a 26-6 loss to the Baltimore Ravens. The game was last Thursday, giving Pittsburgh a little extra time to prepare.
Here's a look at what the Panthers are preparing for.
KEEP THE PRESSURE ON: The Panthers' pass rush – with Greg Hardy for one game and without him for one game – has picked up where it left off last season. After leading the league with 60 sacks in 2013, the Panthers rank fourth through two weeks with seven.
With Hardy now on the exempt list, the Panthers know they must continue getting to the quarterback. They also know that just getting to Steelers quarterback Ben Roethlisberger isn't enough.
"He may not be able to make guys miss," safety Thomas DeCoud said, "but he can make throws with guys draped on him."
Roethlisberger is famous for keeping plays alive against a relentless rush with subtle shifts and brute strength alike. Detroit quarterback Matthew Stafford extended some plays against the Panthers last week, but unlike in the Lions' season opener, Stafford was rarely able to make much of them thanks to Carolina's strong play in the secondary.
Again this week, that type of team effort in passing situations is essential to success.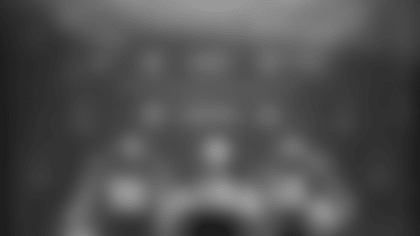 KEEP THEM GUESSING: Roethlisberger's unique physical abilities are only part of the equation.
"He may have seen everything – he's seen a lot of football played at a high level in this league – so we have to make sure we're not out there playing with our cards face-up," DeCoud said. "We've got to make him make a decision, make him make a choice based on what he thinks we're in."
Creating doubt in the mind of Roethlisberger, now in his 11th season, isn't easy. But if the Panthers' pass rush gets to him fast, fooling him even for a second could be big.
RAPID RESPONSE: When Roethlisberger delivers the ball, he'll do so to a different type of receiver than the Panthers have faced the first two weeks.
"They've got a lot of quick receivers that can extend the field," cornerback Melvin White said. "Even though they're speedy guys, we're going to maintain our style of football. It's going to be a nice challenge, but we'll be ready for them."
Antonio Brown has developed into one of the most dangerous receivers in the NFL, and second-year receiver Markus Wheaton is quickly developing into a dangerous complement. Both are under 6 feet. Tampa Bay started two receivers 6-5 or taller against the Panthers before Detroit featured 6-5 Calvin Johnson. This week, the Panthers have to make sure speed doesn't kill.
ROOM TO RUN: The Steelers' most effective offensive player so far has been running back Le'Veon Bell, who ranks fifth in the NFL with 168 rushing yards. When the Panthers have the ball, they need to make their running game a threat.
Carolina ranks 25th in the NFL with 87.5 rushing yards per game, but Pittsburgh is allowing twice that much per game - ranking 30th when it comes to stopping the run.
"They probably have their problems, but I'm sure they're fixing them right now," Panthers right tackle Nate Chandler said. "Every week is an opportunity for us to capitalize on something we didn't do as well the previous week. No matter who the team is, we always want to be able to run the ball."
If the Panthers, who have had their share of injuries in the backfield, can effectively run the ball, they could find themselves in position to run out the clock in the waning minutes.
BAG POLICY: The National Football League bag policy designed to enhance safety will be strictly enforced. Under the policy, approved bags must meet the following criteria:
• Small clutch purse no larger than 4.5" x 6.5"
• Any transparent plastic or vinyl bag no larger than 12" x 6" x 12"
• Seat pad that does not contain zippers, clasps, etc., and is not encased in vinyl.
For the most efficient, effective and quickest entry into the stadium, officials recommend the following:
• Arrive at the stadium gates 30 minutes earlier than you have in the past.
• Refrain from bringing items that require a bag check.
Review the complete list of prohibited items and bag policy.
GAME DAY HAPPENINGS

EVENT
DESCRIPTION
Panthers in the Park
Located at Romare Bearden Park in Third Ward between Church Street and Mint Street and open from 6:15 to 8 p.m. Free, interactive area offers fun for the entire family with appearances by the TopCats, Sir Purr and PurrCussion and the Fuel Up to Play 60 Kids Combine. Sign up for the Carolina Panthers Kids Club. Take a tour and picture of the Sunday Night Football Bus.
Panthers Lair
Located on the corner of Mint Street and Morehead Street and open from 6:15 to 8:15 p.m., with TopCats signing autographs and posing for photos at the 107.9 The Link booth, Sir Purr appearing throughout the morning and a performance by PurrCussion. Play CW Plinko and win prizes from WCCB-TV. Charge your phone at the AT&T Connection Zone. Get a free koozie at the Frank's Hot Sauce tent. Stop by the All-Star Cafe food truck for a quick and delicious meal on the go. Area also features a DJ.
Giveaways
Bank of America and Harris Teeter rally towels (pregame)
Krispy Kreme coupons (postgame)
Pregame
Musical Performance - Caleb Johnson
Invocation
Pastor Brad Wright - Glenn View Baptist Church, Winston-Salem, N.C.
Presentation
Of Colors
U.S. Marine Corps Recruit Training Regiment - Parris Island, S.C.
National Anthem
Priscilla
Halftime
Musical Performance - Blues Traveler