At the end of the Panthers' final practice before Saturday's preseason opener, cornerback Captain Munnerlyn experienced a little bit of game pressure – training camp style.
With all of his teammates gathered around and a night off from meetings hanging in the balance, Munnerlyn had to make one of three field goal attempts – from 12 yards out.
"I wasn't going to let my teammates down," said Munnerlyn, who connected on his second attempt to send the players home happy. "We got the night off so we can go back to Charlotte and rest up for tomorrow."
A cornerback making an impossibly short field goal may seem trivial, but there's always a method to head coach Ron Rivera's madness. It speaks to a mentality that he hopes to continue to build in Munnerlyn and his teammates when the Panthers host the Houston Texans (7 p.m., Panthers TV).
"It's always nice when you put it all on one guy, and he handles it," Rivera said. "You look for guys that you can put in situations that may have to make a play for you during the season.
"Winning develops an attitude, and that's what we want to do. The guys have worked hard for two weeks, and I expect them to respond and play well."
Rivera wants to see his defense begin to develop an identity against the Texans, though he admits the goal will be more difficult with linebackers and leaders Jon Beason (hamstring) and Thomas Davis (calf) both sitting out the game. Rivera expects both to return to practice next wek, hopefully before the Panthers break camp Wednesday.
Here are some other things worth paying attention to when the Panthers tee it up for the first time this season.
---
NEW PIECES ON OFFENSE: Last season, the Panthers' passing game thrived thanks in part to a pair of dynamic tight ends but with little contribution from the fullback spot.
Against the Texans, the offense's new plan in those areas will be on display for the first time.
Gone is tight end Jeremy Shockey, a reliable complement to Greg Olsen in 2011. But the Panthers welcome back Gary Barnidge, a big, fast tight end sidelined last season by a leg injury. He is being counted on to be the team's other pass-catching tight end, though Olsen seems more than ready to take on an ever bigger role.
In addition, the fullback spot should be much more active with the offseason acquisition of free agent Mike Tolbert. It's going to be interesting to see how the Panthers utilize Tolbert, who has great hands out of the backfield and is a proven short-yardage back as well.
---
HOLDING THE LINE: The Panthers surprised many by not taking a defensive tackle in the 2012 draft. Rivera showed a lot of faith in the returning group, and he'll get his first live look at how they're responding to the vote of confidence.
"It's going to be a great test for who we are as a defense," Rivera said. "They're a physically aggressive team that runs the ball very well. We have to find out where we are and what we need to improve on, so this will be good for us."
Defensive tackle Ron Edwards, who missed what was to be his first season with the Panthers with a torn triceps muscle, will try to show what a difference he can make. Second-year players Sione Fua and Terrell McClain, the starters last season before landing on injured reserve, will resume their growing process.
On the ends, the Panthers want to get more consistent pressure on the quarterback out of their base defense. While Charles Johnson has proven he can do that, Greg Hardy is hoping to take a big leap forward this season, and Thomas Keiser is hoping to pick up where he left off. Fourth-round draft pick Frank Alexander will make his debut.
---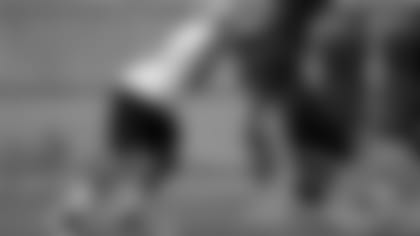 TIME TO SHINE: Alexander is one of 19 rookies on the roster, along with 15 other newcomers.
Fans are undoubtedly anticipating the debuts of the team's high draft picks – linebacker Luke Kuechly, guard Amini Silatolu, wide receiver Joe Adams, Alexander and cornerback Josh Norman – but there are plenty more to keep an eye out for as well.
Haruki Nakamura at safety will be one to watch, as will wide receiver Louis Murphy. Rookie hopefuls like wide receiver Jared Green and running back Tauren Poole should get some opportunities.
The newest of newcomers, guard Andre Ramsey, won't play. He was added to the roster Friday after the Panthers waived/injured offensive tackle Lee Ziemba, a 2011 seventh-round draft pick who suffered a right knee injury in practice on Aug. 2.
Ramsey, a 6-5, 312-pounder, played in two games with the Buffalo Bills as an undrafted rookie from Ball State in 2009 and most recently played in the Arena Football League.
---
KICKER BATTLES: The Panthers' kickers and punters have performed well in practice, but the competition gets more serious now.
"Out here (at practice) is one thing – and we try to do as much as we can to see how they react – but the real tell will be when we start playing games," Rivera said. "The big thing for me will be pressure in the game."
That's especially true since both battles pit experience against youth. Sixteen-year veteran Olindo Mare is battling Justin Medlock – whose two NFL kicks were in 2007- for placekicking duties. Twelve-year veteran Nick Harris is competing for the punting job opposite rookie Brad Nortman, the Panthers' sixth-round draft pick.
---
SECURITY MEASURES: Fans should be prepared for potentially longer lines at the Bank of America Stadium gates as the team implements NFL-mandated enhanced security screening for the 2012 season.
The use of hand-held metal detectors and the possibility of pat-downs could slightly delay entry. Gates open at 5 p.m.