1. Run defense has work to do: The Panthers defense has prided itself on stopping the run under Ron Rivera, and their performance in that area against the Broncos in Week 1 disappointed the head coach.
Led by running back C.J. Anderson's 92 yards on 20 carries, Denver rushed for 148 yards. Rivera was particularly peeved with the two longest runs – a 28-yarder from Anderson and a 28-yard touchdown run from fullback Andy Janovich.
"We didn't shut down their running game. They ran the ball well," Rivera said. "There's some things that we've got to get corrected on the defensive side of the football, and I know our guys on the defense will take it very personal."
Denver's consistent success on the ground kept Carolina off balance and allowed first-time starting quarterback Trevor Siemian to find a groove with manageable down and distance situations.
"Now they can use their entire arsenal. They can go bootleg; they can go hard play action; they can go into spread and bring them back in, but you still have that threat of run," Rivera said.
Added linebacker Thomas Davis: "They leaned heavy on the run game. As a defense, we have to do a better job of defending the run."
2. Cornerback plan unveiled: The Panthers went with a somewhat surprising look in the secondary in the season opener.
Rookie cornerback James Bradberry started on the outside and went through some ups and downs against Denver, which was expected. What wasn't necessarily expected was Bene Benwikere starting on the opposite side with veteran Robert McClain manning the nickel spot.
Rivera said Benwikere earned the right to start after a solid preseason.
"As we broke down the last two weeks of preseason, Bene played really well. Robert really shored up that nickel position, so we didn't have to work Bene as much in the nickel spot," Rivera said.
"We've been doing a lot of rotating all camp long, just trying to figure out where the pieces go," said Benwikere, who suffered a season-ending leg injury late last season. "The coaches let us know earlier in the week. We had gotten a lot of reps at different spots. It definitely felt comfortable out there."
Rivera added that he'd like to see rookie cornerback Daryl Worley, who was listed as a starter on the pregame depth chart, get more opportunities moving forward. Worley's action was limited to special teams.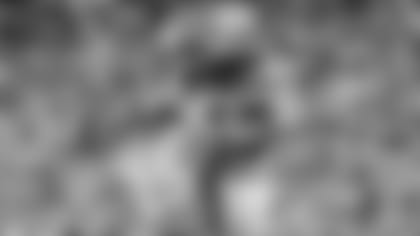 3. Benjamin makes immediate impact: Wide receiver Kelvin Benjamin wasted no time making plays in his first regular season game since 2014.
Benjamin scored the game's first touchdown, shielding cornerback Chris Harris, Jr. in typical Benjamin fashion to haul in a 14-yard pass from quarterback Cam Newton. He finished with six catches for a team-high 91 yards, and played 52 snaps, which was about 15 more than Rivera anticipated entering the game.
"I really felt like I could compete," Benjamin said. "I'm a competitor, and I'm going to find a way to get open."
Overall, Rivera was thrilled with the way Benjamin played in his long-awaited return.
"It was exciting to talk to him afterwards," Rivera said. "He was disappointed, obviously, that we lost, but when you listen to him talk about having had that chance to get back on the football field, to make a couple plays that made a difference in the game for us early, he was excited, and I was very excited for him because he worked very hard."
4. Lee everything Panthers hoped he'd be: Andy Lee's regular season Panthers debut was "phenomenal," to use Rivera's word. The veteran punter, who Carolina acquired in a trade with the Browns, booted the longest punt in team history (76 yards) and recorded the highest ever gross average (63.0).
"It most certainly does justify, or initially justifies, why we went out and got him," Rivera said. "He flipped the field for us one time with a spectacular punt. I guess it made history, the longest ever in our history, so that was kind of neat for him coming back to his hometown and doing something like that."
5. Newton sets more records: Newton broke a pair of records previously held by Steve Young during Thursday's game.
Newton, who ran for a 2-yard score, now has 44 career rushing touchdowns - most ever by a quarterback. He also has an all-time best 32 games with both a passing and a rushing touchdown.
View the top photos from Carolina's loss at Denver by team photographer Melissa Melvin-Rodriguez.