1. 100-yard streak stopped:A physical, consistent running game has been a hallmark of the Panthers during Ron Rivera's tenure, and he believes rushing for 100 yards is an important ingredient to winning football.
The Panthers rushed for just 49 yards in Sunday's loss to the Falcons, ending a streak of 30 consecutive regular season games with at least 100 rushing yards. Quarterback Cam Newton was Carolina's leading rusher with 30 yards on five carries, and running back Cameron Artis-Payne produced 12 yards on six carries.
The streak was the longest active streak in the NFL, and the longest since the Steelers produced 43 consecutive during the 1974-77 seasons.
"I'm crushed by that, I really am. I think it's important. It's something we have to make sure we stay on top of," Rivera said. "Our offensive line is a scrappy bunch, a physical bunch. To be able to run for 100 yards is just indicative of their scrappiness and toughness. I'd like to see us get back to that."
2. New looks at safety:The Panthers went with a rotation at the safety position against Atlanta. Kurt Coleman played every snap, but Colin Jones, Tre Boston and Michael Griffin all saw action alongside him.
Jones, typically a special teams ace, started the game and played 10 defensive snaps. Boston played 23 snaps, primarily in passing situations. Griffin, the newly signed veteran, played 34 snaps in his first game with the team.
"Colin is an athletic guy that runs around very fast and hits people. We wanted to give him an opportunity," Rivera said. "We wanted another look at Tre; we let him do some situational football, slow some things down and take some of the pressure off of him.
"We wanted to give Michael Griffin an opportunity as well. There are some things we are trying to figure out."
Boston started the previous three games and was preparing for a breakout year in his third season. But the coaching staff is still searching for the right mix in the secondary.
"The hard thing for Tre is this is his opportunity, this is his chance, and there are a lot of things going on, and he's learning," Rivera said. "With those young corners and Tre out there it's a lot of young guys. We're trying to find some veteran guys we can mix in."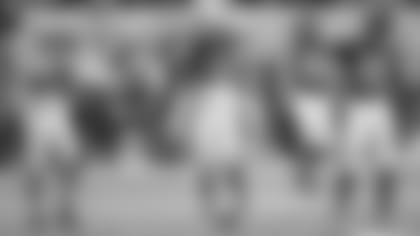 3. Pass rush a work in progress:Carolina did sack Matt Ryan three times, including defensive tackle Kawann Short's first of the year, but the pressure wasn't consistent enough throughout the game. As a result, Ryan was able to survey the field, and the secondary was picked apart.
"There are some things that we can do better in terms of pass rush, and they're working on it," Rivera said. "When we got to the quarterback and put pressure on him, we made plays. When we didn't, it was tough.
"When you know they have to throw the football you can pin your ears back and make something happen. When they have the option of run or pass, hard play action, bootleg, it makes things difficult. That's the situation we've been in the past couple of games."
4. Lee's brilliant effort negated:Punter Andy Lee certainly did his part to help swing the field position in Carolina's favor. Lee dropped four punts inside the 10-yard line, three of which were downed inside the 3.
One of those punts led to the Panthers' first-touchdown – an 8-yard interception return by Coleman.
But other than that, the Falcons had no trouble starting drives deep in their own territory, as they produced three touchdown drives of 90-plus yards.
"The biggest thing in each one of those were the big plays," Rivera said. "That's the thing that was the most troublesome – a big play over 40 yards on each on those drives. That was really troublesome."
5. Injury updates: Rivera didn't have any updates Monday regarding the status of Oher, quarterback Cam Newton (concussion) or wide receiver Devin Funchess (toe).
But linebacker Thomas Davis, who was forced out of the game with a hamstring injury, shared some encouraging words with Rivera.
"I saw TD, he told me he's going to be fine," Rivera said, "but I haven't talked to the trainers at all."
When asked if running back Jonathan Stewart (hamstring) could potentially return this week, Rivera said, "We'll see. We shall see."
View photos from Carolina's game against the Falcons by team photographer Melissa Melvin-Rodriguez.