1. Tale of two halves continues to create trouble: Sometimes it's been a fast start followed by a lull in the second half. Other times, it's been just the opposite. Either way, the Panthers know inconsistency is hampering their ability to close out wins.
Sunday against the Raiders, the Panthers trailed 24-7 at halftime. They had 89 total yards, 47 of which came from one rush by Jonathan Stewart.
"Let's be honest, we didn't play very well in the first half," head coach Rivera said.
Quarterback Cam Newton, who was 3-of-11 for 18 yards, called the first half performance "unacceptable."
But the Panthers rallied furiously in the second half, scoring 25 unanswered points and racking up 269 total yards after halftime.
"In the second half we came out and we gave ourselves every opportunity, and that's all you can ask for is the guys come out and play like that," Rivera said. "When you pick up momentum and it gets things rolling, things kind of snowball and you create some positive energy for yourselves."
After a heartbreaking 35-32 loss, the Panthers must try to carry that positive energy forward into four quarters of effective play instead of one or two.
"Our whole deal is to try to play four quarters of Panthers football," wide receiver Ted Ginn, Jr. said. "We're not doing that."
2. Benjamin wanted to make an impact:Wide receiver Kelvin Benjamin was caught in the heat of the moment when he tossed his helmet in frustration during the second half.
The third-year wide receiver was upset when coaches pulled him out of the game.
"Just emotions," Benjamin said. "I just wanted to be on the field to help my team."
Rivera said they were being cautious with Benjamin, who landed hard on his shoulder and was experiencing some discomfort.
"They wanted to get him out right there and make sure he's alright, and he wanted to keep trying to push himself through it," Rivera said. "I told him, 'Hey, I appreciate you being passionate. You just got to learn to control it.' But he didn't want to come out. He wanted to get back out there and try and make a play for his team."
Benjamin ultimately did just that. Early in the fourth quarter, he fought off cornerback Sean Smith to make a spectacular 44-yard touchdown catch.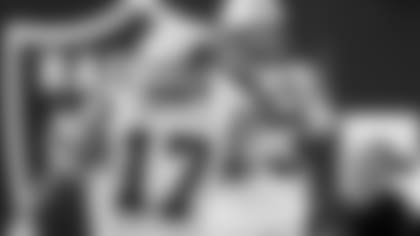 3. Panthers don't want too much on Shaq's plate: With linebacker Luke Kuechly out with a concussion, A.J. Klein stepped in as the starter at middle linebacker in the base defense and assumed Kuechly's role in nickel situations.
Klein and Thomas Davis both played 100 percent of the snaps against Oakland. Rivera was asked why Shaq Thompson, the team's first-round pick in 2015 who played 23 percent of the snaps Sunday, didn't see time alongside Davis in those nickel situations.
"He's not just playing outside linebacker for us, he's also playing what we call the 'buffalo (nickel)' position," Rivera said of Thompson. "He's doing double duty in terms of learning, so we've put a lot on his plate to begin with."
Added defensive coordinator Sean McDermott: "We believe in A.J., who is a good, solid football player. (In regards to Thompson) sometimes it's a challenge to play two or three positions within one game. It's something that we talk about and vet out. But we feel confident with A.J., and we went with him."
4. Corners growing and improving: Rookie cornerbacks James Bradberry and Daryl Worley continue to draw praise from the coaching staff.
Worley particularly stood out in the box score, recording a game-high 12 tackles and two passes defensed against the Raiders.
"I thought Daryl Worley did some nice things," Rivera said. "The game stats show that he led us in tackles. Anytime a corner has got to come up and make tackles, that's a big deal. The young man is developing and growing.
"I think James Bradberry did a really nice job. This could be an exciting group as we go forward."
5. Coaches' decision to make Butler inactive: Defensive tackle Vernon Butler was healthy enough to play, but the Panthers opted to make him inactive Sunday.
The ankle injury that forced the 2016 first-round pick to miss five games has been a hindrance, but Rivera also liked what defensive tackle Paul Soliai could bring as a run-stopper against Oakland's imposing front line.
"He's developing, he's growing, he's becoming the player that we want him to. Then there is the setback," Rivera said of Butler. "That ankle is going to come back a little slower. Sitting him down yesterday had very little to do with that. It had more to do with strategy and the things we wanted to do.
"Is he back to the guy we saw at the beginning? No, not yet. He's not going to be until we stop playing. We expect Vernon to keep practicing and competing. We'll see whether or not he's active against Seattle."
View the top photos from Carolina's loss at Oakland by team photographer Melissa Melvin-Rodriguez.