1. Mario was super Sunday: Mario Addison will be the first to tell you he had plenty of help from his coaches and teammates, yet he stands alone among the defensive end group when it comes to sacks.
Addison recorded two of the Panthers' four sacks against the Rams, a number that represents more sacks than any of his fellow defensive ends have for the season. That's fine, though, because Carolina now has 12 sacks in the last two games after totaling 12 over the first six games. The Panthers are now third in the league with 24 sacks.
"It wasn't just me. It's the whole defensive line – always," Addison said. "And we do it every game. Just because we don't get sacks every game, that doesn't mean we're not a good defensive line. We always get pressure on the quarterback."
Head coach Ron Rivera praised Addison and all of his fellow ends for their increased production and credited the players who have stepped up, their coaches, and even Carolina's offense.
"Some of it has been the play of our offense. We've been able to get leads early, and that allows you to do a few different things," Rivera said. "Some of the blitz packages (defensive coordinator) Sean (McDermott) and the guys have put together have really helped feature some of Mario's abilities, and some of the line stunts that (defensive line coach) Eric (Washington) has been coaching up and teaching have helped as well.
"And it's not just been Mario; watch the play of Charles Johnson, and Kony (Ealy) had a nice day yesterday. Another guy who has quietly done his job is Wes (Horton). He's played solid and has given us that presence as a stout guy against the run. It's a good time for it to all come together."
2. Bradberry back, secondary surging: The Panthers welcomed corner James Bradberry back after a three-game absence with turf toe and opted to pair him with fellow rookie Daryl Worley in the starting lineup over Robert McClain, who was used exclusively on special teams.
"I feel like I had an OK game. I left some plays out there, but I also made some plays," said Bradberry, who was the lone player to record two passes defensed on a day when the team had eight. "It was just good to get out there with my teammates again after being out awhile."
The Panthers dared Los Angeles to throw yet still limited the Rams to 155 passing yards through three quarters before they finally got something going in the closing minutes.
"They played the way we think they're capable of, but I also think they can play better," Rivera said. "Daryl Worley is really coming into his own. With James, you saw some of the rust. He made a couple of mistakes on a couple of things that didn't come as quickly for him as Daryl because Daryl's been playing every week.
"But these are two young, exciting players for us. They have bright futures if we can keep them healthy and continue to help them grow."
3. Different styles, same result: The Rams and the Cardinals – Carolina's previous opponent – both reside in the NFC West. But they have little else in common.
One other similarity? They both fell short against the Panthers.
"This was a very physical football game, a very different game than we played the previous week against Arizona. Different style of defense, different style of offense, and we were able to match them," Rivera said. "The week before was a more wide-open approach. They came out and spread formations, and we had to match them defensively. This week was packed in, with eight, nine guys in the box for both teams, and when that happens, it's going to be a very physical game."
In response, the Panthers took a decidedly different personnel approach on defense. Safety Michael Griffin – identified by Rivera as a run stopper  – started against the Rams and played 19 snaps after he didn't play on defense against the Cardinals. Nickel back Leonard Johnson sat out 18 snaps against the Rams after being on the sidelines for just six against the Cardinals.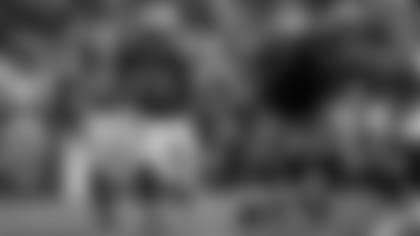 4. No pain, no gain: The Panthers were held under 100 rushing yards for the just the second time all season and averaged a season-low 2.4 yards per carry, but they stuck with the run and it eventually paid off.
"They're really good on defense," offensive coordinator Mike Shula said. "There were some tough runs, but you've got to try to keep the mix and balance knowing that there might be a few runs that don't get the gains that you want them to get, but then you may pop a few in there. Plus, you don't want to throw the ball every down because they're really good as pass rushers. They have a lot of talent and high-round picks up front."
The perseverance paid off early in the fourth quarter when Jonathan Stewart, who had nine carries for 10 yards to that point, reeled off a 17-yarder to put the Panthers in position for a field goal that increased their lead to 10-0 – virtually insurmountable in the type of game it was. 
"That was a huge run for us in a key point in the game," center Gino Gradkowski said. "We were finally able to break one."
5. No gain: On the other hand, the Panthers were equally as effective containing running back Todd Gurley, with one notable difference: His one big run of the day didn't hurt the Panthers.
Gurley was held to 48 yards on 12 carries, with by far his biggest run coming out of the "Wildcat" formation of all things, an 18-yard gain that got the Rams past midfield late in the first half.
But, on fourth-and-1 from the 38, the Rams tried to get the yard with Gurley on a zone read look up the middle, only to have Kawann Short and Luke Kuechly swallow him up behind the line of scrimmage.
"We were able to take away a darn good running back and control the line of scrimmage," defensive coordinator Sean McDermott said.
View the top photos of the Panthers' win against the Rams by team photographer Melissa Melvin-Rodriguez.