1. Slow starts must stop: The Panthers entered the month of October facing a three-game stretch against division foes that they hoped would jump-start their season, but instead they came out of the starting block slow on all three occasions.
All three games, capped by Sunday's loss at New Orleans, eventually featured furious comebacks by Carolina, but all three resulted in losses.
"We've come charging back a couple of times and given ourselves a chance to win, but we have to look at some things and figure out how to correct some things early on," head coach Ron Rivera said. "After 25:04, we were down 21-0. Then the last 34:56, we scored 38 points to their 20.
"There is a little bit of a rhythm you've got to get into, and we've got to get into that rhythm faster. We've got to find ways to do that."
The three-game stretch started with the Panthers falling into a 34-10 hole at Atlanta before an impassioned fourth-quarter comeback actually led to Carolina gaining possession with a chance to tie before falling short 48-33. It continued the next week on Monday Night Football, when the Panthers came back from a 6-0 halftime deficit to claim the lead before falling 17-14.
"In every game, we find a point where we turn it on," tight end Ed Dickson said. "We have to come out like that, start fast and be able to keep it going."
2. Secondary concerns: The Panthers' challenges at the outside cornerback spots have been well-documented, with attrition leaving them to start two rookies and finish with one rookie and a career special teams specialists.
In addition, the Panthers had to try something new at nickel corner and went back to something previously attempted at safety.
Down so many bodies, the Panthers turned to linebacker Shaq Thompson at nickel. They also went back to Tre Boston being the primary safety alongside Kurt Coleman.
"Based on what they do, we felt we could do some things to help ourselves and create some positives," Rivera said. "Because of all the passing, we wanted to put Tre out there a little bit more."
"It's something we're going to continue to work through, and we'll find an answer for it."
Getting starting outside corners James Bradberry (foot) and Robert McClain (hamstring) back after the bye would certainly help, and Leonard Johnson could provide another option. A veteran with nickel experience signed in the summer, Johnson spent training camp and the first six weeks of the season on the non-football injury list but could return to practice this week.
"He's a guy I'm anxious to see," defensive coordinator Sean McDermott said. "I think he has some toughness to him, and credit to him for sticking with it within the rules of what he can do in terms of staying with us and whatnot along the way."
3. Could Benwikere have helped? For those who wondered if the Panthers could have used cornerback Bene Benwikere against the high-powered Saints, Rivera addressed that on Monday. Benwikere was released days prior to the Week 5 contest against Tampa Bay and has since joined the Miami Dolphins.
"We've got young guys that are going play, and quite honestly, Bene didn't do the things that we needed him to do," Rivera said. "Feeling the way we did about it, there were some things we had to do to get these young guys some opportunities.
"We've got to make sure everybody is on the same page. If we're not, then we've got to get guys that are going to be on the same page."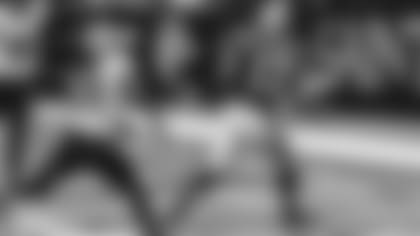 4. Funchess finally involved:After struggling for several weeks to get Devin Funchess involved, the second-year wideout broke through with a 17-yard touchdown catch to make it 21-10 in the second quarter. He also secured a clutch two-point conversion to tie the game 38-38 in the fourth quarter.
Funchess was targeted six times and he finished with two catches for 28 yards. One of those targets led to an interception in the end zone with Carolina trailing 21-0. It was a play Funchess took full responsibility for after the game. The timing wasn't right as Newton tossed the fade pass to Funchess in the end zone and cornerback Sterling Moore was able to make a play on the ball.
"I messed up on the play and there was miscommunication between me – nothing on Cam," Funchess said. "I was the reason why he picked the ball off.
"I had to go out there and make the next play for my team."
5. Bye week will be valuable: The week off is valuable because it gives the long list of injured players a chance to heal, but also because it gives the coaching staff extra time to try to cure some of the team's ills before the October 30 game against the Arizona Cardinals.
"We have an opportunity to step back this week, to evaluate us. We'll go through self-scouting and look for some answers and hopefully get some answers," said Rivera, who had already started the process before his Monday press conference. "We've got a good week to do that. It's a good opportunity for this football team.
"What we've got to do is start taking care of our business and doing the things we're capable of, and that starts now."
---
Staff writer Max Henson contributed to this report.
View top photos of Carolina's game against New Orleans by team photographer Melissa Melvin-Rodriguez.