1. Plenty of room to grow for Benjamin:The first two games of the season were wide receiver Kelvin Benjamin's most productive. But looking back, head coach Ron Rivera thinks they may have put too much on Benjamin after he missed all of 2015 with a knee injury.
"As I look back on it, maybe we got him out there too much, too early and too soon," Rivera said. "I think we got ahead of ourselves with Kelvin earlier in the year, and as he's progressed, there's been moments where he didn't play as well as he would have liked or we would have liked him to earlier in the year, but he was still out there. Now you start to see him rounding his shape. You start to see the things that he needs to do. He's still learning."
Benjamin posted two catches on nine targets for 18 yards against the Seahawks. Offensive coordinator Mike Shula believes he is capable of much more, but the entire offense has to start clicking for that individual success to take place consistently.
"We would have liked him to continue that (early season) production throughout, but that's not just on Kelvin, that's all of us," Shula said. "He still is a young player – and I mean this in a positive way – who has a lot of room for improvement. The ceiling for him, he hasn't reached that. That's a good thing."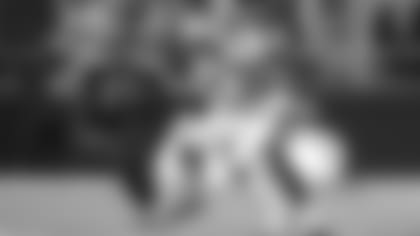 2. Another big play from Ginn:Wide receiver Ted Ginn, Jr. is one player who continues to be a bright spot. He scored Carolina's lone touchdown Sunday night, hauling in a 55-yard pass from quarterback Cam Newton in the second quarter.
Ginn has now recorded a touchdown reception of at least 40 yards in three consecutive games. The veteran had a 40-yarder against New Orleans and a career-long 88-yarder versus Oakland.
"He's playing really fast," offensive coordinator Mike Shula said. "He brings various things to the table because of his speed."
The touchdown catch at Seattle was the 18th of Ginn's career with Carolina, and eight of those have been at least 40 yards.
3. Solid start for Larsen: Tyler Larsen made his first career start at center against Seattle, and he impressed his head coach and offensive coordinator with his showing against an elite defense in a notoriously tough environment. The line didn't allow a sack against the Seahawks.
"Tyler played very well. Very pleased with the effort we've had from Tyler," Rivera said. "He's one of those young guys that you gain confidence in as he goes forward in his career and becomes a part of what we do here as a football team. He looks like he can be a solid player, a guy that can give us some position flexibility as we go forward and could be a solid backup for us."
Added Shula: "I hate to say it like this, but he was better than I thought. I wasn't quite sure what my expectations were when you're using your fourth-string center… but he did a good job with the snaps and communicating some of the things. There were a couple times where he maybe has to be quicker on some adjustments, but that could come from (any) starting center against that team on the road with the crowd noise. For his first start, I thought it was pretty good. Hopefully he'll get better this week."
View the top photos from Panthers vs. Seahawks by team photographer Melissa Melvin-Rodriguez.