1. Home streak continues: With the 46-27 win over the 49ers, Carolina has now won 14 consecutive games at home, extending the longest active streak in the NFL.
"I think that's pretty special. These games in the NFL are not easy to win," tight end Greg Olsen said. "To win like that in front of our crowd and have such a homefield advantage that we've been able to develop – it's nice. We'll try to make it 15 next week. We've just got to keep it rolling."
The Panthers offense got rolling at Bank of America Stadium, something the home crowd has gotten used to seeing.
Last season, Carolina averaged 30.7 points per game at home (including the two postseason games).
"We've got a motto – defend your dirt – and that's what we did today," linebacker Shaq Thompson said.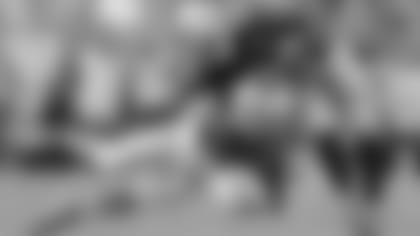 2. Run defense bounces back: There were questions asked about Carolina's run defense after the Broncos racked up 148 yards on the ground in Week 1, and the Panthers responded with a much better effort in Week 2.
The 49ers rushed 26 times for 65 yards, good for a 2.5 yards per carry average. Lead back Carlos Hyde finished with just 34 yards.
Carolina also made plays in the backfield, compiling five tackles for loss.
"The biggest thing last week was tackling," Thompson said. "We did a pretty good job today, everybody doing their job in being one-of-eleven, controlling their gaps and playing sound defense."
3. O-line shores up protection: Quarterback Cam Newton was not sacked Sunday, a statistic every offensive line strives for.
But it was a particularly noteworthy achievement considering all the well-documented punishment Newton took a week ago at Denver.
"The protection as a whole was extremely solid, and that happens with great tempo," Newton said.
Head coach Ron Rivera was pleased with the protection but also noted Carolina's concerted effort to limit Newton's rushing attempts after such a physically demanding season opener.
"We didn't run him like we did (in Denver)," Rivera said. "This game we were able to run the ball by handing it off. Last week, we needed Cam to open some things up.
"This was a really good example of being able to keep him out of the running game."
4. Bradberry gets confidence boost:That first career interception is a special moment for any young defensive back, and rookie cornerback James Bradberry was able to get one under his belt.
Bradberry picked off Blaine Gabbert's third-down pass for wide receiver Torrey Smith in the fourth quarter.
"I knew our front seven was going to get a good rush so I could play aggressive on whatever they ran. It was all curls, and I sat at the sticks. The ball just fell right in my lap," said Bradberry, who also notched two pass breakups.
His teammates erupted in celebration on the sideline after Bradberry returned the interception 16 yards.
"They were more excited about my interception than I probably was," Bradberry said with a laugh. "As soon as I looked up there were folks all around me.
"Especially after I gave up that first touchdown (against Smith) I was a little down on myself. Coming back and making that play for my team is a huge confidence boost."
5. New look for D-line rotation: The Panthers made a somewhat surprising decision to make veteran defensive tackle Paul Soliai inactive for Sunday's game.
But that decision meant defensive end Lavar Edwards, who was claimed off waivers prior to the season opener, was active for the first time. He spent most of the afternoon lined up inside.
"I wasn't perfect, but I felt I did some good things," Edwards said. "I just have to getter better every week. Whatever they ask me to do I'm going to do.
"I've been getting more comfortable with playing inside. It's almost to the point where it's second nature to me."
View game action photos from Carolina's 46-27 win over San Francisco.