1. Panthers are pressing: After Ron Rivera and his assistant coaches watched film of Monday night's 17-14 loss to Tampa Bay, Rivera asked his assistants to identify who didn't play well and why they didn't play well.
Some of the team's top players were singled out, but not because of any lack of effort. Just the opposite, actually.
"Some of our guys that didn't play well, they played hard, but in some cases too hard, trying to make plays and trying to do things that aren't their job. Because of that, we made a few more errors," Rivera said. "We're pressing. There's a lot of pressure, a lot of expectations, and these are things that we have to make sure we understand. Take care of your job first."
The push to make things happen for a team off to a surprisingly slow start showed up right off the bat when the Buccaneers' banged-up running game set the tone for the game. Third-string running back Jacquizz Rodgers got the ball nine times on the opening drive and gained 35 yards on his way to a 101-yard performance.
"We were tending toward trying to make things happen instead of just being disciplined and staying in our creases," Rivera said. "We had a couple of guys vacate their gaps, and the running back cut back into the hole. It's about being disciplined and learning how you fit."
Rodgers became the first back to rush for 100 yards against the Panthers in the last 10 games. It happened just twice all of last season, when the Panthers did nearly everything right on their way to a 15-1 record.
"This is a different group, nothing like last year in terms of personnel and people and attitude and the way we do things. We have to find our way, and that's what the challenge will be," Rivera said. "This will be a really good test. We're going to find out exactly what are personality and character are."
2. New-look secondary shows promise: Wide receiver Mike Evans made cornerback Daryl Worley look like the rookie he is on a double move that freed him for a game-tying touchdown in the third quarter, but beyond that a young secondary stood up to a tall task.
"We felt as if we were doing our job for the most part," Worley said.
Worley got his first career start opposite Robert McClain with rookie starter James Bradberry out with a toe injury and former starter Bene Benwikere no longer on the roster. Teddy Williams and rookie Zack Sanchez also saw time at corner.
"We've got some young guys back there that have to play, and that's a big part of why we did what we did," Rivera said. "Young guys are going to play and have to learn, but if we can keep it together and keep developing, later on in the season those young guys will have some experience and they'll continue to play better."
At safety, recently signed veteran Michael Griffin got the start, with former starter Tre Boston subbing in often. Safety Kurt Coleman played all 73 defensive snaps, while Griffin played 42 and Boston 31.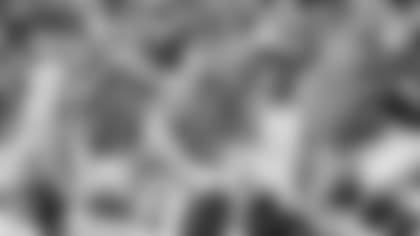 3. Rivera finds fault with execution, not play calls: Rivera was asked what he thought about, in a tie game with 3:33 to go, the offense's decision to run the ball three consecutive times. On third-and-2 from the Carolina 44, Cameron Artis-Payne was dropped for a 1-yard loss, and the Buccaneers took possession and eventually kicked the game-winning field goal.
"That last play, if we block it up the way that we're supposed to – if we don't miss a block on the edge and we cut the guy off on the back side – he's going to pick up the first down," Rivera said. "Again, we have to do our job and be responsible. Could we have called something different? Maybe. But again for the circumstances and what they aligned in, that was the right play."
Running the ball often was the right call on a night when Artis-Payne piled up a career-high 85 yards and scored twice. Artis-Payne often got around the left side of the offensive line anchored by fill-in left tackle Mike Remmers, and the Panthers tried the left side again on the much-discussed play call.
"We rushed for 136 yards. I thought the plan was good," Rivera said. "We could have called something a little different. But sometimes we've got to bow our necks on third downs and make plays."
4. Newton making his way back: Quarterback Cam Newton didn't play Monday, but he took positive steps earlier in the day toward returning to action.
"He had a good day," Rivera said. "He came out and worked out with our training staff. They took him out, and he ran and he threw the ball. We had one of our young guys with him running routes for him, and he lifted.
"I don't know how he is today though, I didn't have the chance to see him, but I know that yesterday he did a lot and put a lot on his tape, so we'll see how he is."
Rivera said running back Jonathan Stewart, who has missed three consecutive games with a hamstring injury, did some running Monday.Rivera didn't have a notable update on Bradberry, left tackle Michael Oher (concussion protocol) or defensive tackle Vernon Butler (ankle).
5. Coaches careful with Davis: Linebacker and team captain Thomas Davis typically plays every snap, but the Panthers didn't want to overexert him against Tampa Bay.
Davis entered the game questionable with a hamstring injury, and he played 36 snaps. A.J. Klein subbed in often and played 37 snaps.
"That was coaching. That had nothing to do with Thomas. Thomas wanted to be in there for every snap," Rivera said. "I went to (defensive coordinator) Sean (McDermott) earlier in the week and said, 'You know, if we can have him on the field, let's have him, but let's not overexert him. Let's find our opportunities and situational football to use him,' and that's what they did.
"I thought they used him properly, and because of that we'll have a healthier Thomas this week."
View photos from Carolina's game against the Buccaneers by team photographer Melissa Melvin-Rodriguez.