1. Crediting the O-line: With the Panthers' pass rush piling up the sacks and getting much deserved attention after Sunday's win over Arizona, perhaps Carolina's solid pass protection was overlooked.
The Panthers offensive line – without left tackle Michael Oher (concussion) for the fourth consecutive game and without All-Pro center Ryan Kalil (shoulder) for most of the game – allowed just one sack.
That's a particularly impressive feat given the pass rushers they were up against. Outside linebackers Chandler Jones and Markus Golden entered the game with 11 sacks combined.
Head coach Ron Rivera said it was one of left tackle Mike Remmers' better performances.
"Mike had a very good game," Rivera said. "He rated very high for us and played very efficient. He did the things we needed him to do to give us a chance, and I was very pleased."
Rivera also was very pleased with the play of backup center Gino Gradkowski, who saw his first extensive action in a Panthers uniform against the Cardinals.
"We knew that Gino had started before, and I called some coaches who were very positive on who he was as a football player," Rivera said. "The way he handled the next-man-up mentality was outstanding. He stepped in, and we didn't miss a beat. It was good to see."
Gradkowski, who got a shout-out from Rivera during the postgame breakdown, said he was simply doing his job.
"That's what I'm here for. That's why I get paid. I have to always be ready," Gradkowski said. "But it was fun to get out there and get to play."
2. Stewart on a roll:Running back Jonathan Stewart has been a scoring machine since returning from a hamstring injury.
Stewart scored both of Carolina's offensive touchdowns versus Arizona, giving him two touchdowns in consecutive games for the first time in his career.
Stewart finished with 95 yards on 25 carries and also recorded a 25-yard catch on a key third-and-2.
"That was vintage Stew," offensive coordinator Mike Shula said.
Stewart's unyielding running style worked against him late in the game as the Cardinals were able to rip the ball away. But through four quarters, Stewart's physicality set the tone for the offense, as it often does.
"Sometimes he makes the guys, all of us, look pretty good because he can make up for a lot," tight end Greg Olsen said. "He's a hard guy to tackle. He's so tough. Anytime we have him, it's a huge boost to our offense."
3. Boston takes step forward: With the Cardinals trailing big and forced to abandon the run game relatively early, the Panthers stuck with Tre Boston at safety for the entire game.
Boston began the season as a starter, but midseason addition Michael Griffin has been used to help defend the run at times.
"He's earning it," Rivera said of Boston. "I'm not going to say he's earned it completely, because again, we were in a situation where we were playing a team that had to throw the ball a lot.
"I like who Michael is for us. He's a guy that brings some energy and physicality as well. Tre has just got to keep playing hard and doing things the right way."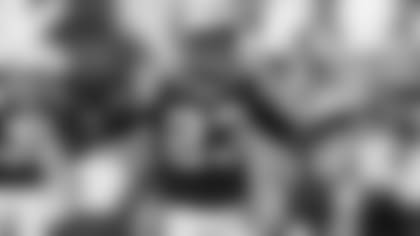 4. Panthers expected big impact from Johnson: Many were surprised by how well cornerback Leonard Johnson played in his first game of the season, but the coaching staff and front office had confidence he would contribute once he fully recovered from offseason Achilles surgery.
"(General manager) Dave (Gettleman) and his guys came to us and said, 'Here's a guy that was at Tampa – some of the things they do are similar to us.' So we spent a lot of time looking at him," Rivera recalled. "This was a guy that we wanted. Unfortunately it took a bit longer to get him off (the non-football injury list) and ready to roll, but now we are starting to see that we may be right. It was just one game, but we may be right."
Johnson posted eight tackles, one pass defensed and one sack in his debut (it would have been two sacks if not for an unnecessary roughness penalty).
He brought noticeable energy and was an effective blitzer – traits the Panthers want to see in their nickel corner.
"The one thing we've always kind of been searching for is a guy that is very similar to what we had with good old No. 41 (Captain Munnerlyn)," Rivera said. "We understand that piece, and we've been trying to find that next piece."
In 2013 – Munnerlyn's final year with Carolina – he recorded 3.5 sacks and led the team with 12 pass breakups.
Johnson is getting a late start to the year, but Rivera hopes he can enjoy similar success as the season continues.
"He can be a big part of what we want to do on defense."
5. Injury updates: Rivera did not have any update on the condition of Kalil (shoulder) and linebacker Shaq Thompson (knee), who both left Sunday's game and did not return. Both were being further evaluated Monday.
Rivera noted that safety Kurt Coleman injured his thumb and cornerback Robert McClain's hamstring tightened late in the game, forcing him to exit.
"There's a good chance (Coleman) may end up in a cast for a while," Rivera said.
Rookie cornerback James Bradberry (turf toe) was inactive Sunday, extending his streak of missed games to three.
Bradberry practiced throughout the week but couldn't quite get over the hump.
"He had a good week last week, but he was still a little tentative on it," Rivera said. "So we felt if we could by another week without him, he'd be a week better, so that's what we decided. One thing we really haven't seen him to do is stick that foot in the ground and push off."
View photos from Carolina's win against the Cardinals by team photographer Melissa Melvin-Rodriguez.