1. Rivera provides more reasoning for late-game decision: Some were surprised when, with 29 seconds left and no timeouts at their disposal in a tied game, the Panthers came out and tried to advance into field goal range.
But head coach Ron Rivera saw an opportunity and also didn't want to create an opportunity for the Chiefs. It was a solid plan but one that backfired when Kansas City literally ripped the ball – and the game – away.
"If you get a couple of chunk plays, who knows, you're in field goal position," Rivera said. "Plus, the thing that concerned us was that they had three timeouts, and our kicker had to be our punter. They have a pretty good return game, and we had seen them almost break one."
Wide receiver Kelvin Benjamin had been virtually unstoppable on slants, and he was again when the Panthers opted to throw from their own 20 and Benjamin got out near the 35. But that's when ballhawk Marcus Peters stripped the ball out as Benjamin tried to angle toward the sideline to stop the clock, a takeaway that set up a game-winning field goal on the game's final play.
Had the Panthers simply tried to kill the clock, the Chiefs could have used three timeouts to force a punt. Kicker Graham Gano filled in admirably for injured punter Andy Lee, but Gano didn't get much hangtime on his previous punt earlier in the quarter, and speedster Tyreek Hill, who ranks second in the league with a 15.6-yard return average, returned that one 21 yards and looked like he might take it the distance.
"To say we should have done something different, sure, we could have," Rivera said. "But you just never know. So at the end of the day, it really just comes down to us making sure we're putting them in position to have success, and then we have to go out and execute."
2. Nickel rotation: Cornerback Robert McClain didn't play a single snap on defense in Week 9 against the Rams, but he had a role to play against the Chiefs.
McClain actually started the game at nickel and he finished with 15 defensive snaps. Leonard Johnson still played the majority of the snaps at nickel, finishing with 45.
The nickel spot is something that appears to be a week-to-week situation. Keep in mind linebacker Shaq Thompson (knee) has missed the last two games, and his return could result in Carolina sticking with its base defense more often.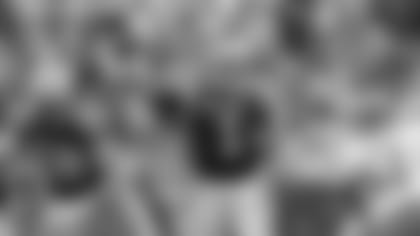 3. Newton's milestones: Cam Newton became the franchise leader in rushing touchdowns with a powerful 4-yard score in the second quarter against the Chiefs. He now has 47 rushing touchdowns, surpassing the 46 accumulated by running back DeAngelo Williams, who is Carolina's all-time leading rusher.
Newton also reached 20,000 career passing yards, becoming the fifth-youngest quarterback to hit that mark.
4. Running game slowed:The Panthers had a historically long streak of 30 consecutive games with at least 100 rushing yards snapped earlier this season, and Sunday they started a different streak of sorts with a second consecutive game short of the mark.
"We rushed for 99 yards, so there were some things we did pretty good," Rivera said. "They were aggressive, brought their guys off the edge and set the edge pretty good against us."
The streak ended when left tackle Michael Oher missed the first of what has now become six games on the sideline, and the Panthers also were without center Ryan Kalil the last two games.
"That's part of it," Rivera said, "but we've got guys we feel pretty good about. We've just got to make things happen."
5. The dab is back? After his 4-yard touchdown run, Newton gathered himself in the end zone and dabbed for the first time this season – much to the delight of the crowd. The dab, of course, was Newton's signature dance move during the scintillating 2015 season, and the quarterback previously said it was retired.
"It's just any spark," Newton said when asked why he brought back the dab. "It's hard to score in this league and I guess it was much anticipated."
---
Staff writer Max Henson and senior writer Bryan Strickland contributed to this report.
View the top photos from Panthers vs. Chiefs by team photographer Melissa Melvin-Rodriguez.