BROWN PLAGUED BY DROPS: Wide receiver Corey Brown's seven targets in Friday night's preseason game against the New England Patriots were befitting of a starter, but Brown knows what he did with those targets wasn't what the Panthers expect from their starters.
Brown caught just one of his seven targets, and one of his drops came on what looked like an easy touchdown connection from quarterback Cam Newton.
"I just have to relax and start playing like myself again – getting back to trusting my hands," Brown said. "It's something I know that I'll overcome."
Head coach Ron Rivera feels the same way, saying that Brown may be putting too much pressure on himself to replace top receiver Kelvin Benjamin, who will miss the season with a knee injury.
"Replacing Kelvin is going to be a unit job, not a one-man job," Rivera said. "I believe Corey has what it takes and that he is going to go out and correct those things and make plays."
On Brown's way back to the bench after a third-down drop in the red zone, he had players and coaches approaching him with words of encouragement the entire walk.
"It's good to have people on your side," Brown said. "They see me every day, and they know this isn't me. This has never been me. It's not going to continue."
SECONDARY HALFWAY THERE: Brown's case of the drops briefly caught on with the defense. Two of Patriots quarterback Jimmy Garoppolo's three passes to open the second half were right to defenders, but Bene Benwikere and Josh Norman couldn't hold on. While Benwikere made a nice break on the ball to get in position for his, Norman's chance couldn't have been any easier.
Perhaps that was the problem.
"It was bad all the way around," Norman said. "The worst part about it was it was so simple."
The good news was that in the first half, the Panthers made something very difficult look easy. They picked off future Hall of Fame quarterback Tom Brady twice, with cornerback Charles Tillman and safety Kurt Coleman doing the honors.
"We should have had at least four, maybe five (interceptions)," Rivera said. "But they put themselves in position to make plays, and that's always a good thing."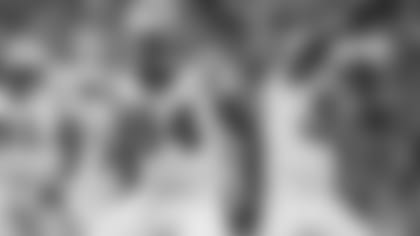 EALY RISES: The Panthers made Brady uncomfortable most of the night, but defensive end Kony Ealy was the lone Panther to record a sack.
It marked Ealy's second consecutive game with a sack.
"It was good," said Ealy, vying for a starting spot. "I'm just trying to move in the right direction in the process we're undertaking as a defensive line getting to the quarterback and pressuring. It's a step in the right direction."
Even though Ealy recorded the only sack, the Panthers consistently challenged Brady, who played the entire first half. New England mustered just two first downs before a drive got them on the scoreboard in the final minute of the half.
"We played with energy, and we did a lot better as far as breaking on the ball and getting to the quarterback," Ealy said. "With a guy like Brady, you can't let him sit back and throw the ball, and I think we did a great job of getting him off his spot."
OLD RELIABLE: A key to the defensive performance was the effort of the tackles. With starters Star Lotuelei and Kawann Short out, veterans Dwan Edwards and Colin Cole set the pace.
"We've got some guys out, so you've got to step up – it doesn't matter if you're young or old," Edwards said. "You've got to go in there and make plays, and we were able to do that today. We played at the level we're used to seeing around here. We're pretty excited about that."
FOZZY FLASHES: Fozzy Whittaker had arguably been the quietest among a running back group making plenty of noise behind starter Jonathan Stewart, but that changed against the Patriots.
Whittaker led the Panthers with three rushes for 19 yards and added a 37-yard kickoff return. He also caught a pass for seven yards.
"Running the ball, we did better than we had the past couple of weeks," Whittaker said. "We got some things going and got a real push. The offensive line did a great job of staying on bodies and getting us to the second level.
"For me, it's about contributing any way I can. When my number is called, I'm going to do whatever I can for the team. The kickoff return, if you look at it on film, all I had to do was run straight. Everybody else took care of their jobs."