1. You can't let good teams hang around: The Panthers were in control but never in command against the Minnesota Vikings on Sunday, a fact that head coach Ron Rivera said eventually cost his team.
"We missed opportunities early in the game that would have allowed us to dictate," Rivera said. "We've got to put points on the board when we have the opportunity to."
The Panthers pounced early with 10 points on their first two drives, and they continued to control the game for a while but not on the scoreboard. A holding penalty on a Minnesota punt following by another hold on a nice run backed Carolina up to its own 2-yard line and set up the Vikings for a safety, but the Panthers still had a chance to extend their lead.
Starting from their own 10-yard line after the defense came up big following a free kick, the Panthers advanced close to midfield and appeared to take a 17-2 only to have a flag negate a touchdown. They flipped field position though and had a 54-yard field goal attempt on their next drive for a 13-2 lead, but when it missed the mark the Vikings were back in control of field position. That allowed them to soon after return a punt for a touchdown, and that allowed them to head to halftime trailing only 10-8 and therefore stick to their game plan.
Eventually, the Vikings' pass rush got going, their offense pieced together a couple of drives, and the opportunities for Carolina dried up.
"If they're in a positon where they've got to play catchup, it's a little bit different," Rivera said. "It goes back to being able to keep that lead and putting people in position to have to do things they don't want to."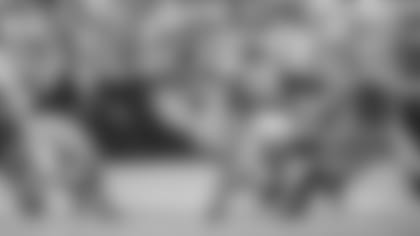 2. Sometimes you have to take what they give you: On the safety that got the Vikings going, quarterback Cam Newton had plenty of time in the end zone and had tight end Ed Dickson open as an outlet in the flat, but he chose to hold onto the ball and suddenly got swarmed from behind.
It was a costly choice related to a theme of the preseason – sometimes you have to take what the defense gives you before the defense instead gets you.
"There were probably a couple of occasions where he tried to make something happen instead of taking the layup," Rivera said. "There were probably a couple of times when he could have dumped the ball, but then again, if he had had an extra beat to step into throws with guys coming open, those could have been big plays."
Then, once the Vikings finally wrestled control of the game, they were able to successfully pressure a quarterback who understandably didn't feel like conservative connections would be enough. The result was a three-interception game, matching the total interceptions Newton threw over the final 10 games of the 2015 regular season.
"Sometimes we got in a position where we wanted to make something happen, and he probably pressed a little bit," Rivera said. "This is a guy who is competitive and wants to wins, and sometimes you lose your patience and try to force something."
3. Secondary steps forward: The only significant change from a personnel standpoint from last season's defense is at cornerback, where a pair of rookies are playing prominent roles. James Bradberry and Daryl Worley continue to play promising roles, too.
"It is a young group of guys, and we feel pretty good about what they're growing into," Rivera said. "I think our guys did a nice job. If there's anything, we gave up a couple of plays in front of us, but I thought we challenged pretty good."
Defensive coordinator Sean McDermott echoed his pleasure with the rookies. While tight end Kyle Rudolph frustrated the defense with some short catches over the middle at inopportune times, McDermott liked what he saw outside. Vikings wide receiver Stefon Diggs, the NFL leader in receiving yards entering play, was held to four catches for 40 yards.
"I thought we did a good job of mixing and matching things," McDermott said. "I think you'll be hard-pressed to find an offense in the league that is going to win by the slant. So, without giving away too much schematically and philosophically, not a lot of guys are patient enough to throw 10 slants down the field. As long as we tackle and are physical with it, I'm OK with it."
4. Injuries could have been worse: Several Panthers left the game, but all but one returned to action.
Rivera said rookie defensive tackle Vernon Butler was scheduled to undergo an MRI on Monday to confirm that was already expected. After the game, Rivera said Butler was believed to have suffered a high ankle sprain, an injury that can sometimes persist and cost players multiple games. Butler was seen wearing a protective cast on his right foot Monday.
Newton (ankle), center Ryan Kalil (shoulder) and linebacker David Mayo (knee) were hurt during the game but returned. Thomas Davis appeared to have suffered a leg injury on a third-down stop but didn't miss any action.
5. Schedule shifts to divsion play: Even though the Panthers are 1-2, no NFC South team entered play Monday – when the Saints and Falcons met – above .500. And now, despite the slow start, the Panthers have a real opportunity to ascend the ranks when they face division opponents each of the next three weeks.
The stretch begins next week in Atlanta, which is as far as Rivera is willing to look ahead.
"I know we play Atlanta, and that's our first division game," Rivera said when asked about the three-week stretch. "We're looking forward to it. Our guys have an opportunity to put themselves in position. It's an important game."
View the top photos from Carolina's game against Minnesota by team photographer Melissa Melvin-Rodriguez.