At what moment in the season did you first say, "This Panthers team has what it takes to go to the Super Bowl"?
I recently asked this question on Twitter and received plenty of interesting responses, some of which are listed below.
I also answered my question at the bottom of the page. Take a look:
@PanthersMax Probably when we beat Seattle. I felt like that win made the team say "this year is different and we can overcome anything" — Chris (@bestsportnascar) January 27, 2016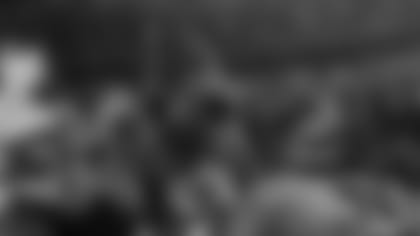 My (extended) take: Hard to argue with Week 6 at Seattle. That win over a nemesis let the Panthers know they could beat anyone anywhere. Defeating the Packers in Week 9 to improve to 8-0 was something no one thought Carolina could do when the schedule was released. At that point, it was clear something extraordinary was happening.
The Thanksgiving victory in Dallas sticks out, too. The Cowboys, actually favored at one point during the week, were playing to keep their season alive. There was a huge national audience, and it was all happening in a surreal stadium that makes everything feel larger than life. The Panthers dominated right from the start. It was clear they were on a mission.
Shout-out to that win over Tampa Bay in the regular season finale as well. Carolina proved there was no reason to panic following its only loss and that they were ready for a special postseason run.
View the favorite photos of the Panthers by team photographer Melissa Melvin-Rodriguez.