Greg Kragen spent the final three of his 13 seasons playing in the NFL with the Panthers, helping them reach the NFC championship game in 1996 as a stalwart nose tackle in Coach Dom Capers' 3-4 defense. Kragen spent the first nine seasons of his career with the Denver Broncos, playing in three Super Bowls. We caught up with him the other day to see what he's up to these days, as well as to reminisce a bit about his playing career.
So what have you been doing lately?
Kragen: "I'm coaching junior-college football in the Bay Area (near San Francisco). I got back into coaching about four years ago when my old strength and conditioning coach with the Broncos (Al Miller) ended up with the Oakland Raiders. So I started working with him and I was there for two seasons and then it all went south and he ended up retiring. Now I'm the defensive line coach at Foothill College in Los Altos, not far from Stanford, actually."
How do you like coaching?
Kragen: "I love it. I feel comfortable. I feel like I'm in my element. I just enjoy pretty much everything about it. I love working with the kids. It's funny thinking about them like that, but to me a lot of the guys I worked with at the Raiders were kids. When you get to be my age, at 53, I guess everybody starts to seem like a kid. But I love it and I feel like I've got something to offer."
Do these kids realize what an accomplished career you had, or do they even realize you played back in the day?
Kragen (laughing): "That was one of the funny things when I was at the Raiders. Every once in a while one of them would come up to me and said, 'I didn't know you played.' Or whatever. It's just funny when people find out sometimes. "But when you look at the birthdates of some of these guys, you understand. We were joking with the guys one day and asked them, 'Do you know who Knute Rockne is?' Some of these kids were like, 'Knute Rockne? Um, uh … no.'"
What were you doing before you got back into coaching?
Kragen: "I was in sales. I did payroll sales, medical sales. Sales was fun and there were some good places I was at – but it's not football."
Let's talk about your playing career. You were undrafted out of Utah State in 1984 and cut by the Broncos that year, called undersized (at  6-foot-3, 260 pounds) and so on, then came back the next year and not only made it but embarked on a long and very successful career. What do you remember about that sequence of events?
Kragen: "Well, when I look back, first of all I never thought I would make it. I heard all the 'you're too small, you're too slow' things. I probably believed them, but I just kept on playing. Having gone to my first training camp and competed and having made it to the last cut, I felt like, 'Well, I've got a chance.' So I went back and made it the next year. But even then, I never felt like I could relax. It's funny, but I'm coaching an undersized kid now and I just tell him the way I looked at it. I needed to have great technique to survive. If a guy is 300 pounds, he doesn't have to be as technically proficient. If he screws something up, he's not going to look as bad as I am if I do."
You went from getting cut to playing in three Super Bowls with the Broncos pretty quickly. What was that like?
Kragen: "Three out of my first five years in the league, we went to the Super Bowl (following the 1986, 1987 and 1989 seasons). And I thought, 'Oh, this is what everybody does.' That's why later on in my next-to-last year in Carolina (in 1996) when we made it to the NFC championship game, I was like, 'Wow.' I really appreciated it more because then I knew how hard it actually was to get to that point.'"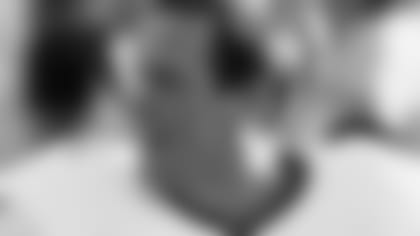 So the Panthers select you in the 1995 expansion draft. And in that first training camp at Wofford College in Spartanburg there was a particularly brutal morning practice early on where you dropped to one knee afterward and Coach Dom Capers came over, got on one knee, too, and you had a serious discussion about whether or not you were going to retire, right?
Kragen (laughing again): "I remember that. I wasn't sure what I was going to do. I think he kind of wanted to know where my head was at, and we had a good conversation.  I think he just wanted to know either I was in or I wasn't. I needed to decide. That was the gist of the conversation. I remember saying, 'Coach, I've never seen heat like this Spartanburg heat before. I'm used to the Rocky Mountains.' That first year we went at 9 a.m. and 3 p.m. for the first few days, and it was so brutal that they changed it that first week. But I clearly remember the conversation and I clearly remember thinking, 'I'm not sure I want to do this.' I had been in Denver and Kansas City and we had made the playoffs pretty much every year. The history of expansion teams was what? Where would we be? What, two wins … three wins maybe?"
So at the end of that conversation, where you sure you were all-in?
Kragen: "That was a big part of it. But I remember having a conversation with (former Panthers' linebacker) Sam (Mills), too, in the dorm. At the time, I hardly knew Sam. He was real positive and just said, 'Hey, I hope you stick around and do this.'
"Again, I didn't really know him at the time. But what a true person. I think a lot of Sam (who passed away from cancer in 2005) even now. He was a great guy and he had something to do with me sticking around, too."
In looking at your career stats, the only regular-season interception of your career came in this 1995 season and you actually returned it 29 yards. What do you remember about it?
Kragen: "I had one in the playoffs (for Denver) against Buffalo in January of 1992, too. Defensive linemen don't forget their interceptions. But I ended up not running with the ball that time … I clearly remember what (then-Panthers' defensive coordinator) Vic Fangio would tell everybody at the time, 'If you get an interception, try to get to the sideline.' Looking back, I had no field awareness. I knew which way the end zone was and other than that, nothing. You're just not used to running with the ball, period. Looking back now – because I saw video of it recently – but I got to the 6- or 7-yard line and I think, 'Why did I not find a way to get those extra six or seven yards?'  It was against (quarterback) Jim Harbaugh and the Colts."
You also scored a touchdown on a fumble recovery that year, right?
Kragen: "Yeah, that was against Chicago. I recovered a fumble in the end zone. Now I know (former cornerback) Tyrone Poole scored a defensive touchdown in the Hall of Fame (preseason) game. But for the record, mine was the first defensive touchdown in the history of the Panthers."
What else do you remember about those first two seasons as a Panther?
Kragen: "First of all, in '95 we started out 0-5 and I always remember Vic or Dom coming in the meeting rooms and saying, 'Hey, we're doing all right.' It was very positive. Everywhere else I had played, you start out 0-5 and they're burning the town down. I remember how weird that was. I was like, 'Well, things are OK … I guess.' But when we started winning with that group, it was as much fun as I ever had playing football. Maybe because I knew it was near the end of my career and I started realizing how blessed I was to still be playing, but it was a great group of guys, full of a lot of older guys who were in the same sort of situation."