The last quarterback to guide the Panthers to a 5-0 start before Cam Newton accomplished it this season was Jake Delhomme in 2003. A recent inductee into the state of Louisiana Sports Hall of Fame, Delhomme now lives in Breaux Bridge, La., where he spends the majority of his time breeding, buying and selling racehorses; working in the banking industry; and coaching his two daughters in various sports.
We caught up with him to ask him what he thinks about this year's Carolina team, the progression of Newton as a quarterback, and how he's doing as a basketball coach.
First of all, what do you think of this undefeated Panthers team right now?
Delhomme: "I thought they would be good going into the season. I really did. And I'll be quite honest, I was very worried when (wide receiver) Kelvin Benjamin went down (with a season-ending knee injury). I just thought it was such a perfect fit for him with the style of play that Cam plays. I think they complemented themselves so well, and I knew the defense would be solid.
"I thought Cam would be, by far, his best this year. I really and truly believed that – because he had the whole offseason. Last year he didn't really have an offseason because of the ankle injury, and then he had the rib injury in camp. So it really stunted his grown last year, to be quite honest. But the way he finished up last season, I really thought this would be the season where he kind of started stepping into his prime. And I think that's what you're seeing."
Let's talk a little about the year you were the quarterback and the team started out 5-0. Rodney Peete started the first game that year, but then you came in for him at halftime and started the rest of the year – taking the team all the way to the Super Bowl. When did you sense it could be a special kind of year?
Delhomme: "For me, being my first year of starting, I was still going through quite a few things. I didn't truly understand how special we could be until Week 8 or Week 9, somewhere around there. We had to play Tampa Bay at home, and they were the defending NFC champs. We struggled to beat them the second game of the year in Tampa, but we had to play them (the second time) without (running back) Stephen Davis, who was really our workhorse. And we were able to beat them at home that day without him, and that's when we started to loosen it up and throw a little bit more and we really started getting our identity. That's when I knew. That's when I thought to myself, 'We really have a chance to do something here.' "
As a new starting quarterback in the league at the time, it took a while for you to get comfortable and believe in yourself and what the team could do?
Delhomme: "Absolutely. You learn what to do – but you learn what not to do, and that's the biggest thing. That's what you learn the most the first couple of years while you're still kind of feeling yourself out - what not to do. Even though I had been in the league for a while, I was still really new to actually playing. There is a big difference between being a backup and playing."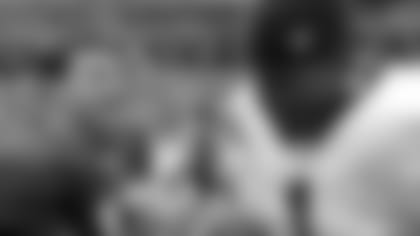 Getting back to Cam, how do you see his maturation process as a player?
Delhomme: "(Former Panthers left tackle) Jordan Gross told me early on, 'Look, he's young. But he's so talented. And he so tough.' He said that, and he also said, 'And you know what, Jake? He wants to be great. I love playing with anybody like that.' That told me a lot very early on. Jordan also told me Cam would come early and stay late. He would put the time in.
"These things just take time sometimes. And I think you're starting to see now how he's very in control. It looks like he's making a lot of checks at the line of scrimmage. I also think Coach (Mike) Shula (the offensive coordinator) doesn't get enough credit for how they run their offense. And I don't know if it's Cam Newton or if it's (wide receivers coach) Ricky Proehl or what, but (wide receiver) Ted Ginn, Jr. plays totally different in a Carolina uniform than he does anywhere else."
This seems the best fit for Ginn, doesn't it?
Delhomme: "You run a little reverse with him like they did the other night against Philadelphia, and it does so much to keep opposing defenses honest. One, you're worried about (running back) Jonathan Stewart, two you're worried about (fullback Mike) Tolbert, and three, you're worried about Cam running it or throwing it. And then all the sudden, you also have to worry about them running a reverse to one of the fastest guys in the NFL."
Tell us a little bit about what you're up to these days, which we know includes being on the board of a bank, dealing with your horses and helping coach your daughters.
Delhomme: "The horses are every day. I mean, that's an everyday deal that I'm knee-deep in. We race strictly in Louisiana, but I do a lot of buying and selling in Kentucky. As a matter of fact, I'm flying up to Kentucky and selling one this Sunday night and again later on next week in one of the largest horse sales in the world.
"So I'm constantly doing that, and then I'm on a bank board (Mid-South Bank). We're about a $2 billion bank. We have 58 locations in Louisiana and in Houston, Dallas, Tyler - all those areas in Texas. I'm on the loan committee there, and that's about a once-a-week deal. I stay pretty busy."
And what about your coaching?
Delhomme: "My daughters are 12 (Lauren) and 8 (Lindsey), and I'm coaching them in sports. We're about to start basketball. We just finished up volleyball and we're about to finish up soccer. … It's fun, man. The years go by fast, no doubt."
Have you ever gotten a technical foul coaching them in basketball?
Delhomme: "I've never gotten a technical and I won't get a technical. My whole thing is people know what I did for a living and they know who I am around here. So I'm not going to give anyone the opportunity if I get one rogue ref who says, 'Oh, I'm going to show this guy up" for whatever reason. I will never give them the opportunity. So I will never argue a call because I don't want the girls seeing that. … Now, when I played I would kind of whine and complain the whole time and that was part of me. But for this, I try to keep from getting ugly.
"I enjoy coaching the girls. I enjoy getting to know them on the personal level, and how to push their buttons. It's a lot of fun. It's a lot less intense. And I mean this in a good way – but a lot of times they're more worried about if their ponytail is on straight than anything else. Literally, I've fixed many a ponytail on the sideline and sent them back into the ballgame. Oh man, it's pretty comical."