Mike Rucker remains one of the most prolific defensive players to ever wear a Panthers uniform. The former defensive end has approached his life after football with the same sort of dedication and enthusiasm that guaranteed his success on the field.
Rucker recently talked with Panthers.com about the challenges of now being a fan of the team instead of a player, valuable lessons learned during a 1-15 season, and his current involvement with the NFL Legends community.
You've been on the other side as a player. What's it like for you being a fan?
Rucker: "Oh, it's crazy. When you're playing, you're kind of immersed in what you're doing and isolated. Being a fan is a lot more stressful, so this is a little bit of a payback for me. I didn't realize all the fans were going through every game we played back in 2003 and 2004 when we went to the Super Bowl. The one thing I really realized is that when the team is winning like this, this town, the spirit of this city, just raises. You pull up at a stoplight and see Panthers flags waving – and it's the middle of the week, like on a Wednesday! At business meetings, you've got stuff to talk about. So it just really raises the energy of the whole city when the squad is winning and playing the way they are right now. It's fun and exciting, but also more stressful for me."
Speaking of business meetings, talk about your own successful venture in real estate …
Rucker: "I started Vision Group Realty 10 years ago when I was still playing. It's your traditional full-service residential real estate company. So we're helping people buy and sell their homes, and we're helping them relocate if they're going, say, from Charlotte to L.A. or Seattle. We're going to help them through that process."
How gratifying is it to be able to start your own company and continue to be successful?
"We've done well. To be able to weather the storm of 2008, '09 and '10, as a small company, we learned a lot about ourselves. It's kind of like being on the field. It's not always going to be pretty; all the plays aren't going to go your way. But you stay in the game and you keep fighting. As a real estate company, that's what we did. And like today, the sun eventually comes back out."
Can you relate the experience to anything when you were playing?
Rucker: "People talk to me about 2001, when we went 1-15. People will say, 'That must have been miserable.' And it was, but you know what? I learned so much about myself during that one season – about not giving up, about being ferocious, about having that winning attitude even when nothing seemed to be going right. We applied those same things that I learned on the field to the company when we were going through some things."
You've also been staying busy with the NFL Legends group. What have you been doing with them exactly?
Rucker: "About three years ago, the league wanted to do more for the retired guys. They had a lot of resources in place. Guys just didn't necessarily know where they were at or how to get to them. So they created the Legends community and picked 20 ex-players, spread out across the country; we've got five directors and 15 coordinators. I'm the coordinator for the Southeast region. My director is Donovin Darius, and the other (Southeast) coordinators are Warrick Dunn and Mark Brunell. Team-wise, we have the Panthers, the Titans, Tampa Bay, Miami, Atlanta and Jacksonville. So we service those teams and go to them and help them with their alumni and assist them in any way we can.
"Basically, the Legends community was created to help recognize and celebrate all the players who have played in the NFL. Our mission is to bring opportunities and information to the former players. And it doesn't matter if you played in the 1960s or you played last year. If you played a snap, you're in the Legends community."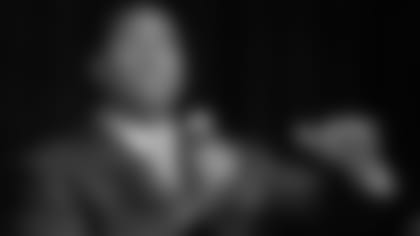 Rucker: "If you just retired from the NFL, or if I ran into you in an elevator and found out you played, first of all I want to make sure the information we have on you is current. And we want to know, hey, what have you been doing? What do you want to do? We want to use our resources, our sponsorships, these programs that we have in place to help guys further their careers in the business world."
So you help them by pointing them in the direction of possible post-playing career choices and things of that nature?
Rucker: "Absolutely. Our resources that are available to them might be developmental, physical, medical, financial, educational assistance, wellness. Just about anything you can think of, if a guy had a question or there was something he wanted to do, we can point him in the right direction."
A couple of ex-players who have been helped in the program, including Byron Scott and Al "Bubba" Baker, have even gone on to appear on the television show "Shark Tank" with their business ideas, haven't they?
Rucker: "We had like 20 or so guys register and put their names in for it. And then there were two or three that got on the show itself. So that was really cool.
"We also have these boot camps that guys can take partnership in and help themselves, whether they want to go into coaching or broadcasting or whatever. They can take part in those, too. So anything from finance, to wellness and so on. The problem is that while a lot of these programs were already in place, they were all over and a lot of ex-players didn't know anything about them. Now when a guy comes to us with a question, we can point him in the right direction and get him an answer."
There has to be some personal satisfaction for you to be able to do this, too, right?
Rucker: "I'm getting to reach out to guys who built this game. I might be talking to a guy who played in the 1960s and '70s. I might run into a guy in North Carolina or South Carolina who didn't have any ties to the Carolinas when they were playing, but they come here and retire. So it's been fun for me to be able to reach out to these guys and get to know them on a personal level. That's been pretty neat."
So when the Panthers recently brought a number of former players back for an alumni game, did you help with that?
Rucker: "I did. I worked real closely with Charlie (Dayton, the Panthers' director of historical and alumni affairs). He started that job earlier this year and really has done a great job or reaching out to guys and turning over rocks to bring guys back and get them involved. I had a great time at that alumni event. There have been a couple of other games where they've made suites available and brought (ex-Panthers) in and you get to rekindle your relationships with these guys. And you know, there are guys that maybe played in 1995 and 1996 before I did, where you heard the names, but now you're getting to meet where you can put a face with the name. So Charlie has done a tremendous job of rallying the troops and putting some things in place with our alumni, so when you look 50 years from now, it will be tremendous.
"When I got here in '99, the franchise was only four years old. There wasn't a whole lot of history. But now, to have 20 years under your belt and to be able to bring some of the former players back, it's tremendous. You know, a lot of guys are a part of this franchise history. To see them come back and be part of something, it's pretty neat."