Ricky Proehl played 17 NFL seasons, including three for the Panthers, and as a wide receiver piled up some staggering career numbers: 669 receptions for 8,878 yards and 54 touchdowns. He also played in four Super Bowls, including one with the Panthers when he caught a game-tying touchdown from quarterback Jake Delhomme in the final minutes.
Now Proehl is in his fifth season coaching wide receivers for the Panthers. He talked about his current role, why he didn't panic when injuries struck down two of his top receivers in training camp, and some of the good 'ol days.
Let's start out talking about this season. From your perspective as wide receivers coach, after losing projected No. 1 receiver Kelvin Benjamin for the season to a knee injury in training camp, what has this ride to a 13-0 start been like?
Proehl: "I think going back to the draft and OTAs (last spring), I knew we had a special group. I told family members, close friends, 'We've got something special – from a team standpoint.' Being around it for a long time like I have as a player and now as a coach, you kind of have a sense in the locker room. Guys just love being around one another and they love going out and competing. OTAs this year, competitiveness was at an all-time high – in a good way.
How proud are you of the receivers who have stepped up in Benjamin's absence?
Proehl: "I knew I had a good room. We had a lot of depth. We had speed, size. We had Stephen Hill, we drafted Funch (Devin Funchess) and obviously we had Kelvin. Coming off his great rookie year, you knew he was only going to get better. Then we had Ted (Ginn, Jr.) coming back and Philly (Brown) and Bers (Brenton Bersin) and Cotch (Jerricho Cotchery). We had everything from an arsenal standpoint. You've got size, speed and then veteran leadership and smart players. It was a great recipe for success.
"So we knew we were going to be a good football team. Then in training camp, obviously we lose Stephen and Kelvin, and that was tough just because Kelvin is our number one and what he brings to the table with his size, his physicality, his red-zone ability. But we still had a room full of guys that were capable."
To the outside world, it seemed dire ... but not to you?
Proehl: "Yeah, it was all doom and gloom to everyone else. I felt bad for those two guys – but to be honest, I didn't waver for our football team. I knew we were losing two great players. Stephen Hill was making strides to where I was excited for him. … He was just taking the next step as a player, so I hurt for both of those guys because I knew how hard they had worked. But I knew we had guys in that room who were capable, by committee, of getting the job done."
Would it be accurate to say that it also seems Cam (Newton) has gained confidence in the rest of the guys as this season has progressed, to where he's comfortable throwing to any of them in certain situations?
Proehl: "Cam's awesome in that sense. He has matured, and as coaches we talk about it all the time. His progression over the last several years … he's a leader now. He's in tune with all of those guys. He knows what their strengths are.
"He's going to go with the hot hand. If he feels good about this guy running a certain route, he's going to come to him. He talks to them through the course of the week about the game plan and what he feels good about, and what he likes throwing and who he likes throwing it to in these certain situations. And he wants certain guys running certain routes in certain circumstances – and that's where Cam has come a long way, and why we've been able to have a lot of success offensively."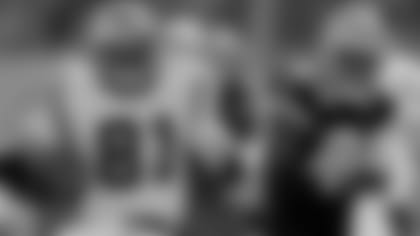 How did you get into coaching with the Panthers, beginning in 2011 after finally retiring as a player following the 2006 season after opening up Proehlific Park (a family sports complex and fitness center located near Greensboro, N.C.)?
Proehl: "Because I was coaching there. I was working with high school kids, college kids, even some NFL guys at my training center. I never had aspirations of coaching. I love the game. It's been good to me. I love the camaraderie and all that stuff. I just wanted to help young people. That's why I opened the park. I wanted to be able to give young people a platform to succeed, to be able to accomplish what I accomplished – whether it was high-school kids who wanted to play college ball at a high level, or guys who had played in college and wanted to try to make it in the NFL. … Then one day I got a call from (former Carolina general manager) Marty Hurney, saying he had talked to (owner) Jerry Richardson and asking me if I'd be interested in coaching."
How much have you enjoyed it?
Proehl: "It's been a lot of fun. For me, it's just been a great experience. I don't know if I'm a great coach. I just try to be honest, and loyal. I just try to coach these guys like I would want to be coached. I try to teach them everything I know, and just ingrain trust and teach them not to be afraid to fail. I want to get them to play fast and physical and to make plays when they come, and to be ready when that opportunity comes."
Do the young men you're coaching now in the NFL realize you played 17 seasons in the league and were in four Super Bowls, coming out on the winning side of them twice?
Proehl: "(Laughing) No, they don't. At least they didn't at first. I'd like to think as I coach them, they realize I know what I'm talking about – and then something will get said and all of a sudden it'll be like, 'Well, you know, Coach played.' But a lot of them have no clue. I'll be walking down the hall and one of them might say, 'Coach, I had no idea you played 17 years. How many Super Bowls did you go to?' I laugh about it. It's a different generation.
"I bust their chops about knowing guys – who they know and who they don't know among some great players in the past. We have fun with it. I do a highlight reel every Friday of players in high school or college – either or, and sometimes both, depending on how much we can find. We've gone through all the players, and now we've done Coach (Mike) Shula (the offensive coordinator), Coach (Ken) Dorsey (the quarterbacks coach), we've done Cam, we've done (backup quarterback) Joe Webb. So I'm probably coming up. Then maybe they'll get a chance to see me in action."
That reel would have to include a couple plays Carolina fans are sure to remember, like Jake Delhomme's first game at quarterback in 2003, when he took over for Rodney Peete at halftime with the Panthers down 17-0 to Jacksonville. What do you remember about the game-winning touchdown you caught on fourth down with 16 seconds left in that one?
Proehl: "I remember it like it was yesterday, Jake coming in at halftime and catching lightning in a bottle. … It was fourth-and-11 on the 12-yard line with 16 seconds to go, and he called 'Reno,' which is ironic because that was the same play we ran when I caught the (game-tying) touchdown in the Super Bowl (later that year), but then I was playing a different position. I was running a corner route. I came in motion, got outside leverage on the guy and the corner came off. … Jake made a great throw over the top and I made the play, and I think the hardest hit I took was from (teammate) Kris Mangum after I scored. But that set the stage for the rest of the year. No matter what situation we were in the rest of the year, we always thought we could win – and that showed throughout the course of that special season."