Willie Green played eight NFL seasons with four NFL teams but is best known in these parts for his two seasons with the Panthers. He was an integral part of Carolina's first two teams, in fact, totaling 93 catches for 1,496 yards and nine touchdowns from 1995-96.
In recent years, Green has been a successful businessman in the Shelby, N.C., about 40 miles west of Charlotte, where he remains the owner of Deer Brook Golf Course in addition to working on some other ventures. We caught up with Green, one of the more colorful players in team history to talk about his time with the Panthers and what he's been up to lately.
Let's start with the very first regular season game the Panthers played. What do you remember about the incredible catch off your shoulder pads and neck from quarterback Frank Reich to help force overtime at Atlanta?
Green: "It was incredible from the catch standpoint. But that catch and what happened in Atlanta had so much meaning to me because I'm from Athens, Georgia. Throughout my career, I always had good games against the Falcons. If you recall that catch and you recall the catch down in Clemson, which was for the winning touchdown and was a record that stood for a long time as the longest TD reception in team history (89 yards from quarterback Kerry Collins), I always seemed to have good games against them.
"But being able to go back to your hometown or your home state and play well, it always meant a lot. All of the games I played, I took personally. That one, when we played the Falcons in Atlanta in front of my mother and a bunch of my family who were Falcon fans, it meant a whole lot."
Did you have a lot of family there for it?
Green: "I had a whole bunch of family there that day. Throughout my career…I would sponsor 45 to 50 kids from my low-income neighborhood in Athens to come to a game. So I would charter a bus. My mother used to run the local rec center. … It was always a tradition for me to bring the kids from there to at least one game. So what was cool also about that first game is that I had about 50 of those kids at that first game.
"And that first year, when we played against the Falcons that last day of the season at Clemson, I sent those kids to that game, too. The end zone where I ran toward on the winning touchdown, that's where all those kids were. I handed the ball to either the rec center leader that was there that day, or maybe to one of the kids, I don't remember exactly.
"So it goes without saying that after paying for those 50 kids to come up to the Falcons games, as well as my mother and brothers and sisters and nieces and nephews and so on, I think I had between 100 and 150 people at that first game."
We were all sad to hear of the recent passing of former Panthers' receivers coach Richard Williamson. What do you remember most about Richard?
Green: "Richard Williamson was by far the best coach at my position that I ever had, throughout high school, throughout college and throughout the pros. And here's why: This may sound strange to say, because you expect guys who played in the league to know this already, but Richard taught me how and why to catch the football. Typically when you come into the National Football League, those coaches are past teaching you those things you should have learned in college or high school.
"I had the reputation going into the NFL Draft of being a person who could catch the hard balls, but couldn't catch the easy balls. Whether it was my attention span or whatever, I don't know."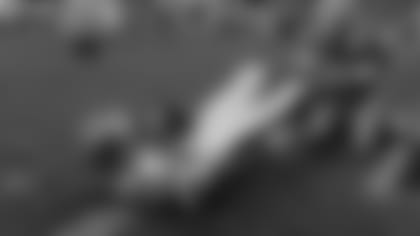 Was that a legitimate criticism in your mind at that time?
Green: "Absolutely. It was legitimate. For some reason, I could catch tough balls, I could catch balls if I had guys all over me. But if I was wide open, I don't know if it was my concentration level or what, but I had trouble. That was in college and that was in my first couple of years in the league.
"When I got to Carolina, Richard Williamson and I had, from Day One, a love-hate relationship. I thought he hated me. But what Richard was able to do, he didn't use a one-shoe-size-fits-all method for coaching his wide receivers. He knew how to push your buttons. He knew he had to talk to me differently and get me motivated differently than he did (fellow wide receiver) Mark Carrier, for instance.
"I was the type of player who played better when I was mad and focused. And so what Richard Williamson would do before a game is, he would get me mad. He knew. We all had our routines at Carolina; all players have them. … On game day, Mark and (fullback) Howard Griffith would sit around and laugh and joke around. Then at a certain time, Richard Williamson would walk through that locker room and look at me and say, 'Get your (bleeping) mind right.' That's all he said. He knew that would tick me off – and it did.
"You know I was a joker in the locker room. But once Richard said that and once the game started, you never saw me laughing and joking. … I wish I had had Richard as my coach in college or high school. I think I would have been a much better receiver for it."
So he was sort of a master psychologist as well as a great coach?
Green: "Yes. Now there were very few times at Carolina where I dropped the ball. But I knew if I dropped the ball, I knew as soon as I walked back to the sideline someone would be holding that phone with Richard up there in the booth on the other end of the line. And I knew his exact words would be, 'Catch the (bleeping) ball!' And then he would hang up. I kid you not. That's all he would say.
"He knew how to push your buttons."
You are very proud of your two seasons as a Panther, aren't you?
Green: "If you look at my role and my responsibilities with the Panthers, and it's even prevalent today, my role has been as a person who steps up and gets you out of trouble. With the Panthers, everybody knew I was going to get the ball on third down. Mark (Carrier) would get it or a running back would get it on first or second down, and they might convert it and keep going. But if it got to be third-and-long, everybody knew I was going to run one of only five routes - and that the ball was coming to me. I think I was second or third in the league that (first) year in catches for third-down conversions. I took pride in that because it took special concentration to be able to convert those third downs."
Your son, Willie Green II, is now quite the quarterback at perennial power Shelby Crest High School, isn't he? (He threw for 461 yards and seven touchdowns in a win last weekend).
Green: "They won the 3A state championship last year, and he was the offensive player of the game. So he's doing real well, and I'm real proud of him. He's being recruited mostly by your Ivy League, high-end schools like Harvard, Yale and Dartmouth. He's also being recruited by schools like Davidson, Georgia Southern, Campbell and Gardner-Webb. But we went up to Yale over the summer, and Dartmouth is interested in him."
Well, that's where Mark Carrier's son, Jon Marc, is playing now. He might put the full-court press on your son to go there. ...
Green: "Well, hopefully he will."