Casper and Jasper Brinkley. (PHOTO: ANDREW MASON)
COLUMBIA, S.C. – Late Wednesday morning, Panthers defensive end Casper Brinkley walked into the University of South Carolina's field house, scanned his eyes around the school's Pro Day bustle and glimpsed at his past.  Twelve months earlier, his twin brother, Gamecocks middle linebacker Jasper Brinkley, went to the same event and caught a hint of his future.
"Every time I came in to watch, I got chill bumps," Jasper said, "because each and every year that I came in, it was getting closer to being my time in here doing it.
When the Brinkleys look at each other, each sees more than a face that reflects his own; each glimpses a reflection from a slightly different time.  Their roles are obvious – Casper the knowing, experienced advisor; Jasper the eager aspiring rookie who peppers the other for counsel.
While Casper has clued Jasper in on numerous intricacies of NFL life, his thoughts on the series of pre-draft exercises can be distilled to three syllables.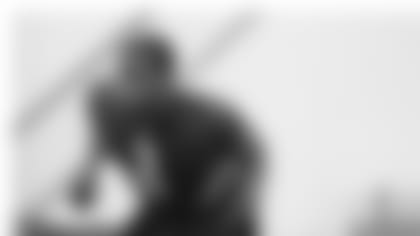 "Basically just keep an open mind, be relaxed and let everything flow," Casper said. "If you come in tensed up, you're not going to do everything as well as you'd like.  So just relax and everything's going to be all right."
"You can't perform at an optimum level being tense, so just be relaxed," concurred Jasper. "That's the key thing I got from it."
Last year, Casper didn't have the benefit of such simple, yet effective, wisdom. 
"I know last year I had to keep telling myself, 'Calm down, Casper; everything's going to be all right,'" he recalled. "I caught myself a lot of times trying to do drills and being real uptight.  My body wanted to let loose and let me be as fast as I wanted to."
The fruits of Jasper's work and Casper's advice were in evidence last month at the National Scouting Combine, where he was clocked by the league with the sixth-best time in the 40-yard dash among linebackers: 4.72 seconds.   He also ranked among his position's leaders in bench press (26 repetitions, seventh-best at his position), vertical jump (35.5 inches, fourth). 
Satisfied with most of his Indianapolis performance, Jasper opted to bypass the strength and agility tests held in the Gamecocks' weight room at Williams-Brice Stadium.  When the work moved to the athletic department's field house closer to the center of campus, he chose to run the short shuttle and three-cone drill.
By mid-afternoon, he breathed a sigh of relief – not so much for his performance, as for the completion of another milestone that brings him closer to the draft and knowing his destination.  In the meantime, rookies-to-be like Jasper Brinkley grapple with the uncertainty of an unknown destination and the tedium of daily workouts.
"The whole process has been very agonizing – just the big wait until April 25," he said. "(But) once you get that part over, everything smooths out."
And then Casper can once again offer his twin advice on what comes next – mini-camp, organized team activities, training camp and the fight to earn a roster spot.