It was truly a free agent frenzy for the Panthers. An unprecedented stretch of signings occurred in less than 24 hours, as Carolina secured a new left tackle, a new safety, two new wide receivers, a nickel cornerback and a Hall of Fame defensive end.
With several needs addressed, let's take a look at where things stand for the Panthers as the league begins zeroing in on draft day.
Offensive line: Former Viking Matt Kalil is Carolina's answer to its lingering left tackle question. The 27-year-old former No. 4 overall pick and younger brother of longtime center Ryan Kalil signed a five-year deal as he looks to jumpstart his career.
If Michael Oher, who missed most of last season with a concussion, returns to full strength, the Panthers would slot him in at right tackle. Oher has worked at left tackle since coming to Carolina in 2015, but he has spent half of his career at right tackle.
"If we can get him back healthy, he and my brother would be a pretty nice bookends for an O-line," Ryan Kalil said.
Daryl Williams, a former fourth-round pick entering his third season, is next in line. With Mike Remmers off to Minnesota as a free agent, the Panthers could bring in another tackle for depth via the draft. There isn't a lot of first-round talent in this year's class, but Carolina might find a developmental prospect in the middle rounds.
Running back: Jonathan Stewart, Fozzy Whittaker and Cameron Artis-Payne are back in tow, and with this being such a deep running back class, the Panthers are expected to add another one in the draft. General manager Dave Gettleman spoke to that at the NFL Combine.
"This is a deep running back group. We know that," Gettleman said. "You've got to evaluate the film and get the whole picture of every individual running back. Then you talk about fit, and we'll go from there."
The first round is a possibility, especially if Leonard Fournette is still on the board when Carolina is on the clock at No. 8. But there are numerous examples of productive NFL running backs coming from the middle rounds. The Panthers will have a lot of intriguing options to choose from.
Pass catchers:The Panthers lost wide receiver Ted Ginn, Jr. to the Saints, but Russell Shepard and Charles Johnson were brought in. Shepard brings energy and toughness. Johnson brings speed, something Carolina needed once Ginn bolted.
Carolina wants more production from the slot, and the draft offers a variety of prospects that could fit the bill.
And although Carolina already has one of the premier tight ends in Greg Olsen, this is a great draft to identify a skilled tight end to pair with the All-Pro veteran.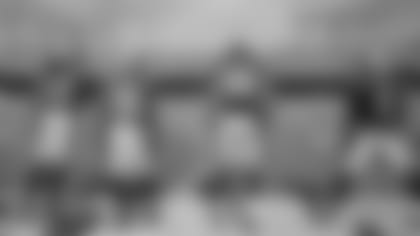 Defensive line: After tagging Kawann Short and re-signing Kyle Love, the Panthers are set at defensive tackle. Defensive ends Charles Johnson, Mario Addison and Wes Horton all re-signed, and of course, Julius Peppers decided to come home.
Former second-round pick Kony Ealy was traded ahead of his fourth season, and it would make a lot of sense for Carolina to add a young edge rusher. As far as Round One is concerned, Solomon Thomas, Derek Barnett and Taco Charlton are the names that have been connected to Carolina most often.
Defensive backs:Captain Munnerlyn's return shores up the nickel spot, and newly signed veteran safety Mike Adams is primed and ready to compete with Tre Boston for the starting job alongside Kurt Coleman.
The draft offers two consensus top-10 talents at safety in Jamal Adams and Malik Hooker – players to keep an eye on – and then there are the corners.
"There is all kinds of depth to this corner draft," NFL Network draft analyst Mike Mayock said. "You can go three or four rounds deep and find potential starters."
Carolina drafted three cornerbacks last year, and two of them – James Bradberry and Daryl Worley – are entering 2017 as the starters on the outside. The rest of the cornerback depth chart consists of Zack Sanchez, Lou Young, Tyler Patmon and Jeff Richards – a group with three combined starts in the NFL. That said, the opportunity is there for another rookie cornerback to make an impact.