(Panthers.com is looking back on each position group's performance during the 2016 season and looking forward to what awaits in the offseason and beyond. The series shifts to the defensive side of the ball today with the defensive ends.)
POSITION REVIEW:Carolina ended the season with five defensive ends on the 53-man roster, and another – Ryan Delaire – on injured reserve. Kony Ealy, although not as consistent as the coaching staff would have liked following his three-sack Super Bowl performance, continued to grow, recording new career highs in solo tackles (22) and pass deflections (3) as well as his first regular season interception. He was replaced in the starting lineup following the bye week by Wes Horton, a fourth-year player who forced and recovered two fumbles. As has been the case since 2010, Charles Johnson remained the constant at left defensive end for all but three games, adding another four sacks to a career total that now stands at 67.5.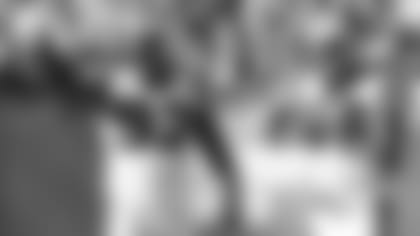 STAT OF SIGNIFICANCE:23 sacks from one position group is a hard total to argue with, especially when it accounts for nearly half a season total that was second-highest in the league. The effort was led by Mario Addison and his career-high 9.5 sacks, one of which resulted in a safety at the expense of Chargers quarterback Philip Rivers.
PLAY OF THE YEAR:Of Addison's sacks, one of the most important came early in Carolina's home game against the Saints. Powering his way around the left tackle, Addison stripped the ball from Drew Brees before bringing him to the ground. The Panthers recovered the loose ball and were able to convert the takeaway into three points.
TOP OFFSEASON STORYLINE:Addison, Johnson and Horton are all potential unrestricted free agents, representing between them 24 of the possible 32 starts at defensive end in 2015. Especially in light of general manager Dave Gettleman already indicating how impressed he is with the defensive end talent available in the draft, it does not seem likely that all three will be retained. Addison will be 30 and Johnson 31 when the 2017 season kicks off. With the average age of the six defensive ends selected to the 2017 Pro Bowl being 28, the Panthers might make an effort to add youth to the position.
HOPE FOR 2017:It is always critical to maintain consistent pressure on opposing quarterbacks, even if it doesn't result in sacks, to force rushed throws. If the edge rushers are successful in that effort, the entire defense will be in good shape in 2017.
View photos of the defensive ends in action during the 2016 season.