POSITION REVIEW: The linebacker position is the heart and soul of Carolina's defense, if not the entire team. Heading that effort was 12-year veteran Thomas Davis, who earned his second consecutive Pro Bowl appearance and finally scored the first touchdown of his NFL career with a 46-yard fumble return against Arizona. Right alongside him was Luke Kuechly, another Pro Bowler who finished second to Davis with 112 total tackles even though he missed the final six games after suffering a concussion. Shaq Thompson continues to grow into his role, and the reserve linebackers also were impressive. A.J. Klein once again filled in nicely for Kuechly, and second-year player David Mayo led the club in special teams tackles.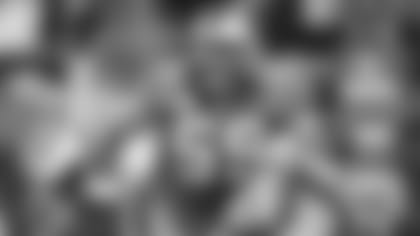 STAT OF SIGNIFICANCE: The Panthers defense was sixth-best against the run this season, allowing only 91.6 yards per game. Although the defensive line certainly deserves some of the credit, Davis and Kuechly were a huge part of that effort. Together, they combined for 244 total tackles, including 11 behind the line of scrimmage.
PLAY OF THE YEAR: Davis followed up his career-high four interceptions in 2015 with three more in 2016. Easily the most athletic of those picks was his snag against Rams quarterback Case Keenum. Davis fully extended as he soared to his right, maintaining possession while crashing into the turf. The offense was able to convert Davis' interception into a field goal at the beginning of the fourth quarter to increase their lead in a 13-10 victory.
TOP OFFSEASON STORYLINE: The Panthers enter the offseason with the linebacker position mostly locked up, as only the contracts of Klein and Ben Jacobs are set to expire. With Mayo earning 21 snaps in the season finale compared to Klein's six, it appears the coaching staff wanted to see what Mayo could do behind Kuechly in case Klein isn't back next season.
HOPE FOR 2017: All signs point to Kuechly returning to the field in 2017, and you'd be hard-pressed to find a better starting group than him, Davis and Thompson. The goal for the linebackers next season will be to return to their 2015 form that featured a dozen takeaways, three more than last season's total.
View photos of the linebackers in action during the 2016 season.