POSITION REVIEW: The Panthers started the season with the same starting five featured throughout Carolina's 15-1 regular season in 2015, but they sure didn't end that way. Only left guard Andrew Norwell played his original position throughout the year. With left tackle Michael Oher out most of the season and center Ryan Kalil out half of it, the Panthers did see some good things from some young prospects, but the personnel losses overall no doubt contributed to the loss column.
STAT OF SIGNIFICANCE: In 2015, the offensive linemen who started Week 1 missed four games over the course of the season. In 2016, they missed 21 games – 13 for Oher (concussion) and eight for Kalil (shoulder). Oher's absence forced right tackle Mike Remmers to move to the left side, then an injury to new right tackle Daryl Williams forced right guard Trai Turner to move to right tackle. All told, the five starting spots were filled 37 times (out of a possible 80) by players not forecast to start in those spots.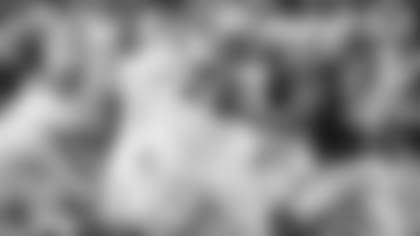 PLAY OF THE YEAR: Running back Jonathan Stewart's longest run of the season, a 47-yarder at Oakland, developed when a block by center Gino Gradkowski freed Norwell to create a huge hole (with a helping hand from fullback Mike Tolbert). Later in that game, Gradkowski and Williams went down to injuries, putting Tyler Larsen in at center and moving Turner to right tackle with Chris Scott at right guard. The transition, all things considered, was surprisingly seamless.
TOP OFFSEASON STORYLINE: After retooling the line several times during the regular season, the Panthers could look to do the same during roster-building season. Even if Carolina's injured starters are ready for the start of the season, they could have company in the form of drafted players and/or free agents signings. You can never have enough quality offensive linemen, a tried-and-true statement put to the test in 2016.
HOPE FOR 2017: If Oher, who last played in Week 3 and hasn't addressed the media since, successfully returns, and if the Panthers re-sign potential free agents Remmers (unrestricted) and Norwell (restricted), they could start 2017 with the same group that rolled in 2015. Whatever group of players is charged with controlling the line of scrimmage for the offense, a return to the health and the production level of 2015 would be a welcomed sight.
View photos of the offensive linemen in action during the 2016 season.