(Over the next couple of weeks, Panthers.com will look back on each position group's performance during the 2016 season and look forward to what awaits in the offseason and beyond. The series begins today with the quarterbacks.)
POSITION REVIEW: The quarterback spot is in good hands with the 2015 NFL Most Valuable Player at the reins, though 2016 didn't produce the type of results the Panthers anticipated. Cam Newton posted career lows for passer rating (75.8) and completion percentage (52.9) as Carolina stumbled following a historic 15-1 season to finish 6-10. Still, Newton was a big reason why the Panthers had a chance to win virtually every game, but their unprecedented run of three consecutive NFC South title was derailed by a 2-6 record in games decided by three or less points.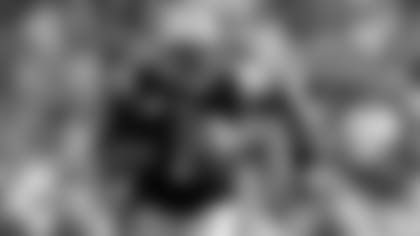 STAT OF SIGNIFICANCE: In the process of becoming the franchise's all-time leaders in passing touchdowns (136) and rushing touchdowns (48) in 2016, Newton became the first player in NFL history to top 20,000 passing yards and 3,000 rushing yards in his first six seasons.
PLAY OF THE YEAR: Newton had a career low in rushing yards and attempts, but attempts to stop him close to the goal line remained fruitless. The best example of that came in Week 10 against the Chiefs, when he appeared to be stuffed around the 4-yard line but powered forward and then lunged over the goal line over top of a defensive back.
TOP OFFSEASON STORYLINE: With Newton, Derek Anderson and Joe Webb all under contract through at least 2018 – and Newton through 2021 – focus will be on helping Newton look more like the quarterback who took the NFL by storm in 2015 than the quarterback who endured a stormy 2016. Newton, his coaches and his fellow quarterbacks will explore all avenues to get him back in form.
HOPE FOR 2017: It isn't realistic to think Newton will post 45 touchdowns every year – or maybe any year – like he did in the magical 2015 campaign, but if he can just get back to the average touchdown output of 32 he posted over his first five seasons, the Panthers should be in good shape. Had he accounted for 32 touchdowns in 2016 instead of the 24 he actually had, the Panthers would have outscored their opponents over the course of the season and could have swung some of those close games the other way.
View photos of the quarterbacks in action during the 2016 season.