POSITION REVIEW:Carolina returned to the well that yielded so much success in 2015 and played the same corps of running backs this season: Jonathan Stewart, Mike Tolbert, Fozzy Whittaker and Cameron Artis-Payne. Stewart led the way with 824 yards and nine touchdowns, far and away the biggest contributor of the group. Tolbert is the NFC's Pro Bowl fullback for the second time in three years, and Whittaker notched his first career 100-yard game. Artis-Payne had a two-touchdown game but was inactive 13 times.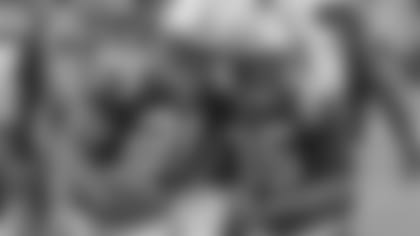 STAT OF SIGNIFICANCE:113.4 rushing yards per game is far from the worst number in the NFL, as Carolina's running backs combined to rank 10th-best in the NFL in that regard. But in terms of franchise success, it's the lowest output since the 2006 season when the Panthers rushed for 103.7 yards per game. Carolina failed to make the postseason that year, too.
PLAY OF THE YEAR:A good run doesn't necessarily have to go as planned, and Stewart's 11-yard rush against Washington certainly qualifies. Twice he avoids tackles behind the line of scrimmage before hurdling cornerback Josh Norman at the 36-yard line and breaking a tackle by defensive end Chris Baker upon landing to convert the first down.
TOP OFFSEASON STORYLINE:It remains to be seen if the Panthers' running back room will have new faces or tried-and-true veterans in 2017. With the overall eighth pick in the 2017 NFL Draft, many mock drafts have Carolina tabbed to select a running back. Whittaker enters the offseason as a possible unrestricted free agent coming off a career year with 265 rushing yards and 226 receiving yards (the most among Panthers running backs).
HOPE FOR 2017:After an offseason of rest, the Panthers hope to return to form rushing the football. Whether that happens is not necessarily as dependent on Stewart, who will be 30 years old by Week 1 of the 2017 season, than it is on a healthy offensive line. The Panthers had just one starting linemen (left guard Andrew Norwell) manage to play the entire position in his spot, so a return to health should reopen the running lanes that the backs grew used to during the 15-1 season of 2015.
View photos of the running backs in action during the 2016 season.