(Leading up to the start of free agency on March 14, Panthers.com is looking at the state of each position group.)
POSITION REVIEW: The Panthers finished fourth in the NFL in rushing yards but got there in an unconventional way. Cam Newton became the third quarterback since 2000 (him twice plus Russell Wilson and Donovan McNabb once) to lead his team in rushing. On the other hand, the running backs boosted Newton's pass efficiency, with rookie Christian McCaffrey hauling in 80 receptions.
STATS OF SIGNIFICANCE: The Panthers led the NFL in rushing over the final eight games of the season, but the running backs themselves were an inconsistent part of the equation. Just look at Jonathan Stewart's swan song for proof: He produced a pair of 100-yard games down the stretch, but while totaling 213 yards in those two games he totaled 172 in his other six games closing out the regular season.
WORTH WATCHING AGAIN: Fozzy Whittaker's lone touchdown of the season punctuated how a back like McCaffrey can change the game. In a Week 4 victory at the Patriots, motion by the rookie had New England's defense looking the wrong way and set up Whittaker to scoot to an easy touchdown.
TOP OFFSEASON STORYLINES: The Panthers opted to part ways with Stewart, who became the franchise's leader in rushing last season – a double-edged sword because it signals that he's on the wrong side of 30. Carolina could look to add a traditional power back via free agency or the draft, which could go a long ways toward determining if McCaffrey's role changes under first-year but longtime offensive coordinator Norv Turner.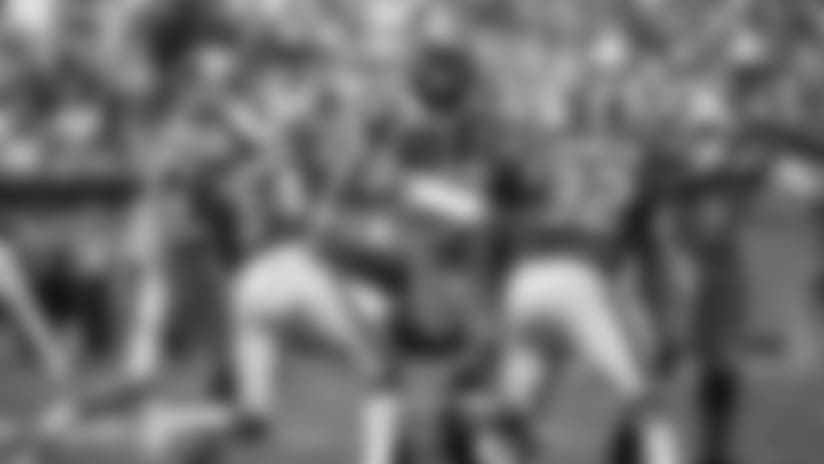 HOPE FOR 2018: The Panthers seem to always manage to be close to the top of the NFL rankings in rushing yards – they have about 1,000 more yards on the ground than any other team over the past 10 seasons – but 2017 didn't feel like a year in which the running attack consistently controlled the course of games. Whether it's McCaffrey, Cameron Artis-Payne or someone not currently on the roster, the Panthers need to get back to setting the tone early and putting down the hammer late with a traditional running game.
The free agent market has a few interesting names in terms of power backs, guys like up-and-comer Orleans Darkwa (the Giants' leader rusher in 2017) and up-and-down bruiser Jeremy Hill (buried on Bengals' depth chart in 2017). Two dozen backs easily could hear their names called at the 2018 NFL Draft, a deep class that even in the middle-to-late rounds could still include power runners like Josh Adams from Notre Dame and Bo Scarbrough from Alabama.
View photos of the running backs in action during the 2017 season.