POSITION REVIEW:With a leader like three-time Pro Bowler Greg Olsen, it's hard to find many issues with Carolina's tight ends. Joining Olsen and his 80 receptions for 1,073 yards this season were Ed Dickson and Chris Manhertz, who combined for 11 catches and 144 yards. Olsen was not only quarterback Cam Newton's favorite weapon, but also his most reliable. The tight end caught 62 percent of his 129 intended passes, the highest rate among receivers Newton targeted more than 33 times.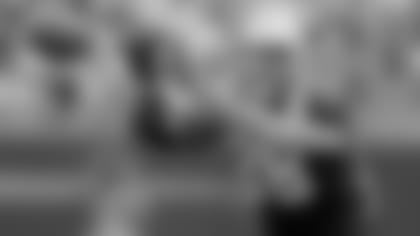 STAT OF SIGNIFICANCE:Ozzie Newsome, Shannon Sharpe, Jackie Smith and Kellen Winslow are among the eight tight ends in the Pro Football Hall of Fame, but none of them managed three consecutive seasons with 1,000 yards receiving. Neither did Tony Gonzalez, the proud owner of the most receiving yards all-time at the position. Only Olsen can make that claim, and he'll try to make it a fourth consecutive season in 2017.
PLAY OF THE YEAR:Although every touchdown catch counts the same, there's something special about a one-handed grab. That's what Olsen had to do when quarterback Derek Anderson threw to him in double coverage against Atlanta. Running a streak route, Olsen spun a complete 360 before reaching as high as he could for the grab, followed by an emotional spike.
TOP OFFSEASON STORYLINE:The focus will be on the Panthers' number two tight end position, as Carolina is looking for another reliable receiving threat to compliment Olsen, now 10 seasons into his NFL career. Currently, the Panthers have three tight ends on their active roster, and another two – Scott Simonson and Eric Wallace – signed to future contracts, but the offseason could provide an opportunity to add more young talent to the position group. Since Olsen arrived via trade in 2011, the Panthers have drafted just one tight end. Beau Sandland was a seventh-round pick last year who was released from the practice squad midway through the season.
HOPE FOR 2017:Win or lose, Olsen gets open and earns his yardage. The next goal for the tight end room is to increase its scoring productivity. Olsen accounted for only three touchdowns on the season – four fewer than his 2015 total – and cannot be expected to be the only tight end carrying the load. If the Panthers can identify and develop a tight end for the opposite side of the line, Carolina's offense will benefit greatly.
View photos of the tight ends in action during the 2016 season.