POSITION REVIEW: After missing the entire 2015 season with a knee injury, Kelvin Benjamin returned and led all Panthers wideouts with 63 catches for 941 yards and seven touchdown receptions. But overall, it was an up-and-down season for the former first-round pick. Veteran Ted Ginn, Jr. was a big-play threat throughout the year, continuously giving defenses trouble with his elite speed. Second-year wideout Devin Funchess was expected to break out, but he never quite got into a groove and finished a difficult year on injured reserve.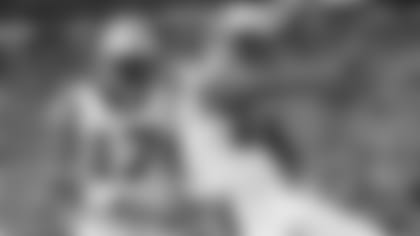 STAT OF SIGNIFICANCE: Ginn recorded a touchdown of at least 40 yards in three consecutive games from Week 11 to 13. And with an 88-yard touchdown catch against the Raiders, Ginn became the fourth player in NFL history to have a receiving touchdown, punt return touchdown and kick return touchdown of at least 85 yards each in his career.
PLAY OF THE YEAR: On Thursday Night Football against the Saints, Ginn made one of the best catches of the 2016 season. Quarterback Cam Newton launched a 40-yard pass to the back of the end zone and Ginn reached out to secure the reception while managing to drag his second foot. With Ginn racing full speed to track the ball, officials initially thought he was out of bounds, but replay showed just how incredible the touchdown catch was.
TOP OFFSEASON STORYLINE: The Panthers have seen spectacular flashes from Benjamin and Funchess, both in practice and in games. The next step is developing consistency. When Funchess was drafted in the second round, everyone thought about the amazing potential of pairing him Benjamin to create a "twin towers" of sorts. This is an important offseason to help the duo realize that potential. Another storyline of note – Ginn is set to become an unrestricted free agent.
HOPE FOR 2017: Benjamin and Funchess still have a lot of room to grow. They're capable of more. And both made plays in the final weeks of the season that the Panthers hope are signs of things to come in 2017.
View photos of the wide receivers in action during the 2016 season.