CHARLOTTE – It's safe to say no Panther had more fun during the offseason workout program than running back Fozzy Whittaker. At the start of each organized team activity, Whittaker always walked onto the field laughing about something with someone. After one practice, he was putting on a show in the locker room as he battled wide receiver Marcus Lucas in a game of one-on-one basketball – played with a ball of rolled up tape and trash cans for hoops, of course.
It got to the point where it had to be asked – why is he always so jubilant?
"Because I am grateful for the opportunity to be here," Whittaker said. "Not everybody is where they want to be, and just last year at this point in time, I was at home."
Whittaker was waived by the Cleveland Browns in May of 2014 and was out of work until the Panthers signed him on the third day of training camp. It was the chance he needed, and he knows how rare those chances are for free agents looking to latch on as the start of the season nears.
"So I'm making sure I take advantage of every opportunity to be out here," Whittaker said.
Whittaker entered the 2014 season behind DeAngelo Williams, Jonathan Stewart and Mike Tolbert on the depth chart, but the positive impression he made on the coaching staff coupled with injuries that impacted the running back position opened the door for him.
"Every single one of us went down with an injury at some point in time," Whittaker said. "We all got reps. I got a lot of valuable experience last year, and it's something I'm looking to build off of."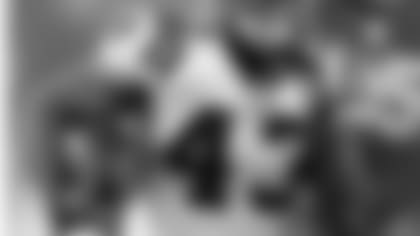 Whittaker played in 10 games, rushing 32 times for 145 yards – both career highs. He recorded his first career rushing touchdown during his lone start in Week 6 against the Cincinnati Bengals.
But his most notable contribution came during the Wild Card playoff versus the Arizona Cardinals.
Carolina trailed 14-13 late in the third quarter when quarterback Cam Newton tossed a screen pass to Whittaker, who made four defenders miss as he cut across the field and sprinted into the end zone for a 39-yard, game-winning touchdown.
"That was definitely a pivotal play for me and for the team," Whittaker said. "I was thankful for the opportunity the coaches gave me to put me in the game at that moment."
It was arguably the play of the season for the Panthers, and undoubtedly Whittaker's most meaningful play in the NFL.
But Whittaker is determined to ensure it wasn't his last. The third-year running back is settled in Carolina, entering training camp as Stewart's backup, and he'll get the chance to add more highlight-reel plays to his resume.
"I'm striving to contribute more," Whittaker said, "and have more of those memorable plays this upcoming season."