The Super Bowl stage is exposing the Panthers to a whole new audience.
Sure, quarterback Cam Newton and linebacker Luke Kuechly are household names, but a large percentage of the country has a lot to learn about the 17-1 NFC Champions from Carolina who are attempting to win a Super Bowl for the first time in franchise history.
The questions and answers listed below should give everyone out there a better understanding of who this team is.
WHY HAVE THEY BEEN SO SUCCESSFUL THIS YEAR?
Newton has played like an MVP, the Panthers' top-ranked scoring offense ran the ball for at least 100 yards every week, and the defense, which finished in the top 10 for a fourth consecutive year, led the league in takeaways. Those are pretty good starting points for success.
WHAT IS "KEEP POUNDING" ALL ABOUT?
As every player will tell you, it's more than two words embroidered on the collar of the jerseys. It's become the team mantra in honor of the late Sam Mills, a former Panthers player and coach who died of cancer. Mills first used the phrase "Keep Pounding" as a coach in an emotional speech to the team prior to the Panthers' playoff game against the Dallas Cowboys in 2004. He spoke about commitment, dedication to teammates, team effort and never giving up. The phrase is now synonymous with the franchise.
WHAT KIND OF COACH IS RON RIVERA?
The term "players' coach" is used often, but there's much more to it. A man with a deep military background, Rivera preaches discipline, character and respect. He worked to develop a culture of accountability since arriving in 2011.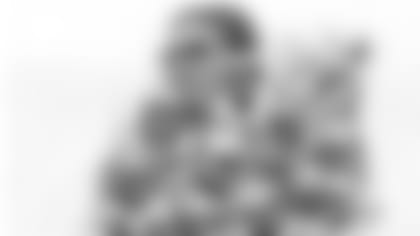 In 2013, when Carolina went 12-4 and won the division for the first time in five years, Rivera became known as "Riverboat Ron" after he decided to go for it on several key fourth-and-short plays. The decision to roll the dice came down to trust. Rivera showed faith in his players to execute, and they delivered.
But that trust extends well beyond play-calling decisions. Rivera trusts his team to balance business and fun. This year, the Panthers seem to have struck the perfect balance. Rivera encourages the players to be themselves, to embrace their personality. And when it's time to work, everyone understands the standard that's expected.
HOW HAS GM DAVE GETTLEMAN BUILT THIS ROSTER?
A self-described "grinder," Gettleman had to wait patiently for an opportunity to run a franchise. When he finally got his chance in 2013, he put decades of NFL experience to good use.
A diligent evaluator of talent, Gettleman subscribes to the theory, "big men allow you to compete." He sticks to his guns and isn't at all interested in making "splashes" in free agency. Gettleman wants to draft and develop to sustain success.
That philosophy worked well considering the challenging salary cap situation he inherited. Valuable pieces like Newton, Kuechly, Thomas Davis, Greg Olsen and Ryan Kalil were already on the roster when Gettleman arrived. But he needed to spend smartly to get out from under a messy cap situation and build a team that could compete for a championship. He's found terrific low-cost fits in free agency, and the Panthers have flourished while locking up the core long term.
WHAT'S THE PERSONALITY OF THIS TEAM?
Every player in the Panthers locker room has one thing in common – they all carry a massive chip on their shoulder. Rivera called this year's team "party crashers," and that's a perfect description. No one believed this group could make it this far. Most thought they wouldn't make the playoffs. It's a tight-knit family that plays with a point to prove every time they take the field.
Beyond that, there are so many unique individual personalities on the roster. For instance:
 The eccentric defensive backs, always hungry for a takeaway, reside on what they call "Thieves Avenue."
The wide receivers, trashed and doubted by the national media prior to the start of the season, have banded together as a group of "No Names."
 Jonathan Stewart posts dubsmash music videos with teammates lip-syncing. The running backs in general can't go five minutes without laughing.
 Dance parties are a norm in the locker room.
 The offensive line meeting room and all its festive decorations is a sight to behold if you're one of the lucky few who get a chance.
 Derek Anderson, a member of the QB wolfpack, unabashedly live tweets "The Bachelor." He also dances at the start of practice like no one is watching.
 Linebacker Ben Jacobs is a Creedbomber. That's right, he belts Creed lyrics into the ears of unsuspecting teammates. Hilarious.
 Josh Norman is, well, Josh Norman.
 The list could go on and on.
WHO ARE THE EMOTIONAL LEADERS OF THIS TEAM?
Pro Bowl linebacker Thomas Davis, the longest tenured Panther and the first known NFL player to return and play a full season after having three ACL surgeries on the same knee, is the heart and soul of the Panthers.
He embodies "Keep Pounding." His words and his play have a powerful effect on teammates and coaches.
Newton's swagger and confidence have permeated through the entire offense. He's been at his best in big moments.
All along, center Ryan Kalil has kept the ship steady. Behind the scenes, his impact is immense.
View photos of Panthers players as they celebrate winning the 2015 NFC Championship.