CHARLOTTE – When the Panthers drafted Stanford running back Christian McCaffrey eighth overall, many wondered how his arrival would impact running back Jonathan Stewart, Carolina's workhorse runner the past two years.
Stewart was asked recently during OTAs if he was concerned about losing carries with McCaffrey on board. He stiff-armed that question to the ground.
"Who cares? We want to win Super Bowls, right?" Stewart told the Associated Press. "That's the bottom line on why we drafted him. It's not about people getting carries, or people getting touches, or getting touchdowns. It's about what you can contribute to the team."
This all got me thinking about the Stewart-McCaffrey duo and the Carolina running game entering 2017. And I think Stewart is the perfect person to share the backfield with McCaffrey.
I'll give you two primary reasons why.
1. Their styles complement each other
Stewart is a punishing runner between the tackles. The 240-pounder wears defenses down with a power running style.
McCaffrey, while also adept at racking up yardage between the tackles, is the lightning to Stewart's thunder. He's shifty and elusive with game-breaking speed. And, as has been well-documented since draft day, McCaffrey is a dynamic weapon as a receiver.
Call them thunder and lightning; call them whatever you want. But it's obvious there is room for both pieces in one offense.
"It doesn't change Jonathan's role," head coach Ron Rivera said. "We're going to do what we do. (McCaffrey) is a young man who can come in and supplant some of those reps. He's a dynamic player that can do some things Jonathan doesn't do."
Had the Panthers selected Leonard Fournette in the first round, this conversation would be a little different. Stewart and Fournette have similar strengths and styles as power types. But Fournette is neither here nor there. Well, actually, he's in Jacksonville. McCaffrey, meanwhile, is a Panther. And as another piece of the offensive puzzle, his versatile skillset fits perfectly alongside the bulldozing Stewart.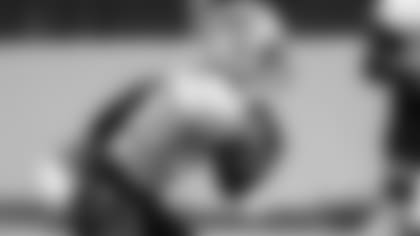 2. Stewart has experience sharing the load
Stewart knows exactly what it's like to be a running back taken in the first round by a team that already has an established presence in the backfield.
In 2008, when the Panthers selected Stewart out of Oregon with the 13th overall pick, he was teamed up with DeAngelo Williams, who was Carolina's first-round selection two years prior.
Williams went out of his way to welcome Stewart, and the two instantly enjoyed tremendous success. Williams rushed for a career-high 1,515 yards in 2008 while Stewart added 10 scores. The following year, "Double Trouble" became the first set of teammates in NFL history to each rush for more than 1,100 yards in the same season.
Longtime running backs coach Jim Skipper remembers that wildly producitve season well, and he has zero doubt about Stewart and McCaffrey's ability to thrive together.
"They've both got good attitudes and that'll make it happen. There won't be any hang-ups or any of that other stuff. The outside noise might see it as a problem, but there isn't going to be a problem," Skipper said. "With DeAngelo and Stew it was the same type of the thing. They balled. It's like Stephen Curry and Kevin Durant together with the Warriors. Just play ball. The more good football players we've got the better we're going to be." For years Stewart and Williams amicably shared the load, and you can bet Stewart will pay that forward now that he's the veteran welcoming in the highly touted rookie from out West.