CHARLOTTE — Like so many of us for the last month, Panthers quarterback Will Grier has watched the ongoing protests over police brutality and systemic racism throughout the country and thought seriously about what he can do to help.
As an NFL quarterback — particularly as a white NFL quarterback — Grier wants to utilize his status to encourage the change he'd like to see within the world. And for him, that starts in the Charlotte community, as he's partnered with his marketing team at ESM Football to provide scholarships for Black student-athletes at West Charlotte High School.
To accomplish this, Grier and ESM have set up a Go Fund Me for donations, with a goal of raising $5,000. According to the page, 100 percent of the donations will be used for college-bound Black students to receive higher education. Those who qualify need a minimum 3.0 GPA and a college acceptance letter. The number of scholarships will be determined by the amount of funds raised, and as of Tuesday morning, the fund is up to $1,360.
"I think in our country right now, we all are demanding change," Grier said. "I'm just trying to use my platform to spread love and try to be the change."
A native of Davidson, N.C., Grier believes it's crucial to help enact that change within his community, especially as an NFL player in his home market. And since his father, Chad, is friends with West Charlotte's athletic director, Josh Harris, there was a natural connection with a program Will felt could help those involved.
"I'm excited and happy to be able to do this," he said. "It's a small step, but it is something. I'm blessed and excited to be able to, hopefully, provide a deserving student-athlete something that will change his life. That's the goal."
But beyond that, he also wants to set an example for his young daughters, Eloise and Adeline.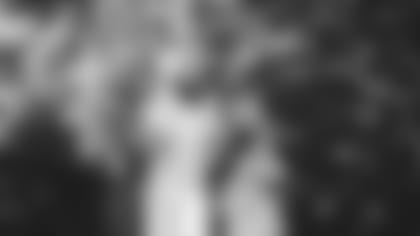 "I have a platform with my job and what I do, but I'm also a parent who's raising kids that hopefully know right from wrong and know good from evil, do the right things and good things," Grier said. "I need to do a good job of explaining that, but not just using words, but using actions.
"That really goes back to the elementary school, 'Talk is cheap' kind of thing. So I'm a believer in that, man. I believe in action."
Grier added that he's working on more ways to show support for social justice causes, putting his efforts behind meaningful action rather than just statements with platitudes.
"You won't see me say a whole lot, but behind the scenes, I'm always doing stuff to fight evil, preach good, and spread love," Grier said. "There's a lot of things in the works because I'm constantly thinking about it. So without getting specific on certain things, it's more so just a constant battle every day of doing what's right and taking action."