CHARLOTTE – Four years ago, Andrew Norwell came to Carolina as an undrafted free agent with next to nothing expected from him.
But he worked his way into a starting role as a rookie and became one of the top guards in the NFL. His contract reflects that, as Jacksonville made him the highest paid guard in the league this offseason.
With Norwell departing via free agency, the Panthers have an opening at left guard. And there's a new group of undrafted rookies who find themselves in the same situation Norwell was in back in 2014 – something head coach Ron Rivera made sure to mention when he gave a presentation to the rookies ahead of the two-day minicamp.
Brendan Mahon from Penn State, Taylor Hearn from Clemson and Kyle Bosch from West Virginia were all recruited by Carolina after the draft concluded.
Can one of them become the next Norwell? Hey, it doesn't hurt to dream.
"It would be nice to follow in his footsteps," Hearn said with a smile.
But there's a lot that has to happen between now and reaching Norwell's level.
First order of business is getting over the disappointment of not being drafted.
"It was tough. Growing up, you always think about hearing your name called on draft day," said Hearn, a two-year starter who helped Clemson win the national title in 2016. "When that didn't happen, I was a little discouraged. But I'm just going to use that as fuel to work harder and prove myself even more."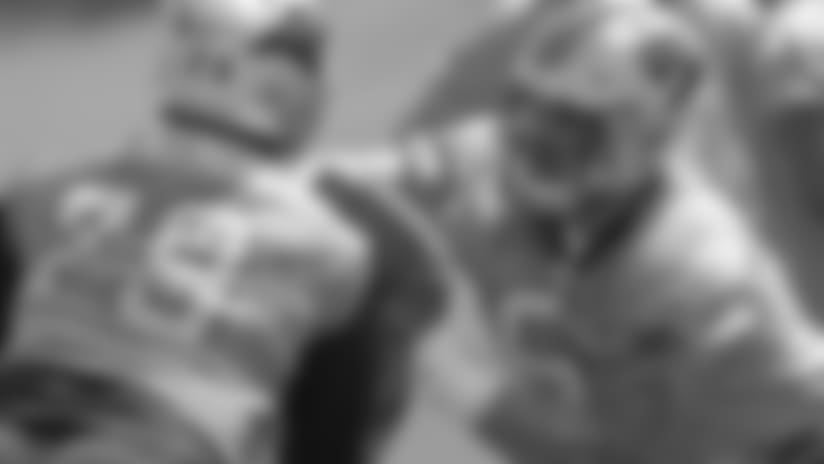 And before any of these guys can think about the starting lineup, they have to prove they belong on the roster.
"I'm not anywhere close to (Norwell's level) right now," said Mahon, a steady four-year starter for the Nittany Lions. "I'm looking to work as hard as I can to try to make an impact on this team and have a role here. That's the goal."
Using Norwell as a guide would be a solid place to start.
"His play is really the role model for me, not his other success," Mahon explained. "The success he had as a free agent – obviously that's a motivator. But I look at his play. He plays physical, he's nasty and he finishes blocks. I've watched a lot of film on him, and it's amazing."
Truth is, Norwell's individual success story is incredibly rare and will be extremely difficult to replicate.
An undrafted free agent like Mahon was most concerned about finding the right fit to give himself the best chance at keeping an NFL career alive.
"The style of my play fits with the downhill run game and physical mentality – that was the conversation me and my agent had," Mahon said. "Carolina was pretty much the top of my list throughout the process. If you would have asked me a month-and-a-half ago, I thought this was number one for me. I couldn't be happier.
"I got the call, and no matter when it came, it came."