NEW ORLEANS – Twice during Sunday's season finale, Panthers running back DeAngelo Williams advanced the ball down to the 1-yard line and then headed to the bench, setting up fullback Mike Tolbert for the finishing touch.
"He'd come off saying, 'Come on, Fatboy,'" Tolbert said. "I said, 'Hey, you're the one that did it.'
"I gave him the ball after one of them, but he can't have any more balls."
On this day, there were plenty of balls to go around.
Tolbert twice followed Williams runs with 1-yard touchdown scampers on his way to three scores, but Williams still managed to score twice himself while racking up a franchise record 210 yards.
All told, the Panthers amassed 273 rushing yards, the second-highest total in franchise history. Williams got the lion's share, but he saved most of the praise for his ferocious teammates that paved the path.
"All credit to the offensive line. They came in with a chip on their shoulder and they got it done," Williams said. "They moved them off the ball, were able to get on the linebackers and take them out and get us into the secondary.
"They showed that they aren't just a patchwork offensive line."
The line was missing the starting center and both starting guards that in Week 2 against the Saints helped the Panthers churn out what had stood as a season high 219 rushing yards. All told, four of the five linemen playing Sunday were undrafted out of college.
But the one exception, 2003 first-round pick Jordan Gross at left tackle, wasn't surprised.
"We've beaten the Saints a lot since I've been here running the ball," Gross said. "It had been awhile since we had done it that way, but the two games this year felt like the old days.
"I'm happy for DeAngelo especially. He had a great game."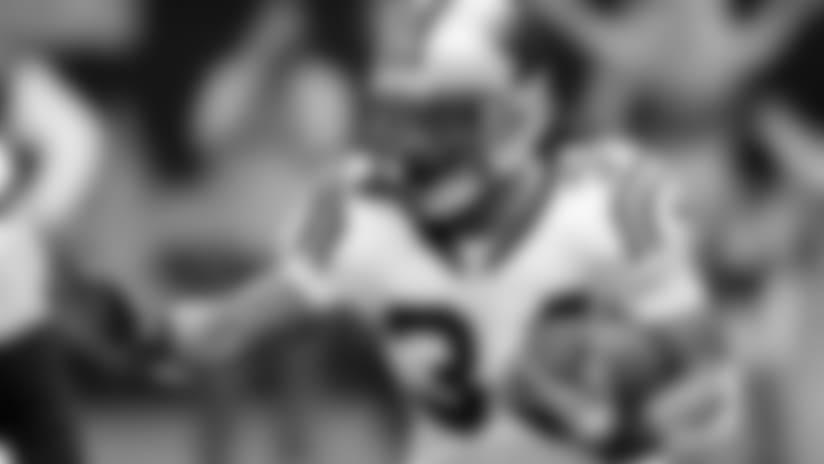 Williams, who entered Sunday averaging 108.3 yards versus the Saints in the teams' last six meetings, eclipsed the team record of 206 yards established by "Double Trouble" running mate Jonathan Stewart in Week 16 of the 2009 season thanks to several long runs.
He tore down the left sideline for a 65-yard run midway through the second quarter, then scored on a 54-yard scamper midway through the third quarter.
Williams was ruled out of bounds at the 1 on the 65-yarder. With Stewart inactive for the fifth consecutive game with an ankle injury, the Panthers turned to the bruising Tolbert.
He barreled in for his first of three touchdowns, becoming the first Carolina running back to record a hat trick since Stephen Davis in 2005.
"I love DeAngelo. He set me up so many times," said Tolbert, who had 25 yards on 10 carries. "My average (per carry) might not be that good, but my touchdown average is looking 'pur-tee.'
"I think my Madden rating will go up because my production is high."
The performance made for lots of laughs in the locker room after the game but also during the game, allowing Tolbert to unleash some of his signature dance moves and allowing Williams to unleash on him.
"I don't know how he lubes his joints up like that. It's pretty cool seeing 'Butter Ball' move like that," Williams said. "It was fun all the way around. We were cracking jokes in the huddle. Normally it's real serious and we're screaming at each other – which can be fun too – but it was laid back and relaxed.
"We were jelling real well."