CHARLOTTE – During a recent conversation with those close to him, quarterback Cam Newton came to a realization – better yet a reminder – about who he is on the football field.
"I realized, I'm not trying to be the best quarterback – to a degree – and I say that with all respect," Newton said. "I'm just trying to be the best football player I can possibly be.
"That's what makes me different – having the ability to run the football, having the ability to pass and just put my team in a position to stay on the field."
The "football player" vs. "quarterback" sentiment is one Newton has shared before. But after the 2016 season, a year in which he took a number of punishing hits and later underwent offseason shoulder surgery, the so-called "second act" of his career was discussed at length.
But aside from utilizing a quick underneath passing game led by rookie running back Christian McCaffrey, Newton's approach hasn't looked all that different.
He's led the Panthers in rushing each of the past four games – a career-long streak – and his 36-yard scamper against Atlanta was Carolina's longest rush of the season.
But there is one key difference for Newton in 2017.
"This year, more than any other year," he said, "I've been focused on overall wellness."
Stacking wins helps everyone feel better, and at 6-3, the Panthers have already matched last year's win total. But "overall wellness" more directly applies to his surgically repaired shoulder and his mindset as a runner.
When it comes to the shoulder, Newton has been committed to extensive stretching routines to aid his recovery efforts from practice to practice and game to game.
"I still have pain in my shoulder from time to time. It's a constant rehabilitation state," he explained. "You just don't say after four or five weeks you're going to be 100 percent."
When it comes to running the football, Newton joked that the media finally won after years of asking him about avoiding contact.
"I figured I'd give in, be the bigger man and start sliding," Newton said with a smile. "In my position, it's easy to kind of get sidetracked and think, 'Here's a guy who is smaller than me. I could whatever – throw my body into somebody.' But if it's not for a first down or a touchdown, I kind of gear back and get prepared for the next play. That's been my mentality and will continuously be my mentality."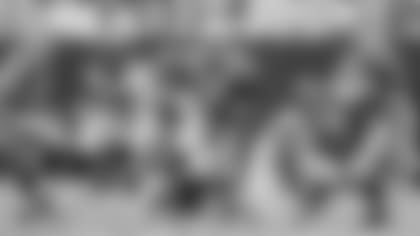 He's shown that he's willing to find a safe place to land when he's on the run, unless, as he mentioned, it's a critical third-down or the goal line is in sight. In those cases, his fear of regret outweighs the very real fear of a dangerous collision.
"I would rather have that feeling of doing it and getting the fear over with than looking back and saying, 'I wish I would have done that,'" Newton said about leaving his feet or putting himself in harm's way.
Newton is on pace for 123 rushing attempts this season, which is right around his career average of 115 carries per year but would land him well past the 90 rushes he had in 2016.
That might surprise people who thought a decrease in carries was in store for the former NFL MVP. But with the passing game in a state of flux for a variety of reasons – Newton's shoulder, tight end Greg Olsen's broken foot and wide receiver Kelvin Benjamin's departure among them – the quarterback's unique ability to run the ball is impossible to set aside.
"The more (the coaches) see me with the scrambles or the Q runs and they see everything is holding up, that gives them confidence to call it even more," Newton said. "In my eyes, just like any other playmaker who wants the ball in their hands, I feel like I could do it every single play. I just have to make sure I protect myself."
The bottom line for Newton in all of this is the same it's always been.
"As long as we win, that's all that matters to me," he said. "You give me 50 yards rushing and 0 yards passing and the Carolina Panthers win? It's an unbelievable day in my book. You give me 300 yards passing and even 100 yards rushing and we lose? I'm miserable.
"As much time as I put into this game – time away from family, all the energy that's put into this – I want to win every time I step out there on that football field."