CHARLOTTE – The significance of Greg Olsen's absence following foot surgery can't be overstated.
But offensive coordinator Mike Shula is now tasked with moving the offense forward without arguably the best do-it-all tight end in the NFL.
"Missing Greg is tough. He just brings so much to the table," Shula said.
But when something like this happens, as disappointing as it might be, it creates opportunities for others.
In this case, attention immediately shifts to veteran Ed Dickson, who has been the No. 2 tight end next to Olsen since 2014. And Dickson couldn't have picked a better time to raise his level of play.
"Ed Dickson is playing as good as he's ever played for us – not just as a blocker but as a receiver," Shula said. "His routes are smoother. It just seems like he's playing with more awareness."
But replacing Olsen goes beyond the tight end position, because he has essentially been Carolina's top receiver for the last three seasons – both in terms of production and trust.
"I think it's going to be a combination," Shula said of replacing Olsen. "We'll mix personnel groups, we'll still have one or two tight ends in there at times. But as far as the production, each guy has got to do their job. We feel like we've got guys – and while they haven't shown it as much as we'd like to – but guys that can put points on the board."
Wide receiver Devin Funchess is one of those guys, and this could be his chance to produce with increased targets.
"That probably will present itself," Shula said.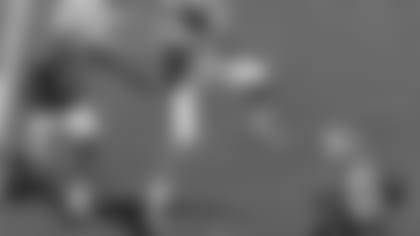 It's not a perfect comparison, but this feels a little like the 2015 season when wide receiver Kelvin Benjamin was ruled out for the year with a torn ACL.
That year, Olsen produced career highs in yards (1,104) and touchdowns (seven) while Funchess posted 31 receptions for 472 yards and five scores.
The following year, Funchess' numbers decreased when he had to share the field with Benjamin and Olsen. That led head coach Ron Rivera to state his desire to find ways to get the former second-round pick more involved this offseason.
This isn't the ideal way to do it, of course, but those are the cards that have been dealt.
Funchess doesn't have the experience or the savvy of someone like Olsen, who knows the playbook as well as anyone and can operate somewhat like a wide receiver out of the slot. But the Carolina coaching staff always raved about how quickly Funchess gained comfort with all the receiver positions. He's capable of taking on more and operating out of a variety of spots.
"Funch does a good job, because you can move him around as well," Shula said. "He's going to continue to get better."
Funchess finished Sunday's game with four catches for 68 yards – the most he's had since the final regular season game in 2015.
With Olsen unavailable, more days like that could well be in store.
View the top photos from Panthers vs Bills by team photographer Melissa Melvin-Rodriguez and second shooter Jamey Price.