SPARTANBURG, S.C. – In the summer of 1995, football fans from all over the country flocked to a grassy hill above Wofford College's practice fields for an intimate look at a newly formed NFL team.
This summer, for the 20th time, fans will return to watch what is now a well-seasoned team, one that has played in one Super Bowl and three NFC Championship games and now boasts fans around the world.
Without Jerry Richardson, a 1959 Wofford graduate and the owner/founder of the Carolina Panthers, none of it would be possible.
Monday, the Wofford Board of Trustees recognized the upcoming 20th anniversary of training camp and honored Richardson, the only current NFL owner to have played in the league, by dedicating a sculpture of him.
The sculpture, created by noted California artist Todd Andrews, stands on the patio of the Harley Room in the Richardson Physical Activities Building. It depicts Richardson seeming to be ready to walk over to Gibbs Stadium to watch the Terriers – for which he also played – take on their next opponent.
"The impact Jerry Richardson and the Carolina Panthers have had on the Wofford community and the Spartanburg community as a whole has been tremendous," Wofford president Nayef H. Samhat said. "This is a long-standing partnership that has brought national recognition to campus and Spartanburg and has provided family entertainment to residents and visitors alike. Wofford is lucky to have such a generous family in the Richardsons, and we are proud to serve as the summer home for the Panthers."
Richardson entered Wofford as a student-athlete in 1954 and graduated in 1959. He was an All-America football player for the Terriers and a wide receiver on the 1959 Baltimore Colts NFL Championship team. He's a member of Wofford's Athletic Hall of Fame, one of only two football players to have his number retired, and has been a member of the board of trustees for more than four decades. Richardson also has the unique distinction of being the only person to be selected to the business halls of fame and sports halls of fame in both South Carolina and North Carolina.
"Jerry Richardson made his presence known at Wofford as a star student and athlete who went on to play professional football for the Baltimore Colts, an incredible dream come true for most people," Wofford board of trustees chairman J. Harold Chandler said. "But, as time later revealed, Mr. Richardson's dream was much bigger than even that, actually owning an NFL team, a feat he accomplished in 1993 as founder and owner of the Carolina Panthers. Yet, along this journey of unparalleled success, he proudly remained close to Wofford, nurturing our students, faculty and college leadership as a friend, trustee and mentor.
"Many of us who are close to Wofford and Mr. Richardson concluded many years ago that he is, simply put, one of a kind in our world. We truly love him. So, words cannot adequately express our appreciation for all that he has meant to us individually, to Wofford, to Spartanburg and beyond."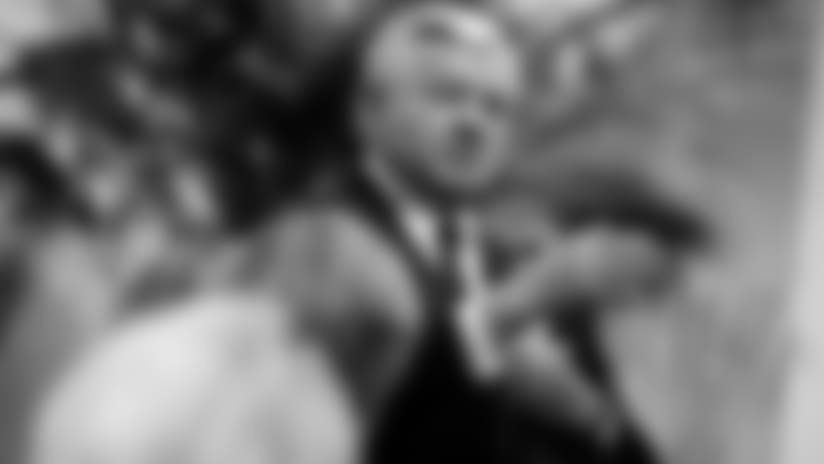 The Panthers have trained on the Wofford practice fields and in the 60,000-square-foot Richardson Building each summer since their 1995 inaugural season. Sports Illustrated's Peter King has ranked the training camp among the top five in the league for fan friendliness.
"I've always loved the feel of this place, in part because of the way the Panthers treat the fans who attend," King wrote in 2012. "Ten to 12 players sign until the last autograph, and you can walk around the Wofford College campus and see players if you pick the right time... a postcard of a place."
Nearly 375,000 visitors have attended the free and open practices on campus during training camp since 1995, and in 2013 attendance reached an all-time high of more than 45,500 people.
"Mr. Richardson and the Carolina Panthers have left an indelible mark on Wofford College and Spartanburg County," Wofford director of athletics Richard Johnson said. "Over the past 20 years, the opportunity to host the Panthers training camp stimulated interest in the region and helped Wofford achieve excellence both academically and athletically.
"This wonderful sculpture is a testament to Mr. Richardson's vision and resolute spirit. We continue to welcome the world to our campus and Spartanburg each summer because of him."
The decision for Wofford to host the summer training camp "ignited an immediate expansion of the campus, which included closing Evins Street and the construction of the Richardson Physical Activities Building, Roberts Fields and Gibbs Stadium," a plaque dedicating the sculpture reads.
"This successful development served as the catalyst for growth of the overall campus. The training camp partnership is now one of the longest in professional sports and has brought increased national visibility and exposure to the college. The NFL awarded the franchise to owner/founder and Wofford alumnus Jerry Richardson in 1993 after a nearly seven-year quest, and his resoluteness not only forever changed the Carolinas, but also Wofford College."
Richardson has on numerous occasions credited his Wofford College career with helping him succeed in business and the NFL.
"I have said many times that the friendships I was fortunate to build at Wofford in the 1950s have led directly to whatever success I may have enjoyed," Richardson said. "Without Wofford's influence on my life, I would not have been able to achieve what I have."