SPARTANBURG, S.C. - Amanda Upchurch has attended many a Panthers training camp practice at Wofford College over the years, closely observing the players and team personnel from the hill above the practice fields.
This year, after an uphill battle, she's on their level.
"I've been on the other side of that fence, watching practice," Upchurch said. "To get here and be on this side of it, it's great."
Upchurch, who is assisting the Panthers' staff as a camp intern, is the first female certified athletic trainer to ever work with the organization.
She works with the defensive backs before, during and after practice, and she's doing more than taping them up. When an injury occurs, head athletic trainer Ryan Vermillion and his staff sometimes pull her over to help with the assessment.
Upchurch, a native of Charlotte, is also working with one of the five student athletic interns at camp, Courtney Rivera. That name should sound familiar: She's the daughter of Panthers head coach Ron Rivera.
"It's cool because as a collegiate athlete she's been on both sides of it," Upchurch said of Rivera, a pitcher on the UCLA softball team. "I've been able to get some perspective by asking her what she went through during her rehab (from a knee injury).
"She's got a great attitude."
---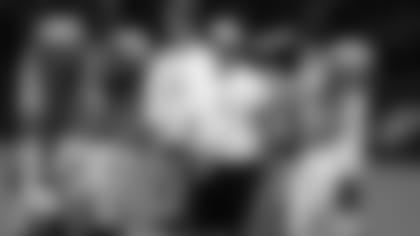 While Courtney Rivera is just trying to figure out her career path, Upchurch is well on her way. Upchurch got interested in athletic training while taking an introductory class at Charlotte Olympic High School and then made it her major at East Carolina.
She worked with the North Carolina State football team as a graduate assistant during the 2008 and '09 seasons – "Kind of lost some friends along the way," she joked – and she worked at a high school and an orthopedic clinic for the last two years in Jacksonville, Fla.
Even as her credentials grew more impressive, her hopes of working with her hometown Panthers – or any NFL team – remained slim. There is currently one full-time female athletic trainer in the NFL, an assistant on the Pittsburgh Steelers staff.
So how did Upchurch get her foot in the door?
"Her mom," Vermillion explained. "Her mom is a flight attendant for US Airways, and she has worked a bunch of our team flights. She approached me one time on the airplane and told me about her daughter.
"I told her that I'd love to meet her. I met her and saw that she was pretty sharp. That's what started it."
Vermillion, entering his 11th season with the Panthers, invited Upchurch to help with a Panthers minicamp in 2009. She helped with minicamp and Organized Team Activities in 2010 and added training camp this year.
Days before camp, Upchurch started as head athletic trainer at Ardrey Kell High School in Charlotte through a partnership with Carolinas Medical Center (CMC). Vermillion worked with CMC to clear the way for Upchurch to attend camp.
"Ryan has been phenomenal," Upchurch said. "He's stuck his neck out for me in so many ways. He gave me a shot, and it's been great.
"The very first time the Panthers asked me to work something, I was supposed to be the bridesmaid at a wedding, but I dropped out to come because I knew it was my window. You just have to take advantage of every single opportunity."
Once in the door, Upchurch next had to gain acceptance from players accustomed to working with all-male staffs. There were some bumps, but not after she dealt with their bumps and bruises.
"There was a little bit of resistance at first, but you just have to set the tone from the beginning," she said. "This is their workplace, their office, their territory. I'm just here to help and to work and do whatever Ryan tells me.
"No one has been disrespectful. If someone curses, they'll always look at me and say, 'Sorry Amanda, we didn't see you there.' Once they see you working hard and see you can tape an ankle just as well as the man next to you, there's no resistance."
---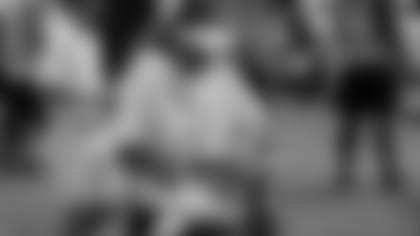 As the daughter of the head coach, Courtney Rivera obviously didn't have to work as hard to earn her training camp assignment, but she's certainly working hard at her training camp assignment.
"Everybody tells me that she works hard, that she's not acting like the head coach's daughter," Coach Rivera said. "She's grown as an athlete but more importantly as a young woman. I couldn't be more pleased."
Courtney Rivera is one of five student athletic trainers and doesn't mind calling herself the "lowest intern." She gets up at 5:30 a.m. to help make sure ice baths and chests are full, and that water, Gatorade and tape are stocked.
After helping with practice and the walkthrough and getting things cleaned up, her work day ends shortly before midnight.
Rivera took on the internship to help her decide if she wants to go into athletic training or physical therapy. Camp has been a labor of love, though she is now leaning toward physical therapy.
"I don't think I can handle these 15-hour days," she said. "All I know is if I ever do become a trainer in the NFL, it can't be on my dad's team.
"I get too emotionally into it because it's my dad's team. Knowing me, I might shout something that I shouldn't."
Rivera gets a break in the afternoon, but it sure doesn't feel like one. She uses it to train for softball, working out for an hour and then pitching for an hour, with her dad serving as her catcher.
"Instead of taking a nap, I go out and catch for her. It's a lot of fun," Coach Rivera said. "Now that she's away at college, I'm always looking for quality daughter time. Having her here for a couple of weeks is a cool thing."