CHARLOTTE – Wide receiver Stephen Hill fondly remembers his visit to Bank of America Stadium prior to the 2012 NFL Draft.
"It was cool," Hill said. "I really like it here. It's a great city."
Hill hopes to make this visit last a lot longer than that one did.
The Panthers used one of their 30 official visits for draft-eligible players on Hill two years ago, but the New York Jets ended up using a second-round draft choice on the Georgia Tech product. The Jets waived Hill on Saturday after two up-and-down seasons, and the Panthers signed him to their practice squad Wednesday.
Hill said he was surprised his time with the Jets ended so abruptly, but he's excited about this new chapter.
"That's behind me now, and I'm just ready to move forward with the Carolina Panthers," Hill said. "I'm definitely happy with this.
"It was a learning experience. Things happened, especially with injuries and things like that, but I've grown and have become more of a pro as far as understanding what needs to be done and what coaches need to see out of me."
Head coach Ron Rivera liked what he saw from Hill in his first practice, though Rivera also cautioned that the team is still in the evaluation process.
"We saw from nice things from Stephen today. He ran some pretty good routes, and he looked good in the individual periods," Rivera said. "I had a chance to watch him up close and got a chance to see him come out of his breaks. His hands were pretty good – he made some nice catches – but it's hard to really tell right now because he's still learning.
"We'll continue to watch him and see what he can do and what he can potentially bring to the table for us."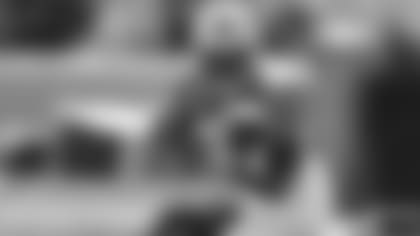 Rivera noted Hill's off-the-chart measurables – the 6-4, 215-pounder tied for the fastest 40 time (4.36) among wide receivers at the 2012 NFL Scouting Combine – but that's never been in question. Hill, however, faced a steep learning curve coming from Georgia Tech's triple-option offense, and knee injuries limited him to 23 games over two seasons with the Jets.
Still, he caught 45 passes for 594 yards and four touchdowns – though two of the touchdowns came in his NFL debut.
"He can run – 4.3 is pretty fast – and he's a big, physical guy," quarterback Derek Anderson said. "Now we'll teach him and get out of him what we can."
Hill should be helped by the stability that starter Cam Newton offers under center, as well as the guidance he'll get from wide receivers coach Ricky Proehl, a veteran of 17 NFL seasons.
"It feels like he knows everything. He was in the league for 17 years. What can you say about that?" Hill said. "I'm going to do the best I can to learn from him because he knows a lot."
This no doubt is a challenging time for Hill, who went from a developing second-round draft pick to unemployed seemingly overnight. Now he finds himself on a practice squad, but he's determined to make the most of it.
"It's just a step back, but I can take some more steps forward," Hill said. "I'm just going to take this and run with it. I'm ready to try my best to get on that 53-man roster."