CHARLOTTE — Following Wednesday night's session at Bank of America Stadium, the Panthers were back on the practice field Friday.
The defense had a big day, picking off several passes over the course of the morning.
Here are some things that stood out during the session:
— There was a jersey swap of sorts, keeping things fresh. The offensive players wore white jerseys instead of the blue they've sported throughout camp. The defensive players were all in black, as opposed to just the day's starters. The quarterbacks remained in green, though.
— Kaare Vedvik kicked field goals with Joseph Charlton holding as practice began. Vedvik has spent most of his time with Carolina punting, but he has the versatility to do both. That could be important in 2020, given the unpredictability of COVID-19. Head coach Matt Rhule later said there's a possibility the Panthers could keep an extra leg on this year's 16-man practice squad.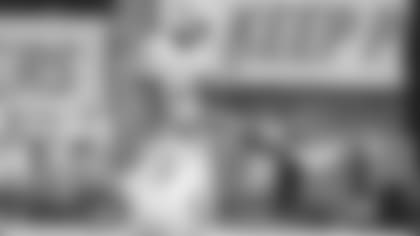 — The starting offense went against the reserve defense in a two-minute drill to begin the first 11-on-11 period. Quarterback Teddy Bridgewater connected with wide receiver Robby Anderson on a deep route to the right, putting the offense in the red zone. But the unit couldn't complete the objective, as Bridgewater's fourth-down pass with four seconds left was high and out of the end zone. He didn't appear to have anyone open.
— Jack-of-all-trades Myles Hartsfield started a drive at safety and finished it taking a carry on offense. He wore a white penny to signify he was a running back instead of changing his whole jersey.
— Hartsfield's red zone run was on third down and didn't get enough to move the chains. Vedvik nailed a field goal, with the ball going off the camera pole set up dead center between the uprights.
— The Panthers had two simultaneous 11-on-11 drills running on opposite sides of the field. Some of the team's key veterans did not participate, like Bridgewater and defensive tackle Kawann Short. That gave younger players extended reps.
— During that period, wide receiver DJ Moore caught a deep touchdown in traffic between rookies Kenny Robinson and Stantley Thomas-Oliver III. Moore elevated to catch the pass from quarterback PJ Walker, securing it before he hit the ground.
— On the other field, quarterback Will Grier connected with wide receiver Marken Michel on several deep passes. On one that went for a touchdown, offensive lineman Mike Horton met Michel in the end zone, and Michel gave Horton the ball for a celebratory spike.
— Linebacker Andre Smith intercepted a Grier pass over the middle during a third-down segment. Grier faced heavy pressure and may have been sacked. But he let it go, and Smith was there to make a play.
— During individual drills, quarterbacks and tight ends worked on red zone routes to the end zone. After throwing his passes, Bridgewater started playing defense to give the tight ends and quarterbacks a better look for proper ball placement and how the route had to be run.
— Wide receivers and quarterbacks competed against cornerbacks in one-on-ones. Cornerback Troy Pride Jr. made a couple of nice plays during the period. On one rep against Ishmael Hyman, Pride batted the ball toward the front corner of the end zone. Then he ripped a ball out of Seth Roberts' hands as the wideout tried to come down with a pass. While Anderson later caught a pass over Pride, Bridgewater's perfect ball placement was the reason why the pass was complete. The quarterback even complimented Pride's coverage on the play.
— The defense had a strong seven-on-seven period with a pair of interceptions. Robinson picked off Grier on the defense's left. Then Bridgewater held onto the ball for a long time, and likely would've been sacked, but he fired a deep pass to the left and cornerback Corn Elder came away with it.
— Cornerback Donte Jackson intercepted a tipped Grier pass and ran it all the way back to the other side of the field to celebrate a "pick six." Even though he was sort of betraying his offensive brethren, Bridgewater ran down to celebrate, too. Linebacker Tahir Whitehead razzed the quarterback a bit for doing so.
"I just get excited when I see guys making plays. It was good for the defense to get their hands on the football today," Bridgewater said. "I just want to celebrate those guys and let them know, hey, I see you making plays as well."
"We'll have a great chance to evaluate a lot of the guys trying to make the team," Rhule said. "They went really hard today, and they've got to turn around and do it again tomorrow."
— Rhule said rookie defensive tackle Derrick Brown has a "nagging ankle," but doesn't believe it's anything major.
— Linebacker Shaq Thompson did not practice Friday because his groin is still sore. Rhule said Thompson has an abductor issue.
— Carolina added cornerback Jameson Houston and defensive end Austin Larkin shortly before practice. Houston is a Baylor product, so he's familiar with this coaching staff.
"He's a 4.4 (40-yard dash) kid, a smart kid. Really likes to practice," Rhule said.
And with defensive end Marquis Haynes Sr. in the concussion protocol, the Panthers wanted to get a look at Larkin, who's spent time with the Cowboys and Falcons.
"One of our things is just giving guys opportunities to get in here and show what they can do," Rhule said. "We're building kind of a bank, a book of business on guys, knowing who's out there if we've had them in camp."
View photos from Friday's practice as the Panthers continue to prepare for Week 1.