CHARLOTTE — Zach Kerr is a father. His son turned 3 earlier this month.
Kerr is also a Black man in America. As such, his son is black, too.
So watching events unfold like Jacob Blake's shooting in Kenosha, Wis. strikes a chord within Kerr. At the very least, it's frustrating.
But at this point, Kerr doesn't seem interested in statements or platitudes. He wants action. And he wants it to come from those who truly have the power to change the country's systems.
"I want people to understand that this is a human issue," Kerr said Friday. "This isn't a sports issue. This isn't an athletic issue. This is an issue that humans need to fix."
Speaking for the first time with local media since he signed as a free agent in March, Kerr talked about football for six minutes. But he then took questions on racism and systemic oppression for about 10 minutes, speaking thoughtfully to illustrate how he feels. He said that everyone on the team has been talking about the topic, from rookies to veterans, to head coach Matt Rhule to team owner David Tepper.
But Kerr wants to make sure discussions focus on action. 
"If we all decide we're not going to practice, OK, what are you going to do now?" Kerr said. "That's kind of where I'm at with it."
Kerr also knows the conversations can't just involve athletes and entertainers. He understands why people often look to those two groups for leadership. But realistically, they cannot implement policy changes.
"We have our platform, and we use our platform," Kerr said, "but there are people in place that set these laws and set this systematic oppression that we've been dealing for years, hundreds of years.
"My whole thing is we need to take action on that. It's hard to undo years and years of different systematic oppression. But action needs to start. You've got to start somewhere."
Kerr suggested police training as a place to begin.
"(I)t takes longer for me to get my barber's license than it takes for me to become a cop," Kerr said. "Those are the types of things that we need to talk about, and we need to address. I think we need to focus more on that than just radically going to point B.
"You've got to formulate a plan and really, really dive in and figure out how to undo — and I can't stress this enough — hundreds of years of systematic oppression, and systematic laws, and different things that just didn't help people that look like me."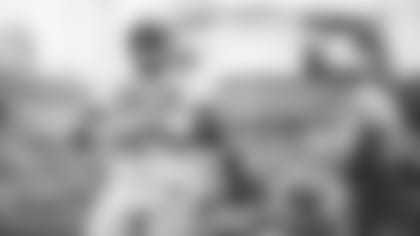 Despite being an NFL defensive lineman heading into his seventh pro season, Kerr is keenly aware of how he's perceived in public. That's one of the things he's teaching his son, even at a young age.
"He's in pre-K, he's bilingual, he's super smart, knows a bunch of things. But I always just have to remind him who he is, and who we are, and what the world is going to view you as," Kerr said. "I can go out to a restaurant, and it doesn't matter if I'm Zach Kerr, the defensive lineman for the Carolina Panthers. They're not going to see Zach Kerr, the defensive lineman for the Carolina Panthers. They're going to see a Black man first.
"That's my biggest thing to him, just knowing who he is, making sure he knows his history. Making sure he knows what it took for us to get to where we are in the world today, and what else it's going to take to further ourselves past who we are in this world today. I think that's the biggest conversation, is knowing who you are, knowing your history, and passing that down to the next generation because there's no point in knowing and doing all these things if you're not going to share the blessings and be selfish about it."
That philosophy relates to how Kerr feels about being an athlete speaking on injustice. While public officials ultimately have to be held accountable, he doesn't think it's fair that so much of the responsibility to be change agents has fallen to those in sports.
"I used to hate when people said, 'It comes with the job.' But it does," Kerr said. "At the same time, we do have to realize, and we have to remember that we are athletes in our jobs. And outside of our jobs, we are humans. So when it comes to social injustice, when it comes to different things, protesting stuff like that, what people have got to realize is, when I'm done playing football, I'm still going to be a Black man."
That said, he realizes being a football player makes his life different.
"The example I use all the time, is $20 now and $20 seven years ago is a different $20 to me," Kerr said. "I haven't had to deal with police brutality — or police period — since I've been in the NFL. A lot of these issues, I do not have to deal with. But I've still got family members that go through it. I still have sisters. I still have people around me that go through these issues."
One aspect of this the Panthers have already taken on is a voting campaign. Kerr said he supports educating people about why their vote matters, but realizes he can't force individuals to exercise that right.
"My whole thought process is, I can give you these facts. I can give you what can happen or could not happen. Now it's up to you to make your own decision," Kerr said. "I know a lot of people growing up in the Black community, we do believe that our vote doesn't matter. And there's a lot of Black people I know who do not vote or don't care to vote. There's also a lot of Black people I know cannot vote because they're convicted felons and a lot of different reasons.
"But my job is to raise awareness, get facts, educate you, and then it's up to you."
As this eventful week across sports comes to a close and the Panthers continue to prepare for the 2020 season, Kerr clearly has thought a lot about these issues. That's why he doesn't want whatever comes next to be an empty gesture from the team. Because of that, he's asking for patience.
"I do want people to realize that we are trying, and we do care," Kerr said. "Just give us some time, because we've got a lot of stuff on our plates that we're trying to figure out behind closed doors."
View photos from Friday's practice as the Panthers continue to prepare for Week 1.