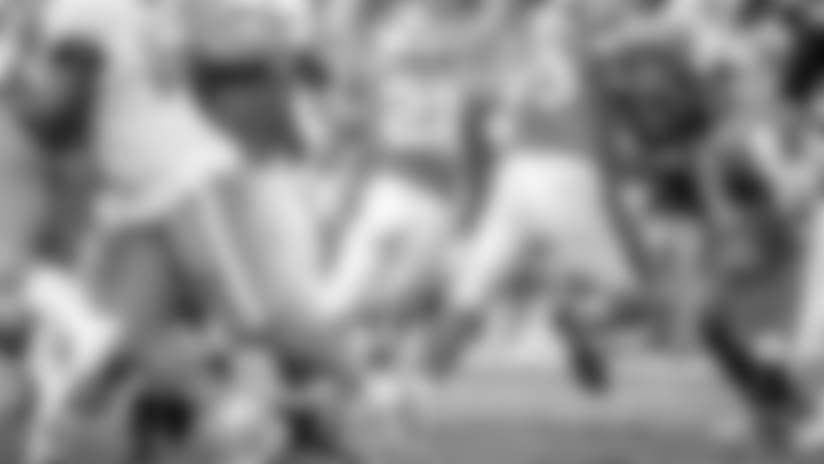 Christian McCaffrey can't run between the tackles.
The Panthers, on the other hand, were convinced McCaffrey could be effective inside even before they used their 2017 first-round pick on him.
"In college, you go back to his two years, and nobody ran between the tackles more than he did," head coach Ron Rivera said after Friday night's preseason win over the Dolphins. "We always thought he has that kind of ability, and he's got the quickness. So we're very confident and comfortable in what we think he can do."
"O-line, fullback, tight end did an unbelievable job blocking. Made my job easy," McCaffrey said of his 71-yard score. "So I hit the crease and put the ball in the end zone."
Yeah, Greg Van Roten, Alex Armah and Ian Thomas were among the guys who helped pave the way. But McCaffrey could've gone down at the line. Or he at least could've been slowed down by defensive end Robert Quinn. Instead, McCaffrey shrugged off the tackle, showing why it was crucial for him to pack on six pounds of muscle this offseason.
"All the great runners in the league are great at breaking tackles. So I definitely want to try to make as many people miss as possible," McCaffrey said.
He's certainly going to have plenty of chances.
McCaffrey had nine touches on the Panthers' first 16 snaps against the Dolphins. Last week in Buffalo, he got the ball on six of the starting offense's 14 plays. So Rivera's stated goal of getting McCaffrey 25 to 30 touches a game is looking more realistic by the week.
"He's a dynamic player," quarterback Cam Newton said. "We always laugh and tease about it, but he's a primetime player that you just have to find ways to get him the football. He's still not satisfied, and that's what I love about him the most.
"Also, he's extremely physical and I don't think he gets that much credit for that."
Apparently, that's not the sort of credit McCaffrey's looking for, anyway.
When asked if he's beginning to answer questions about his ability to run between the tackles, he quipped:
"I'm just here to play ball, not answer anybody's questions."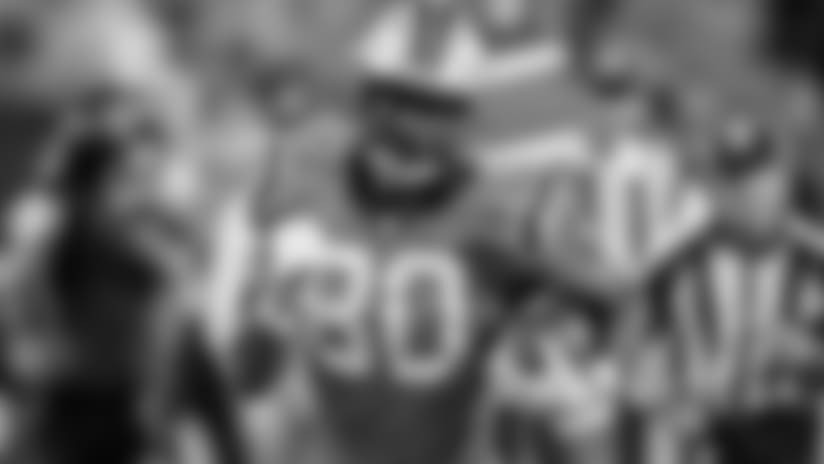 "I saw green grass, so I ran fast," Thomas said, sounding a bit like Forrest Gump.
During his first few months in Carolina, Thomas has come of as soft-spoken and somewhat shy. So since the fourth-round pick was the most popular talking point in the Panthers' locker room after the game, let's let others talk about him.
Newton: "He doesn't even know how good he's capable of being. … When you see plays like this happen, his natural skill set takes over. He's going to be a key asset for us."
McCaffrey: "He's a heck of a player. He's got a lot of speed to him, a lot of pass catching ability. He's a great kid, too. He's doing everything he can to learn and there's not a better guy to learn from than Greg (Olsen). I know Greg was excited, too, to see that from his guy."
Olsen: "He does a lot of things well. You couldn't ask him to do any more than he's done so far as a rookie. He's done a really good job. He's a good kid. He studies hard, works hard, and it's nice to see him have that success in the game."
Cornerback James Bradberry: "He's very athletic. Big guy, athletic, can run. It's just a matter of finding a way to get him the ball at this point."
Cornerback Captain Munnerlyn: "He showed some speed on that touchdown run. I didn't know he could run like that, but he ran away from some people and got in the end zone. So I'm glad that guy's on my team and I'm glad I don't have to tackle him at practice."
Safety Mike Adams: "Even in practice when I go against him I see that he's got some stuff to him. You've got to bring your A-game when it comes to him, and I like it. He's still young, still wet behind the ears, so I've got some tricks for him. But I can tell he's got some stuff with him."
Rivera: "You see the potential. You see the growth. He's kind of a little bit of an unknown because he only played one year of major college football. … Part of what I think is helping his development is that Chris Manhertz is out right now. Because of that, Ian has gotten a lot of work. And you see his progress has been accelerated because of that."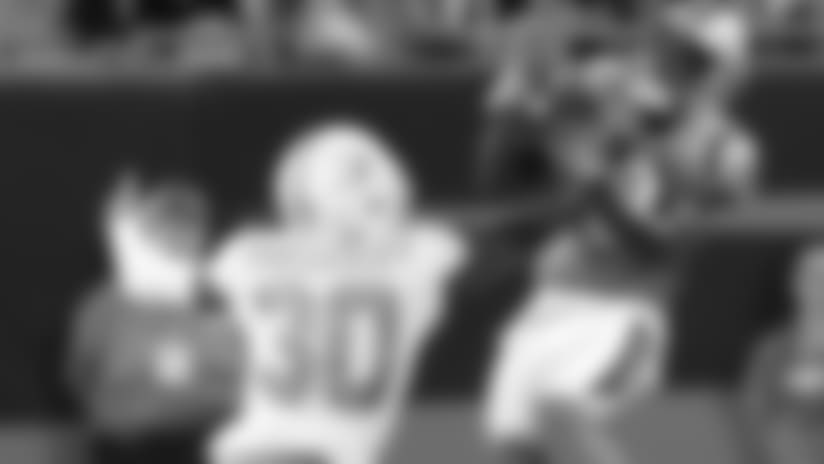 As far as storylines for a writer goes, this was low-hanging fruit.
The last time Curtis Samuel played at Bank of America Stadium, it was against the Dolphins. That Thursday night last November, his rookie season came to a sudden end when he broke his left ankle.
As Samuel was hauling in a couple of catches for 65 yards Friday night, it felt like things had come full circle. So afterward, I lobbed him the easy question, wondering if this game had added significance.
Samuel could have sloughed off that notion. Instead …
"Last week after we finished the game, I was like, 'We play against Miami,' he admitted.
"When I first went on the field, I looked at the spot where I got hurt and was like, 'Man this is crazy. Last year I got hurt in this exact spot.' My goal was to go out there and have fun and enjoy the moment."
It's just two preseason games, but Samuel looks potentially lethal and leads Panthers receivers with six receptions for a team-high 108 yards.
"It's pretty high, but that's how it's supposed to be," Samuel said of his current confidence level. "I feel like I'm a special player, so it's just up to me to go out there and show it.
"I've got goals. I think about those every time I step on the field – what I envision for myself. Not just individual goals, but family goals, what I want for my family."
When asked to expand on those family goals, Samuel added:
"I'm real close with my mom. I love my mom to death, and my goal is to make sure that she doesn't have nothing to worry about for the rest of her life. So in order for that to happen, I have to go out there and perform."
And right now, mom sure must be proud.
The most concerning part of the offense's performance was pass protection. Or lack thereof.
The Dolphins totaled three sacks and eight QB hits, with most of the pressure coming from the edges.
Right tackle Taylor Moton had a couple of rough moments across from five-time Pro Bowl defensive end Cameron Wake, but that's going to happen. Left tackle Matt Kalil had an even tougher time against Robert Quinn, a two-time Pro Bowler who nearly got to Newton on the Panthers' first play from scrimmage.
A series later, Wake and Quinn were on Newton shortly after the snap, with Quinn getting credit for a sack. But Newton took the blame for not firing to an open Torrey Smith in the flat.
"I did a terrible job on one play knowing that it was a quick pass route and I still tried to come off on the other side," Newton said. "Those are just bad habits that I have to eliminate from my repertoire."
A series after that, though, Quinn blew past Kalil on a speed rush for another sack.
"I got beat," Kalil said. "It happens."
It also happened to Kalil's backup, and that's understandable.
Dorian Johnson is a guard with enough talent to have been a fourth-round pick of the Cardinals in last year's draft. Now the Panthers are trying him at tackle, a spot he's never played.
"With the injury to Daryl (Williams), it kind of put us in one of those situations where you've gotta find some more depth," Rivera said.
"Dorian blocked very well. Very, very pleased with his run blocking. He's got some work to do as far as a pass pro guy. It's one of those things where the more opportunities he gets, the better he can become. He's very athletic. He's got good feet. He's a little bit out of position right now. Hopefully it's one of those things where you continue reps, he might improve."
At first glance, it seemed like Donte Jackson was also a little bit out of position.
Making his second start of the preseason, the second-round cornerback continually lined up well off the line. That allowed Dolphins quarterback Ryan Tannehill to complete multiple passes in front of Jackson. Which was sort of the point.
"(Coaches) just wanted to make sure I was playing the system," Jackson said. "They were just making sure I didn't give up anything deep, so I was just playing over the top and coming down on everything.
"It was tough since I'm such an aggressive player, but they wanted to make sure I knew what I was doing."
To draft a speedster like Jackson and not use him to at least occasionally bump-and-run is unlikely. So for now, stand down. The Panthers probably have a plan.
"The more and more he gets the feel and comfort and confidence in his abilities versus what teams are going to try and do against us as a defense, I think we'll see him continue to grow," Rivera said.
"These first two games there wasn't a lot in terms of game-planning. This next game there will be a lot of game-planning done in terms of preparation for New England."
6) Searcy suffers concussion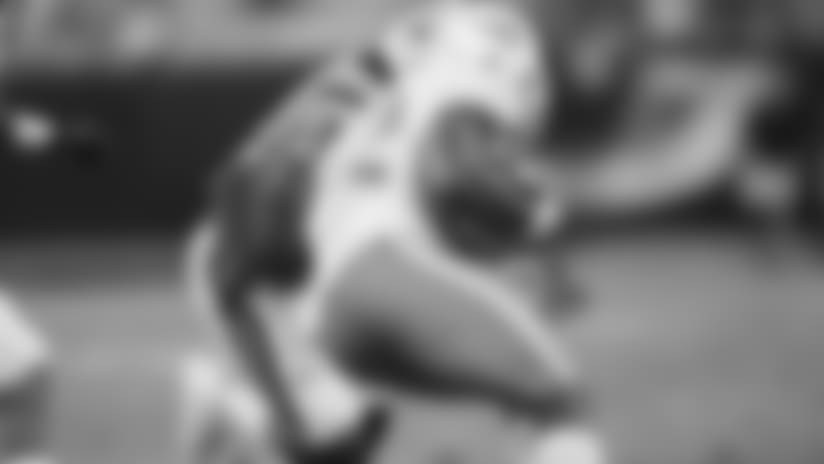 Safety Da'Norris Searcy went into the concussion protocol after his helmet collided with Miami running back Kenyan Drake's early in the first quarter.
Searcy also was flagged for violating the league's new rule prohibiting players from lowering their heads to initiate contact.
"They're trying to make it safer, but at the same time, I don't know what he could have done differently," safety Mike Adams said. "He was running up the sideline, so the angle itself, I don't know how he avoids that."
Replays show Searcy was trying to lead with his shoulder, but he came in a little high. And the result of the collision is why the league is trying to implement the rule, as messy as it may potentially be.
"I think that's exactly why we've got to be able to be careful and we've got to make sure as coaches we're teaching these guys proper technique," Rivera said. "The rule's in place obviously for player safety, and we've got to continue to harp on it.
"When the referee throws the flag, we have to be willing to understand and accept it and just continue to work to take that type of contact out of the game."